---
Advertisements

---
There is a new rewards programme coming to town and it is just for yuu!
Bad pun? Okay…
The yuu Rewards Club
Starting from this Thursday (27 Oct), anyone can join the new rewards programme called yuu to earn points when they shop at more than 1,000 places.
The yuu Rewards Club was launched by Temasek tech venture minden.ai.
It is essentially a point-earning loyalty programme, and here is how it works:
First download the yuu app from either the Google Play Store or the Apple Store and register for an account.
Then start spending as you usually do!
If you happen to be shopping at a yuu-affiliated store, scan their unique yuu QR code or barcode at the cashier before making any payments.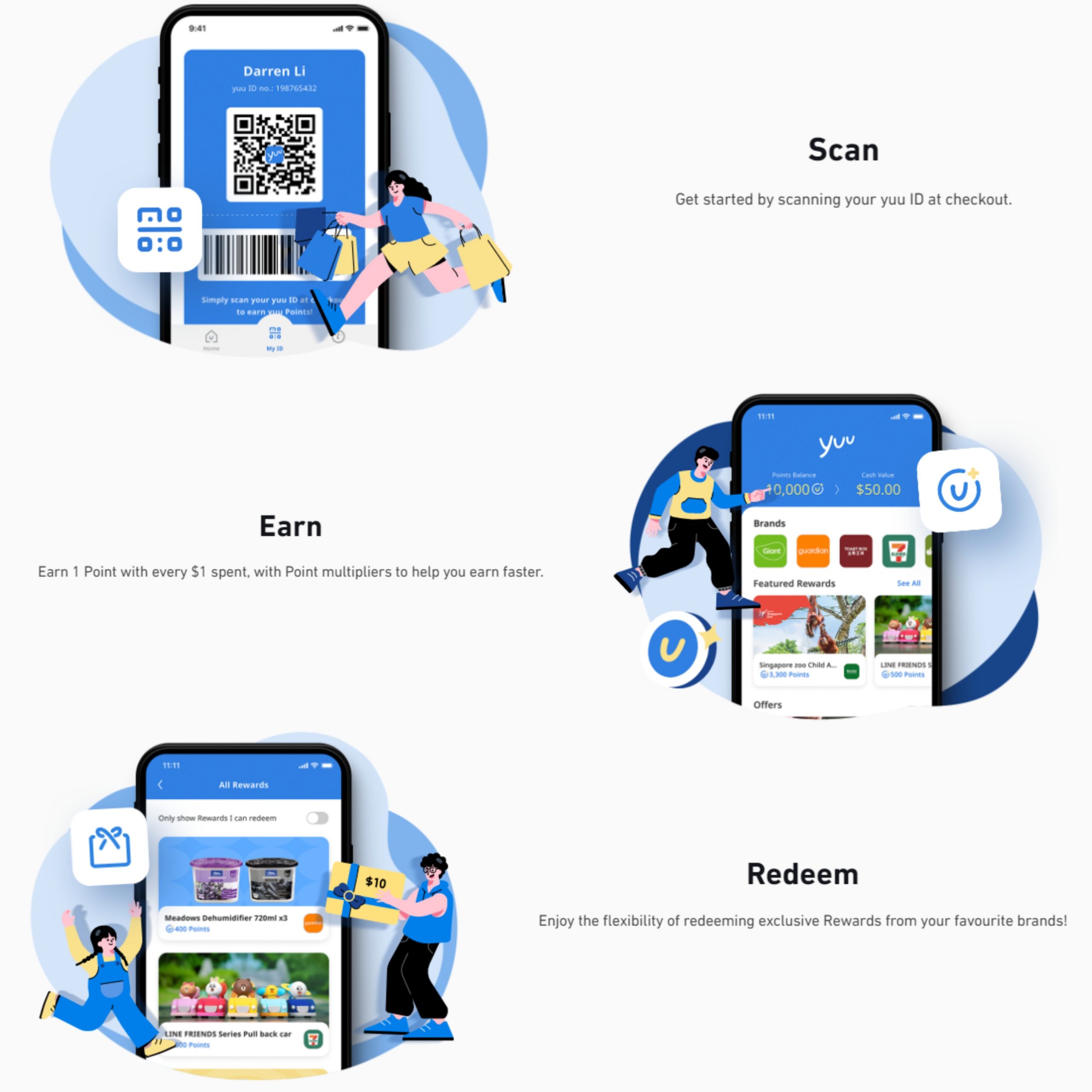 Every S$1 spent equals 1 yuu point.
With the accumulated points, you can redeem deals, offers and rewards, or offset your bill at any yuu partner store.
For every 200 yuu points, you can take off S$1 from your bill.
Many yuu Partner Stores
Since DFI, the operator behind Cold Storage, Giant, Guardian and 7-Eleven, is one of the shareholders of minden.ai, you can bet that those stores are part of the yuu programme.
yuu partner stores also include: BreadTalk, Toast Box, Food Junction, Food Republic, Food Opera, Butter Bean, Thye Moh Chan and Singtel.
The Mandai Wildlife Reserve parks—the Singapore Zoo, the Night Safari, River Wonders and Jurong Bird Park—are also one of the participating merchants.
(Please note that the names/brands listed above are not exhaustive.)
And depending on the items that you are purchasing, you can accrue double the points.
For instance, if you are shopping at Giant, fresh vegetables, fruits, rice, milk and laundry items will give you double the yuu points.
These points can also be stacked in the same transaction, so don't worry about clashing deals.
After accumulating yuu points on the app, you can redeem deals and offers from any retailer on the network.
It can be something as simple as spending 10 yuu points on a small hot coffee from Toast Box, or saving up for bigger rewards like the one-month HBO Go subscription with Singtel which costs 2,400 yuu points.
If anyone is getting that reward, it would be a good time to binge all the HBO shows at max resolution in the comforts of your own home.
---
Advertisements

---
Rise of the Dragons, here I come.
There is no maximum number of yuu points that can be earned, nor is there an expiry date.
DBS and PAssion Card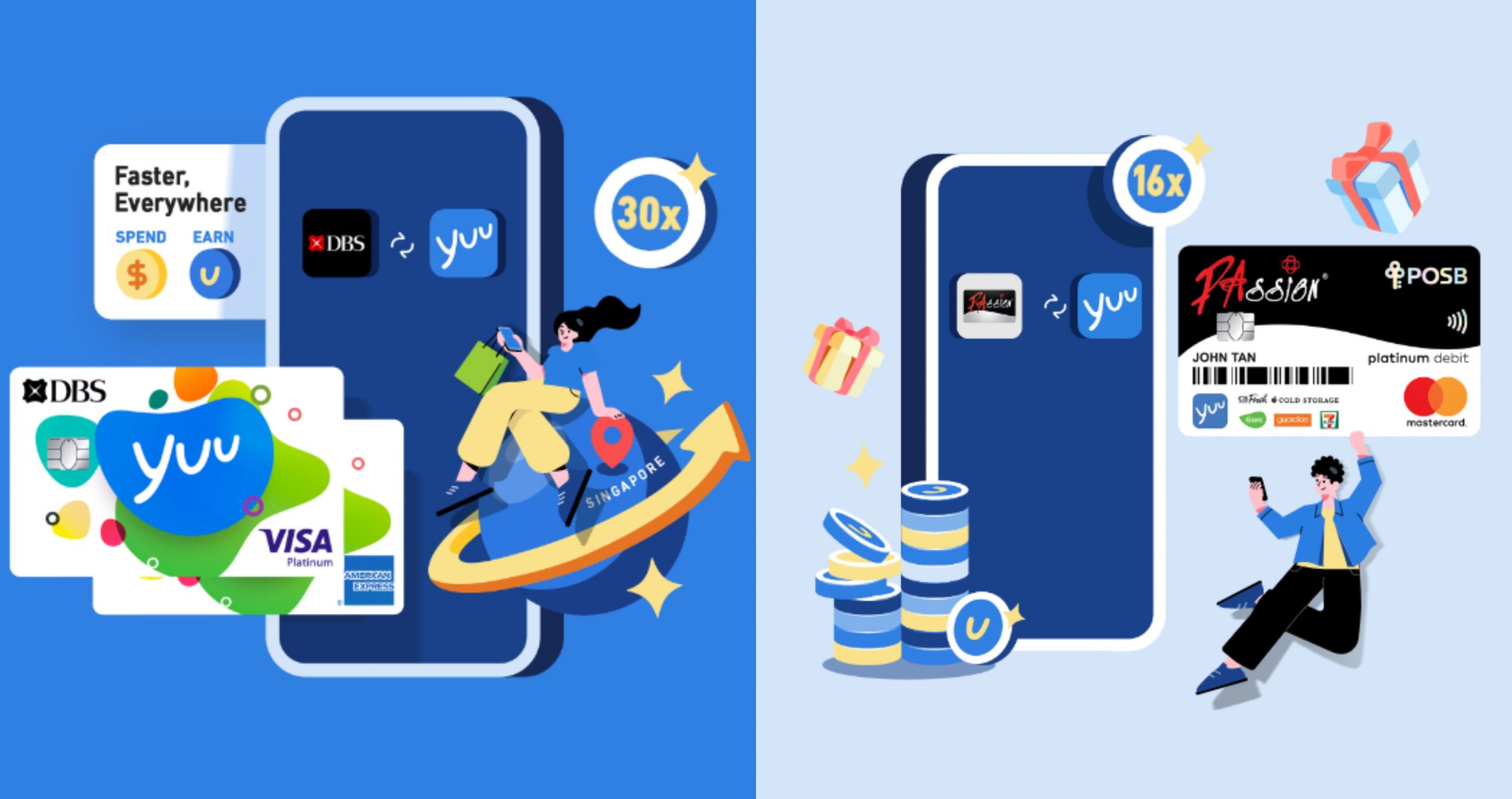 In conjunction with the yuu app, DBS has started a new DBS yuu credit card, whereby users can earn up to 30 times the points when they shop and make payments with this card at yuu partner stores.
People with PAssion cards or PAssion PSOB debit cards can also link to the platform.
During the launch promotion, debit card holders can earn up to 16 times the points when they pay with the card.
If you are feeling particularly charitable on any given day, you can choose to donate your yuu points to community projects or other charities.
---
Advertisements

---
The Motivation Behind yuu
According to a study commissioned by minden.ai in late August, it found that the majority of Singaporeans are worried about the current economic climate.
Everything is becoming more expensive, from energy to food, and housing.
As such, 68% have scaled back on their spending and to save for a rainy day.
Approximately 72% of the 1000 respondents were also looking for cost savings on purchases, while about 60% wanted the ability to redeem points on everyday spending.
Seriously, yuu must seem like a godsend right now since it helps to accomplish many things at once.
---
Advertisements

---
Having said that, make sure to download your yuu app!
Registration is free.
Read Also:
Featured Image: yuu

Fresh grads, you don't need any experience to earn up to $4,200 with this "secret":
Read Also: