There's a special bond between a pet and its owner, sometimes stronger than the relationships we form with other people.
This is largely because nuzzling someone's face after an argument only works if you're small and furry. Otherwise, it's grounds for a breakup.
So, when an owner loses their beloved pet, it's only natural that they'd do everything in their power to get it back.
One such owner put out a flyer for their missing cat recently, offering a rather hefty reward.
Someone at Sin Ming is Offering $10,000 for a Lost Tabby Cat
A missing pet flyer for a lost tabby cat has got netizens all confused, due to the substantial reward money offered for its return.
A photo of the flyer was shared in a Reddit post today (26 Nov).
According to the flyer, a short and striped Tabby cat has gone missing, and was last spotted at Thomson Grand, a condo situated along 11 Sin Ming Walk, as well as Pierce Secondary School, which sits next to it.
The adopted kitty, Chaugust, is four to six years old, and had no collar around its neck when it was last sighted.
While Chaugust responds well to food, those who find the cat should not attempt to capture it as it gets frightened easily. They are urged to contact the owner instead, whose number can be found on the flyer. It responds to "Chauggie", "come", "food", and "fishie".
The most striking line in the flyer is barely perceptible at first, as the words are in light green and smaller font: "Reward: $10,000".
Yes, it would seem that this owner is willing to cough up 10 big ones to find his or her precious cat.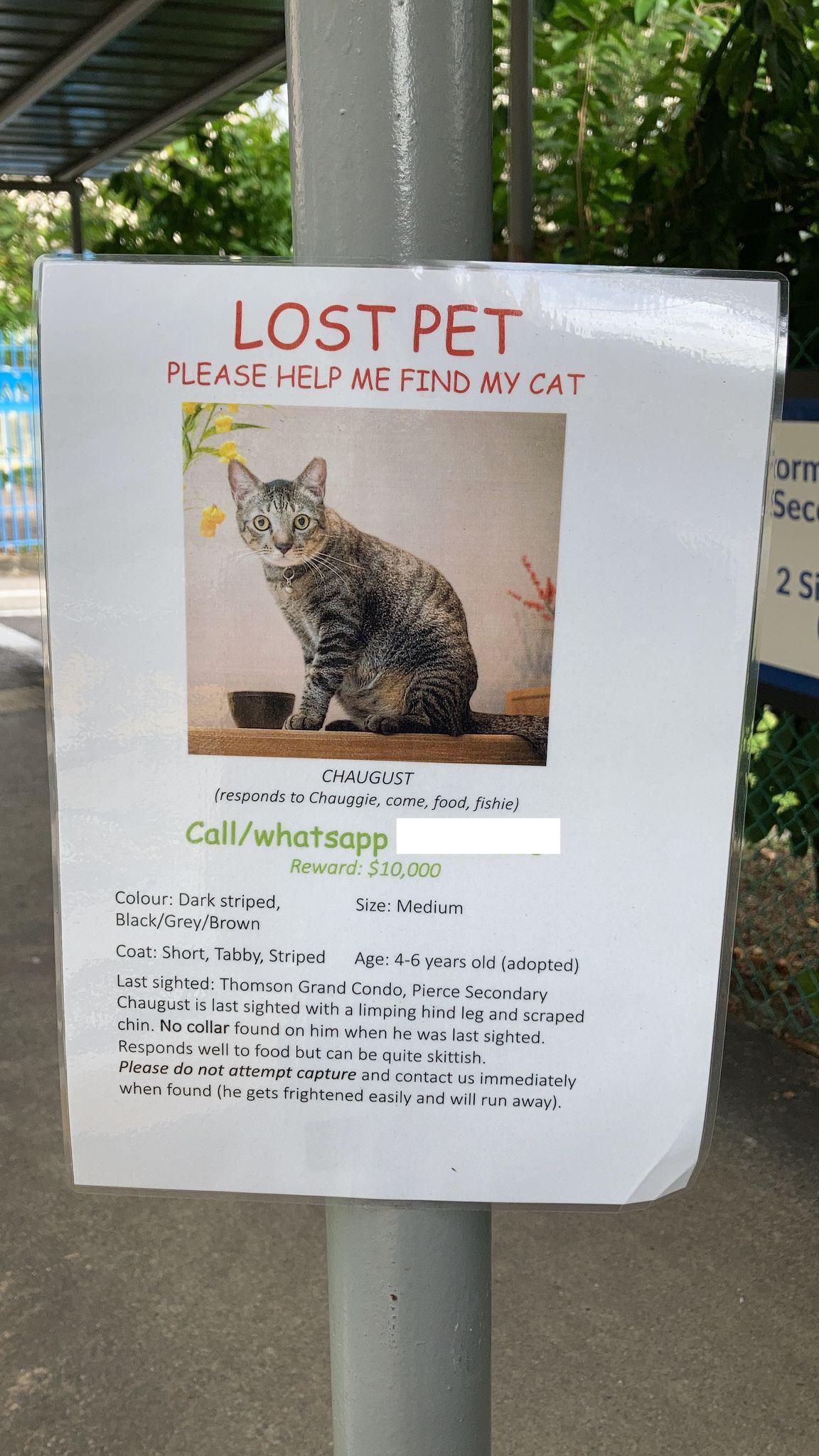 Join our Telegram channel for more entertaining and informative articles at https://t.me/goodyfeedsg or download the Goody Feed app here: https://goodyfeed.com/app/
Netizens Offer Solutions
Some netizens found it hard to believe that the flyer was real, due to the amount of money offered as a reward.
"Must be the old $10,000 in Zimbabwe dollars trick," one commenter said.
"So… Hypothetically, what's to prevent the owner from not paying the reward? It's not a legally binding document. You show up with the cat and the owner says no… You take the cat back?" said another.
Others offered solutions. One commenter said, "Send to Grab drivers team and there is a very high chance to get it back. But I don't want Grab to see this. If not they will start a new service – Grab search."
One netizen, however, thinks there's something fishy about the flyer, claiming he saw the same flyer pinned at the Flame Tree Park bus stop along Upper Thomson Road about two months ago.
---
Advertisements
---
"Then I saw a cat nearby that looks remarkably like the one in the photo. Took a pic of the cat and sent to the Whatsapp number… and was told by the owner that the cat has already been missing for more than 6 months, and that it wasn't his cat. Then why only put up the poster now? It's really very strange," they said.
We hope that the only thing that's fishy here are the cat's meals, and that he's been well-taken care of in his time away from home. Hopefully, the feline will be reunited with his owner soon, without it costing him 10 grand.
Read Also:
Featured Image: Reddit
---
Goody Feed might be getting a second lawyer's letter due to this video. Here's why: