---
Advertisements
---
Finance Minister and Co-Chair of the multi-ministry task force in the fight against COVID-19 once said that if the weekly infection growth goes to 1 and below, there would be some easing of measures during this Stabilization Phase that is expected to last until 21 November 2021.
Well, it has been below 1 for the last five days, and so, we look forward to a press conference every day.
Today, it finally came, and if you're one who's looking forward to dining out in groups of five, you're in luck.
Here are the things you need to know about today's press conference (8 November).
5 People from the Same Household Can Dine in F&B Establishments
Okay, to be honest, this is the only meat of today's press conference.
From 10 November 2021, up to 5 fully vaccinated persons from the same household will be allowed to dine in together at F&B establishments.
The dine-in group size for those who can dine in but are not from the same household will remain capped at 2.
However, this easing will not be extended to hawker centres and coffee shops as they are unable to conduct comprehensive Vaccination-Differentiated Safe Management Measures (VDS) checks of all their diners.
Nevertheless, once hawker centres and coffee shops have put in additional control measures, this will also be extended to them, too.
MOH also added that strict enforcement actions will be taken against any individuals who breach this rule by pretending to be from the same household as well as F&B outlets that do not implement the necessary checks. Errant individuals will be fined, and F&B outlets will be subject to immediate closures.
These penalties will apply even for first-time offenders.
Well, time to bring your NRIC out because I've a feeling that eateries would most probably check people's NRICs to verify where they stay.
Music for F&B Establishments
F&B establishments will be allowed to play soft recorded music from 10 November 2021, but live music and entertainment remain disallowed.
And no, KTVs are still not allowed to open.
Increased Zone Sizes
From 10 November, there will be an increase in zone sizes for various event categories such as congregational worship and live performances, whilst keeping within overall attendance numbers.
As of now, each zone is at 50 people per zone, but this will be increased to 100 people per zone with at least 2m separation between each zone instead of the current 3m.
More VDS to More Settings
Soon, MOH will have more places with VDS.
For a start, MOH will be introducing VDS for residential care homes, given that this is a vulnerable setting where unvaccinated residents are likely to suffer worse outcomes than their vaccinated counterparts if they contract COVID-19. Measures will apply to areas like visitations and activities for residents. They will share more details when ready.
In other words, it's not going to be just shopping malls.
New System: VDS + ART
VDS is to ensure that only vaccinated people can enter, while ART is pre-event testing.
If you do both, it's like you wearing ten masks plus ten layers of full PPE, so MOH is piloting this regime in sports setting. The pilot will allow up to 10 people who engage in team sports in controlled and supervised settings at suitable ActiveSG sports centres and PA community clubs.
Pilots with this regime will also be conducted at selected mass sporting events as well as selected MICE events, where there will be some easing of the SMMs.
You'd have noticed that VDS seems to be the new normal for almost everything, so what's going to happen to people who're medically ineligible to take the vaccines?
Well, fret not.
VDS Concession for Medically Ineligible Individuals
The MTF has once promised that this group of people would not be left out, and today, we got a date.
This VDS concession for medically ineligible individuals will take effect from 1 December 2021. From 15 November 2021, such individuals can visit any General Practitioner (GP) clinic, or public or private healthcare institution, to be certified as medically ineligible.
At this moment, they will be issued with a standard paper memo, which should be presented along with a government-issued photo identification card to be exempted from VDS. Soon, this should be reflect in their TraceTogether app as well.
---
Advertisements
---
However, MOH highly suggests that as they're not vaccinated, they should still try to minimise these activities as they might fall very sick should they contract COVID-19.
And speaking of the unvaccinated…
COVID-19 Patients who are Unvaccinated by Choice to be Responsible for their Medical Bills
If you choose not to take the vaccine even if you're medically eligible, you won't only be affected by the VDS. Your wallet might be affected, too.
Currently, the Government pays for all COVID-19 treatment, and unvaccinated persons make up a sizeable majority of those who require intensive inpatient care, and disproportionately contribute to the strain on our healthcare resources.
From 8 December 2021, COVID-19 patients who are unvaccinated by choice will need to pay for their own treatment. This will apply to all unvaccinated COVID-19 patients admitted on or after 8 December 2021 to hospitals and CTFs. COVID-19 medical bills for those who are ineligible for vaccination will still be fully paid for by the Government, i.e. children under 12 years old or medically ineligible persons.
---
Advertisements
---
COVID-19 patients who are unvaccinated by choice may still tap on regular healthcare financing arrangements to pay for their bills where applicable – citizens and PRs may access regular Government subsidies and MediShield Life/ Integrated Shield Plan (MSHL/ IP) where applicable, while long-term pass holders may tap on their usual financing arrangements, such as private insurance.
Changes in Countries/ Regions Categories
I'm pretty sure you can't keep track of all the categories, so just note that this would take effect from 11 November 2021, 11:59pm: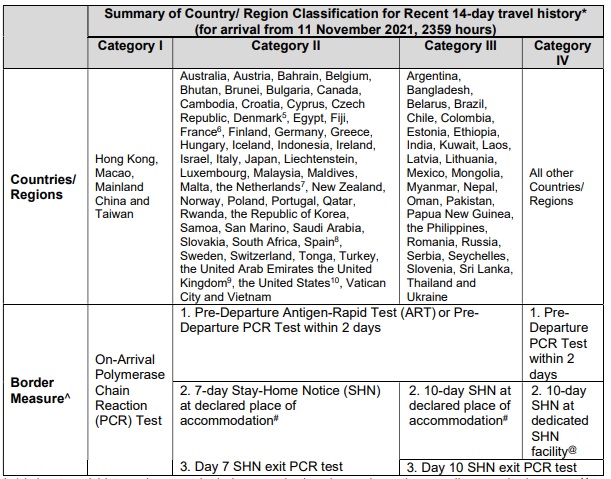 You can also go to the Safe Travel website for the latest updates.
And of course, speaking of travel, we can't miss out the news of the day:
---
Advertisements
---
New Vaccinated Travel Lanes
Wait, lanes?
Yes, it turns out that it's not just Malaysia that's having a VTL with Singapore. VTLs to Finland and Sweden  will also be available from 29 November 2021, with applications for Short-Term Visitors and Long-Term Pass Holders commencing on 22 November 2021.
Also, more information pertaining to the Malaysia VTL is also provided: Vaccinated Travel Pass applications for Short-Term Visitors and Long-Term Pass Holders will commence on 22 November 2021, while returning Singapore Citizens and Permanent Residents who are fully vaccinated will not need to apply.
To add on, like what PM Lee said, Singapore and Malaysia are also in detailed discussion to launch a similar scheme for travel across the land links.
Further Expansion of the Home Recovery Programme
The minimum age for default home recovery will be lowered to 3 years old from 10 November 2021. Currently, that is at 5 years old.
---
Advertisements
---
In other words, all children 3 years and older will be allowed to stay at home if their household environment is suitable. They will undergo a telemedicine assessment by a community or hospital paediatrician (child doctor). Infants and children from 3 months old to under 3 years of age will also be allowed to recover at home, after they have been clinically assessed at hospitals to be suitable for home recovery.
All infants under 3 months of age who are infected with COVID-19 will continue to be admitted to hospital.
Expanding Vaccination Eligibility to Children
The Expert Committee on COVID-19 Vaccination (EC19V) has noted that the Pfizer BioNTech/ Comirnaty vaccine has been approved by the US for use in those aged 5 to 11 years. EC19V is assessing the extension of vaccination to children aged 5 to 11 years in Singapore.
Simply put, we would be seeing more crying kids in clinics.
Read Also:
Featured Image: YouTube (CNA)
---
Advertisements
---
---
Advertisements
---