---
Advertisements

---
In recent weeks, historians in Singapore have toyed with the idea of doing away with BC and AD as labels for numbering years.
They have proposed a more updated version instead – BNOC (Before the NOC Saga) and ANOC (After the NOC Saga).
In the years and months BNOC, lawyer's letters weren't exchanged as frequently as texts between two infatuated teenagers, and finger-pointing was only a hobby, not a full-time profession.
More importantly, Chicken Rice was our delicious national dish BNOC. Hear those two words and you'd think of succulent strips of chicken nestled on a bowl of fragrant rice.
Now, hear the words "Chicken Rice" and you'll think of Night Owl Cinematics, and not because of their Food King series.
Shortly before the identity of @sgcickenrice – Singapore's most famous tea-spiller – was revealed, all NOC-related posts had been wiped from its account.
But it seems that @sgcickenrice is back, though with a different name and face.
@Sgcickenrice Promises to be Back By Being an 'Influencer' for Businesses
If you head to @sgcickenrice's Instagram account, you'd notice a few changes:
That its name is now baerendang1
That its URL has also been changed to baerendang1
That its profile picture no longer features our national dish, but a quite disturbing picture of a now-infamous person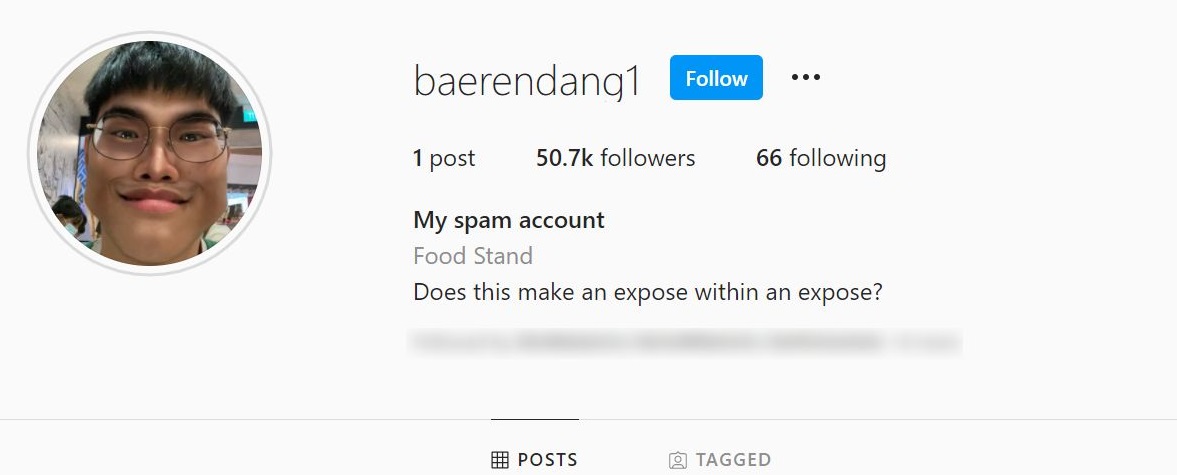 His only post is an old one from 27 Oct, which he posted when he was still operating as @sgcickenrice. It states that the account will no longer be posting NOC-related allegations.
View this post on Instagram
For those who don't know, online personality Xiaxue had exposed the identity of the person behind @sgcickenrice, thanks to her Sherlock Holmes-like detective work.
She identified a TikTok and Instagram user by the name of @baerendang, who is Brandon Mah in real life.
Mah said he felt a "moral obligation" to "shed light on these issues."
He also rubbished claims that he took sides, pointing out that the @sgcickenrice page went after both Sylvia and her ex-husband Ryan Tan.
In any case, it seems that while Mah is done with the whole NOC controversy, he is getting back to business.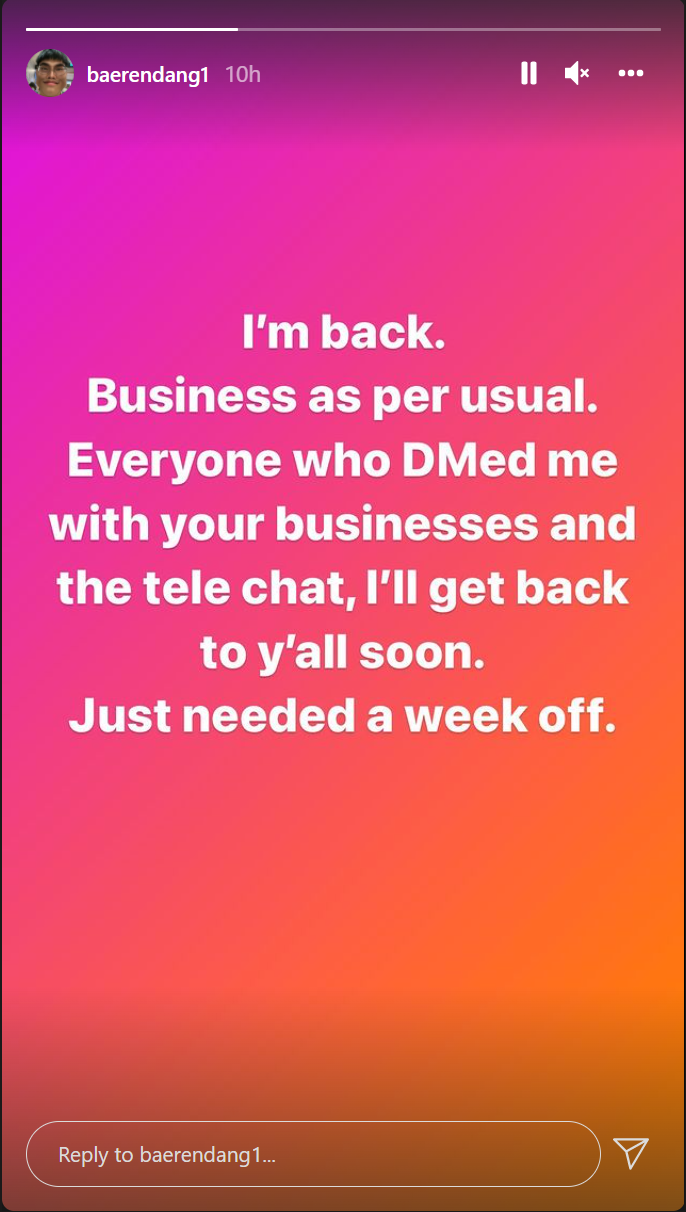 "I'm back. Business as per usual. Everyone who DMed me with your businesses and the tele chat, I'll get back to y'all soon. Just needed a week off," he said.
What exactly does this mean? Who the hell knows. Here are a few possibilities:
He will get back to exposing workplace misconduct in other companies
He will be an influencer who'll advertise products for businesses (read this article for more details)
He'll get back to posting pictures of chicken rice
Given how stormy the NOC saga was, I'm sure no one wants another workplace controvers-
Whole of Singapore: Speak for yourself, dear writer.
Read Also:
Featured Image: Instagram (baerendang1)