---
Advertisements

---
Whenever we see people begging or selling tissues for money, even if we don't drop a few coins or notes, we would still harbour some pity for them.
Recently, an elderly man who was asking for donations was spotted at Ang Mo Kio Hub, reported Shin Min Daily News.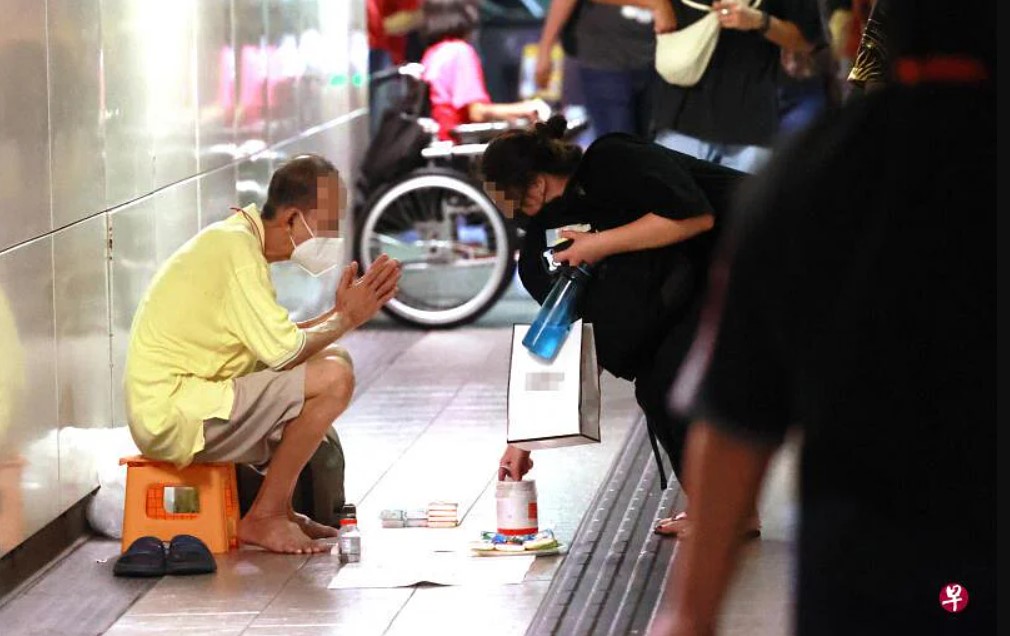 However, there seems to be a problem with his pretext.
The man wrote that he needed S$3,000 as soon as possible to pay for his late mother's funeral, but people in the area have noted that he has been asking for donations for around two months.
That's kinda sus.
Need Money For Mother's Funeral
For the bigger part of October, Mr Zhou Lini (transliterated name) has been seeking donations to pay for the expense of his mother's funeral.
He has stationed himself in the underpass between Ang Mo Kio MRT and AMK hub, typically seen sitting on a stool in simple clothes.
---
Why Bird Paradise Suddenly Became Singapore's Yishun:
---
On the sign laid out in front of him, it writes in capital letters, "Family urgently need S$3K for late mother's funeral expenses, Will return money ASAP (within 3 months)."

The sign added that he was willing to provide his personal particulars to good Samaritans as proof of his identity and as an act of good faith.
Another paper on the left thanks the donors for their generous contribution. It also states that they are one-third of the way through, which means he has raised about S$1,000.
When Shin Min Daily News reporters headed down his location, they found Mr Zhou seated on a stool while masked and barefoot.
---
Advertisements

---
When Mr Zhou was interviewed, he said that he had resorted to "begging" in order to pay for his deceased mother's funeral expenses.
He revealed that his 90-year-old mother was diagnosed with breast cancer two years ago and she had passed away two weeks ago. His father had met his demise even earlier, and he was short on money, so he had no choice but to borrow S$3,000 from his friends.
Now, he needs to return the money so he's asking for donations.
Mr Zhou stated that he will leave once he has scrounged up $3,000.
Based on the images, Mr Zhou left tissue packets on the signs too, but he said that most donors would drop the money without taking the tissue.
Additionally, the 70-year-old man stays in the Toa Payoh area.
He used to sell tissues there, but after he was reported for not having a street hawking license, he decided to ask for donations at Ang Mo Kio instead.
According to MustShare News, Mr Zhou will be found at Ang Mo Kio from 7am until 8pm, before he has to leave for his job as a security guard.
The reason why he's "begging" around Ang Mo Kio is because his work is nearby.
He earns around S$2,000 from his main job, but Mr Zhou mentioned that saving was a struggle due to his monthly expenses.
---
Advertisements

---
Other Reported Instances of Begging
While Mr Zhou's pretext sounds solid, it starts losing credence when the opinions of others are taken into account.
According to a nearby convenience store worker, Mr Zhou has been sitting at the underpass with his signs for roughly two months.
This contradicts Mr Zhou's statement whereby he said that he has only been seeking donations in Ang Mo Kio for a bit more than a week. But if he started "begging" two months ago, his mother shouldn't even be dead yet.
Another passer-by also alleged that they have seen Mr Zhou "begging" in other areas, except his excuse was that he was suffering from a work injury.
I am trying to see Mr Zhou in the best light… But if he has to work as a night shift security guard and supposing that it is a six to eight hour shift at least, when does he find the time to sleep before he stations himself at the underpass?
Furthermore, if most donors just leave the money as Mr Zhou states, this heavily implies that very few, if any at all, ask for his personal particulars. So how will he return the money like he promised?
---
Advertisements

---
Something about this just doesn't add up.
Read Also:
Featured Image: Shin Min Daily News 新明日报