---
Advertisements

---
In order to show how safe Singapore is, TikTok content creator Uptin Saiidi left his laptop at a random Starbucks outlet to grab his lunch nearby
His expectations were proven true when he returned an hour later to his laptop and bag, which were intact and untouched.
Psh, leaving a laptop at Starbucks is nothing.
True confidence is found in national library study rooms where you can count at least four unattended laptops just by sweeping your eyes across the area during lunch time.
The Low Crime Rates
In the video, Uptin films himself setting up his laptop and bag at the Starbucks table without telling anyone to watch over it.
As he finishes up his lunch and walks around a mall, he shares with his viewers, "Singapore has pretty much learned how to eliminate crime."
---
List of Accusations Made Against the 2 Ministers Who Rented Colonial Houses at Ridout Road:
---
To support this, he cites the crime statistics in Singapore, noting that the country has gone 250 days without three types of crime occurring—namely snatch theft, robbery and housebreaking.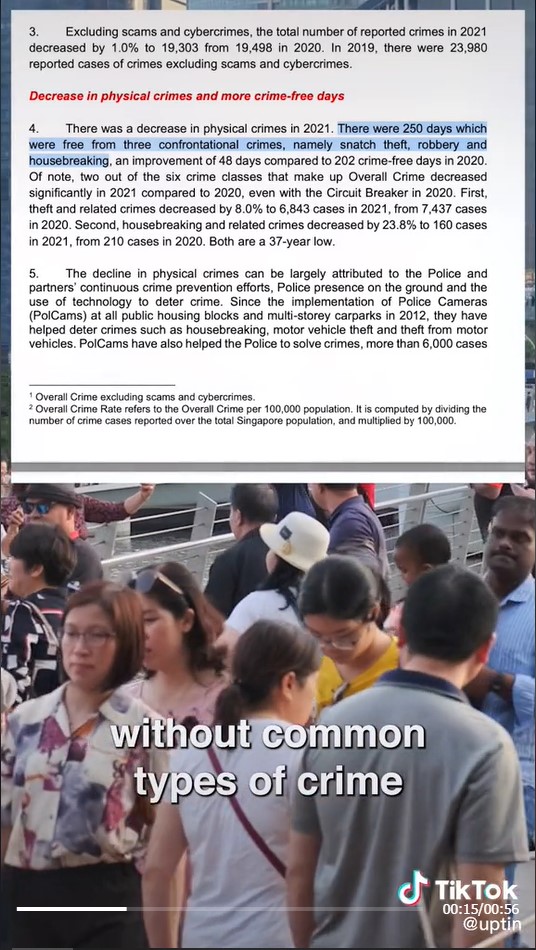 Well, with the robbery at the barber shop and the subsequent house break-in at Sims Road, we have gone back down to zero days without incident.
It should be noted that "being free" of these crimes may be understated, as some people may have chosen not to report incidents of petty theft to the police, and hence they have gone unrecorded.
Uptin attributes the low crime rates to three main reasons:
---
Advertisements

---
First off, he states that Singapore's culture emphasises a lot on "honesty and fairness".
Then he adds that the basic needs of the people are met, so they do not feel the need to resort to such crimes for living.
However, to say that "you will never see a homeless person [in Singapore]" is a bit of an exaggeration; impoverished people are harder to find on the streets, but poverty exists in our metropolis.
The third reason he lists is "surveillance" as there are cameras everywhere which are a good deterrence against crime, as well as the heavy consequences that come with these crimes.
Uptin even highlights the fact that housebreaking and theft carries a jail sentence of up to 10 years and a fine.
Upon returning to Starbucks, the TikToker's words are proven by the fact that his laptop and bag are still sitting where he originally left it.
Netizen's Response
The video has since garnered 16.5 million views.
Given that Uptin has over 679,200 followers, his audience comes from all around the world.
They were amazed by Uptin's daring experiment, and the netizens' comments show that this would have been unthinkable in their respective countries.
"In South Africa, they would've taken your laptop, your camera, your mic, your TikTok channel and your first name," one user writes.
---
Advertisements

---
Another netizen's comment follows the same trend, "Here in South America, they would've taken the laptop, the phone, the camera, your name, your wife, your self-confidence and your house."


As for the Singaporeans who joined the conversation, some of them said that it depends on where you leave your electronic devices.
After all, "low crime" does not equate to "no crime at all".
Naturally, the places Yishun and Geylang showed up.
…Why does it feel like Yishun is the Florida of Singapore? Whenever something weird or creepy happens, people usually think of Yishun first.
 Another Singaporean shared their own story in the comment section, stating that they accidentally left their phone at a bus stop in the past. Not only did they manage to find it when they returned to the bus stop the next day, but a good Samaritan even put it in a plastic bag and taped it on the wall with a note stating, 'lost phone'.
---
Advertisements

---

Nevertheless, take this experiment with a grain of salt.
This is the same 'tourist' who left their wallet at a random food court in Singapore, only to get called out for faking it.
Regardless of how safe Singapore is compared to other countries, it's always good to exercise due caution over one's belongings. Laptops and phones can be expensive.
Don't play play.
Read Also:
Featured Image: TiKTok (@uptin)
---
Advertisements

---