---
Advertisements

---
Earlier today, Xiaxue got into the Tiktokverse with a bombshell debut video: she reveals the identity of @Sgcickenrice, the anonymous Instagram account that started the entire NOC saga.
Xiaxue CSI-ed his identity through a careless mistake made in his first TikTok video (the saga actually started from a TikTok account before it was banned).
You can read more about it here.
However, despite the overwhelming evidence, these are mere allegations…until this happened, of course.
View this post on Instagram
The suspect, Brandon, has confirmed that he is, indeed, the admin of @Sgcickenrice.
However, in a lengthy statement, he said that he wasn't on Ryan's or Sylvia's side, but is merely doing this to "demand fair wages, timely payment, and equitable treatment" for people working in NOC.
He also said that he didn't hack Sylvia's computer.
His relationship with NOC is unclear, but he's been in a NOC shoot. In addition, he appears to be close to Nicole and appears to know Isabelle—people in "Ryan's team."
The 20-year-old is also an influencer on TikTok, with over 52k followers and 4.2 million likes.
Here's the full statement he put in Instagram:
I am Brandon, a 20-year-old student. I am the admin of SGCICKENRICE.
I am flooded with questions and, inevitably, accusations. I will address them now to the best of my abilities.
I started this page sometime around September 2021 when I witnessed how my friends, who are employees of NOC, were treated. Although I was not an employee of NOC, I was privy to their grievances. Out of curiosity, I then went to check NOC's glass door page. When I saw their glassdoor page, I realised that these issues were not unique to what my friends were facing but has been happening for years on end.
I felt a moral obligation to speak up and shed light on these issues that have plagued employees. And so I did. For those of you who have followed the page from the start, you would note that the only "side" the page was on is that of the employees. The page went after Ryan and Sylvia to demand accountability. If you see Ryan's older posts, you will see our comments there.
The goal was simple – to demand fair wages, timely payment, and equitable treatment. There were no "camps", but only employees to support.
Along the way, things got messy. Without going into details and to put it simply, I found myself becoming a pawn. Many, including myself, were taken for a ride. I believe Preetipls put it best when she said that all the rest of us are mere "collateral damage" in fight over assets that involve 2 powerful and rich adults.
It is a fight over assets, plain and simple. For these folks, the platforms, the pages, and even the talents, are all assets. When you see things through that lens, it all becomes clear.
There are no heros in this story.
As soon as I saw that, I started to have serious reservations. I began to doubt some of the narratives I was fed. Soon after, I pulled out as I felt the focus and diverted completely away from what should have been the main issue.
To cut the long story short, I apologise for my naivete and my admittedly misguided ways. I will take all the criticisms and pitchforks, but all I ask for is for the employees to be spared. I take full responsibility for the actions of the page. To avoid doubt, there was no "hacking" or access to information on our end. Whatever I received and saw was released to the public at the same time.
---
Advertisements

---
However, there is one thing I will not apologise for. I will not apologise for speaking up and raising issues relating to the plight of the employees of NOC. I believe this was the central focus of the initial issues. These are also issues that both Ryan and Sylvia have yet to answer for, and it is my firm belief that both parties are responsible for this state of affairs.
Throughout the course of running this page, I realised that the issues faced by NOC staff are, unfortunately, not uncommon in Singapore. Many of you have DMed us to share your experiences with workplace issues and less than ideal bosses. It is my hope that all of us have courage to demand better for ourselves and upend the toxic norms that permeate many aspects of Singapore's work culture.
All of us have a duty and moral obligation to speak up, even if it may not affect us personally.
We do not need to look outwards for heros, and we should not put people on a pedestal. I think this is something I learnt the hard way.
I understand and totally expect a lot of hate to come my way over the next couple of days. I will not shy away from responsibility. All that I ask for is that you also keep in mind the plight of the employees, and help, in whatever way you can, to demand justice and accountability from all parties involved.
@Sgcickenrice & End The Silence Blog Removed All Their Contents
If you've remembered, @sgcickenrice removed all its NOC-related posts after it received a lawyer's letter over the allegations.
---
Advertisements

---
The posts were later put back up after the national dish lawyered up, but after Ryan's statement, @sgcickenrice has once again removed all of its posts except one: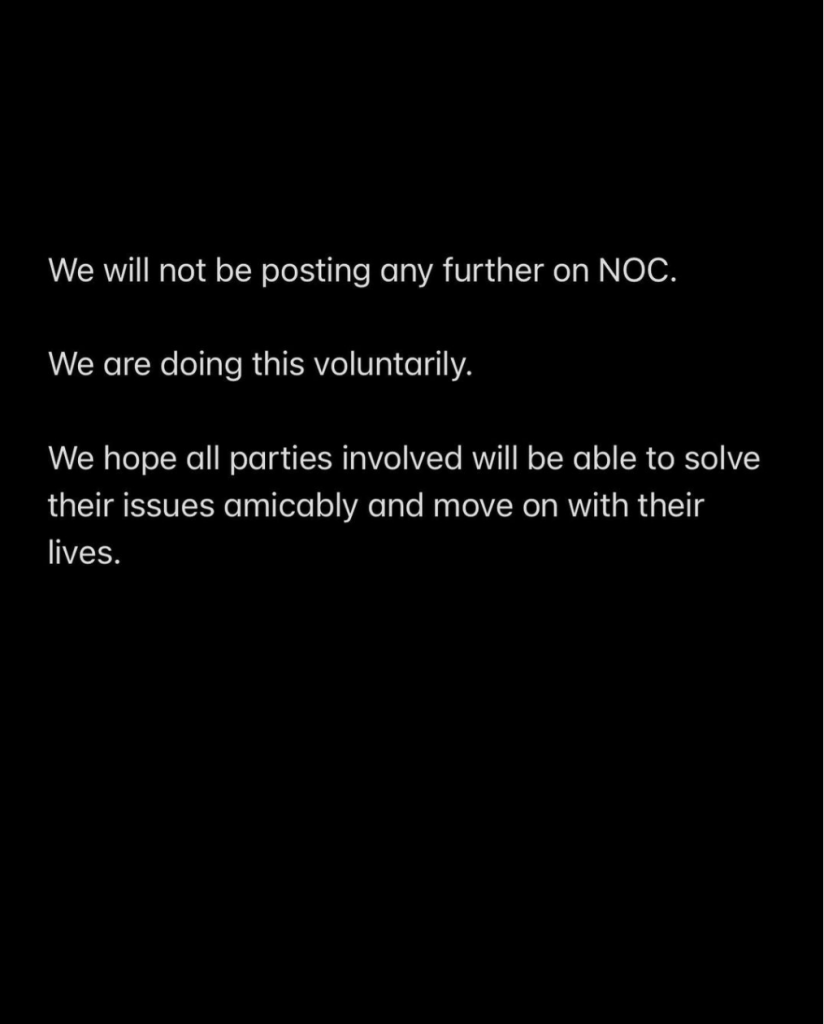 Interestingly, the blog has also removed its contents: It appears that even in real life, prequels are in the rage.
Read Also:
Featured Image: Instagram (@baerendang)

Fresh grads, you don't need any experience to earn up to $4,200 with this "secret":
Read Also: