---
Advertisements

---
On Sunday night, Xiaxue dropped a bombshell video about her interview with Sylvia Chan. The 107-min video has since garnered over 1 million views in three days.
In it, Sylvia made a number of allegations against her ex-husband and co-founder, Ryan Tan, and also speculated that he could have been behind the exposé since he has the most to gain.
You can read this article for a summary of the video, but simply put, Sylvia claimed that it could be a smear campaign as Ryan and her are having a legal dispute over NOC matters.
And now, Ryan has responded—thankfully during office hours and not via a video that's as long as a movie.
Instead, he posted a 10-page Instagram post.
Here's what you should know about his response, simplified and summarized for you.
He Claimed He's Not Behind @sgcickenrice or the End The Silence Blog
For a start, he claimed that he wasn't "involved in any way" with @sgcickenrice or End The Silence blog, and said that he had refused to disclose any personal communications.
He's therefore "disappointed" that Sylvia had released those screenshots.
Sylvia had said that Ryan had a habit of recording others without permission, to which Ryan responded to, saying that in his years in NOC, he had only recorded one meeting: the one on 8 May 2021.
Read on and you'll know why 8 May 2021 matters.
He Claimed He Didn't Hack Sylvia's Computer
One of Sylvia's most serious allegations is that her computer was hacked because she used the same password for all accounts, and people do know her passwords.
---
Advertisements

---
Ryan said he didn't know any of her passwords, and also didn't know the pin code to her house; while renovating her house, he has used physical keys that had since been returned. He said he wasn't the one who hacked her computer.
"Lies Were Peddled" in the Interview
According to Ryan, "many lies were peddled" during the interview, but he will not respond to any personal issues, saying that "I respect our time together too much to do that".
In addition, he claimed that Sylvia would know that he would not "threaten suicide to manipulate her", adding that she left out "crucial details" about his "struggle".
Instead, this response is to address allegations of business-related wrongdoings, which means you won't read anything about his alleged infidelity.
On the Issue of Him Being the Sole Director
Sylvia had said that Ryan has always been the sole director of the company since NOC started, and after the saga started, Ryan wanted to backdate his resignation as the director from May 2021.
Lest you're not aware, a company director isn't just a position in the company—it's a position that has to answer to the authorities. Each company will need to have at least one director and one secretary.
You can read this article to understand what a company director in Singapore does.
According to Ryan, he was the sole director throughout as Sylvia wasn't a Singaporean then. However, despite him holding that role, his role was on the production side of the business and as the Chief Operating Office.
He said an agreement was reached on May 2021 for him to leave as the COO.
A screenshot of Sylvia telling NOC's accountant that Ryan is no longer a COO, and another screenshot of Ryan asking Sylvia on how he should disclose his resignation to their HR consultation were provided.
---
Advertisements

---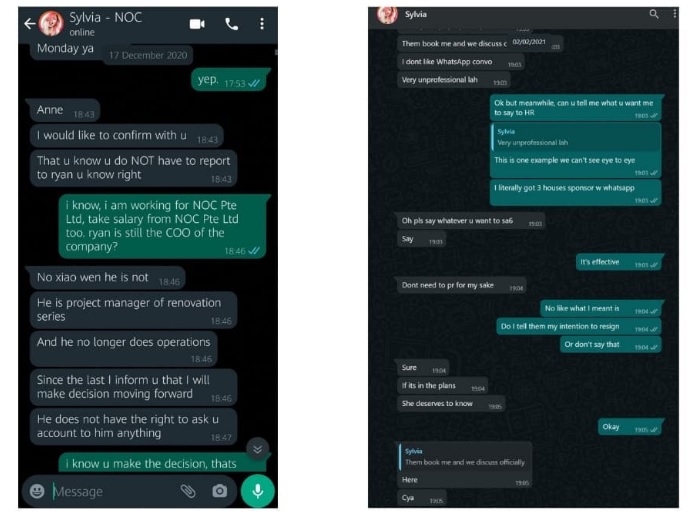 However, there is no screenshot of the agreement.
On the Issue of Him Starting a New Company Using NOC's Resources
The main argument stemmed from this: Sylvia claimed Ryan used NOC's resources to start Reno King, and incorporated a company for Reno King with all profits going to him.
Ryan claimed that he set up Reno King and incorporated it as a company with Sylvia's knowledge, with screenshots showing that Sylvia has asked to set a "clear boundary", presumably between NOC and Reno King.
The screenshots also claimed that NOC was then still paying Reno King people's salary, and Sylvia appeared to rush Ryan to speed up the process of separating the two entities (NOC and Reno King).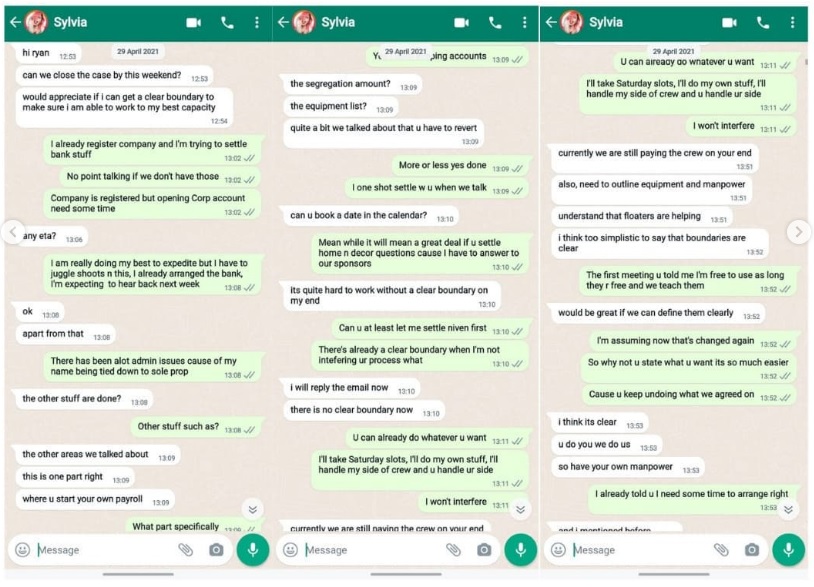 This took place in April 2021, the date that Reno King was incorporated.
On The Issue of Reno King's Profits
As for the profits, it was allegedly agreed that 20% of Reno King profits will be paid to NOC or Sylvia, since Reno King is using NOC's platform (its YouTube channel).
---
Advertisements

---
Reno King will also have its own payroll, employees, etc from May 2021, whereby Ryan would stop drawing salary from NOC from 8 May 2021 onwards: the date he agreed to resign as a director of NOC.
However, Ryan said that Sylvia denied having such an agreement "months later".
Sylvia Wishing Ryan Well on Reno King
This is…surprising.
Given that everything could have stemmed from Ryan's purported discreet incorporating of Reno King that pissed Sylvia (majority shareholder of NOC) off, there's a screenshot of Sylvia wishing Ryan well on Reno King.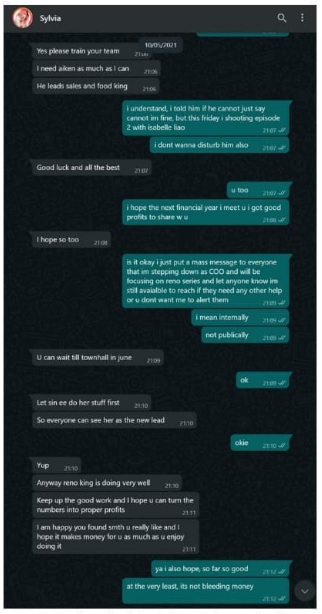 In fact, the conversation sounded like two good friends wishing each other well.
---
Advertisements

---
Buying Over NOC with "Millions"
Sylvia has speculated that the smear campaign happened because Ryan had wanted Sylvia to buy his NOC shares in the "millions" to exit from NOC.
This much is partially true.
According to Ryan, there was indeed an agreement on 8 May 2021 for Sylvia to buy 29% of Ryan's shares, but Ryan didn't ask for "millions". He said he asked for "a lot less" which he thought was fair, and that upon that, he would not interfere with the day-to-day operations of NOC and that he would resign as director.
The Date That Appears to Repeat: 8 May 2021
It might have been a normal Saturday to us, but it was a day that could've started everything.
You would see that there appears to be an agreement that was discussed and agreed upon on 8 May 2021: Ryan will resign as director and stop drawing a salary, he will transfer 29% of his NOC shares to Sylvia and NOC will belong to Sylvia while Ryan would be working on just Reno King.
Of course, according to Ryan, Sylvia did not "recongise the 8 May agreement", and so, Ryan remained as the director and he still held on to 49% of the NOC shares.
On Why Sylvia is Now Blocked from Finance
Sylvia had said in the interview that she tried accessing the company's accounts to clear her name on misuse of company funds, but was "locked out"; she would need permission from Ryan, which she didn't request.
Ryan addressed this allegation, saying that due to the allegations of misuse of funds, he told the NOC finance manager to ensure that all instructions should be cleared by him first.
---
Advertisements

---
What's not mentioned in the interview is that Sylvia has "demanded" that the finance manager give access to a certain person called "Daniel".
He Has been Locked Out of NOC's YouTube & Google Accounts
On 25 October, Ryan suddenly lost access to NOC's YouTube and Google accounts. For your info, that's a day after the interview dropped.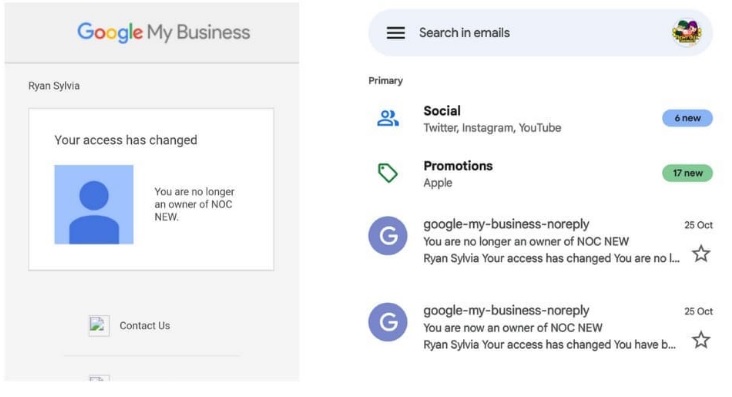 Wanted an End to This
He ended by saying that he just wanted a "clean break", and hope that Sylvia will reveal what "she offered to pay me in exchange for all my shares in NOC and 2 other NOC-related entities and what she proposed for Reno King."
It appears that a saga that started off as a toxic workplace has now gone through a plot twist: it now sounds more like a Hong Kong drama.
You can read this full Instagram post here:
View this post on Instagram
Read Also:
Featured Image: Instagram (@ryanxgo)