---
Advertisements

---
If you've been following the NOC Saga since it began, your butt is probably hurting from constantly sitting on the edge of your seat for the last three weeks.
Instead of checking your WhatsApp or Instagram for messages when you wake up every morning, the first thing you do nowadays is head to @sgcickenrice's Instagram account. Sadly, all their posts have been removed. 
It seems that NOC has stopped posting YouTube videos too, with its last video uploaded two weeks ago on 9 Oct, a few days after allegations of workplace abuse against Sylvia Chan emerged.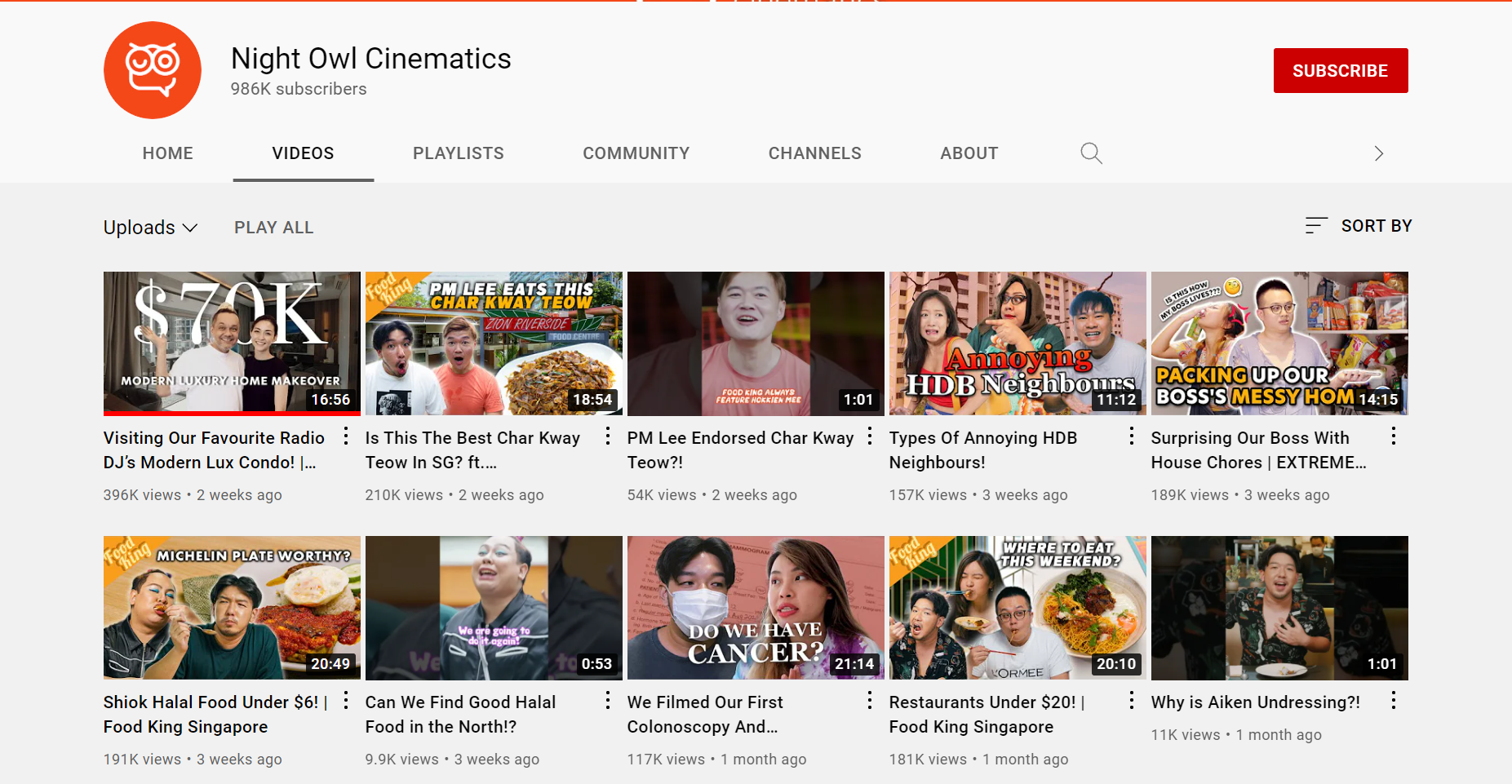 With some time to spare before episode 64 of the NOC Saga is released, we thought we'd take a drive down Memory Road and detail the stories of other local YouTubers who have stopped posting for similar reasons.
Dee Kosh
We'll start with former DJ and YouTuber Dee Kosh because his saga was the most recent among those in the list, and also because he's appeared in NOC videos before.
Dee Kosh's YouTube channel was officially created in 2006, but he only started uploading videos in 2011.
The 32-year-old, much like many YouTubers these days, was not famous for a particular type of video or topic. Rather, he spoke to the camera about anything topical or buzzworthy, such as cringey TikTok videos.
To say he was popular at the time would be an understatement, as he had hundreds of thousands of subscribers.
Everything changed last year, however, when several boys, some of whom were minors, came forward last year and accused him of sexual misconduct. He stopped posting YouTube videos soon after that and even explained why in a TikTok video.
He was later charged in court for several sexual offences, including three charges for offences involving commercial sex with boys below 18.
Interestingly, he once faked a removal of his YouTube channel as a social experiment.
Amos Yee
Now here's a man who needs no introduction.
Yee shot to 'fame' in 2015 when he made a video criticizing the late Lee Kuan Yew after he died.
He was subsequently arrested on multiple charges and was sentenced to jail, though he only ended up serving 53 days in remand.
Yee's YouTube career didn't end there, however. It ended after he defended pedophilia on the platform. That's right, the now-23-year-old uploaded at least three videos on his YouTube channel defending paedophilia, prompting YouTube to terminate his channel.
At the time, Yee had around 40,000 subscribers.
Yee, who has been in the US ever since he was granted asylum there in 2017, was recently handed 18 charges for grooming, indecently soliciting a child, and possession of child pornography.
That certainly came as a surprise. 
Eden Ang
Remember Eden Ang?
It seems like centuries ago now, but just four years ago, Ang was one of the most popular YouTubers here.
Associated with other local YouTube channels such as JianHao Tan, Night Owl Cinematics, and Wah!Banana, Ang used to post "listicle videos" like this:
---
Advertisements

---
He even created his own YouTube series titled "D stands for Decoy".
However, Ang's popularity and viewership plummeted after a netizen accused him of sexually harassing her 18-year-old friend. He is accused of touching her inappropriately as well.
Ang denied the allegations, but other girls then came forward with similar tales of Ang being creepy and sending lewd messages to them.
The internet had made their mind up on Ang, and he, unsurprisingly, stopped posting videos on his YouTube channel.
The Hwa Chong Lady?
It's a bit of a stretch to call the Hwa Chong Lady a YouTuber, but then again, she did post videos on YouTube that were viewed by netizens.
---
Advertisements

---
And she even managed to find her niche on YouTube: being a racist on the MRT.
The woman first hit the headlines when one of her YouTube videos went viral on social media.
In it, she gives passengers a lecture on the schools at which she studied, including Hwa Chong Junior College, before questioning commuters on their ethnicity and educational background.
Netizens who did some digging discovered that the woman's YouTube channel was filled with other racist videos where she goes around filming mostly Malay or Indian residents going about their day, and later pulls out an UNO reverse card by accusing them of harassing her.
Some examples include "Indian sexually harassing 56 year old Chinese lady" and "Malays Harassing Chinese".
---
Advertisements

---
JUST WATCH ONE OF HER VIDEO! pic.twitter.com/8FhPTHKI2V

— 𝐄𝐑𝐈𝐊𝐀 𝐓𝐀𝐓𝐘𝐀𝐍𝐀 (@erikatatyanaa) April 26, 2021
The woman was later charged for making racist comments and was assessed at the Institue of Mental Health.
YouTube also terminated her account for violating the platform's harassment and cyberbullying policies.
As for the NOC Saga, the channel may still be able to turn things around if the two co-founders can resolve their differences.
Based on the first 63 episodes of the saga, though, I wouldn't hold my breath.
Read Also: