---
Advertisements
---
Do you recall the circuit breaker days when we were all trapped at home with our family members—and a million other distractions?
Having a Zoom meeting with your boss while your wife screams at your children for not completing their homework is an example.
As the pandemic situation slowly eases, more employees are returning to their companies to work from the office. However, a study shows that six out of ten companies will be following the hybrid work arrangement.
What does this mean? More sleep. And more distractions.
No worries, there's a solution.
Soon, There Might be Study / Work Pods in Void Decks for Residents to Use
You might have come across such pods in shopping malls before. Also known as Switch booths, it comes with a table, chair, Wi-Fi and a power socket.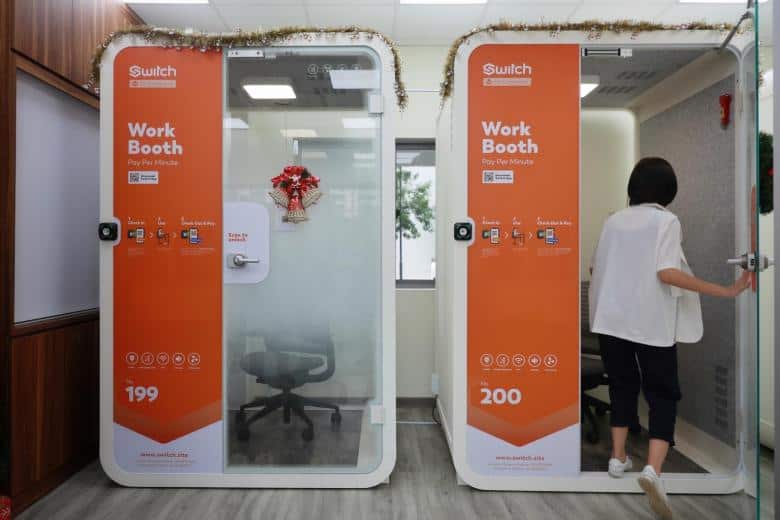 It costs around $3.60 for a one-seater booth and $7.20 for a four-seater booth per hour.
The only downside is that since it is located in shopping malls, the traffic volume is higher and the chances of kaypoh people peeking into the pods and disturbing you are also higher.
These pods will soon be available in your community void decks, so the only person peeking into the pods would most probably be the community cat asking you for treats.
Minister for National Development, Mr Desmond Lee, said that he hopes that such pods can provide a conducive and more private environment for residents to work near their homes.
What a life-saver indeed.
This project is a collaboration among the Housing Board, People's Association, and pod provider Burztech.
Where Exactly Would These Pods be Located
Three pods each were installed in the void decks of 183C Boon Lay Avenue, Block 260 Boon Lay Drive, and Block 674B Jurong West Street 65.
Ongoing pods are located at Clementi, Bukit Timah, and Keat Hong in common areas of community centres, or within the Residents' Committee centres.
How Much Will It Cost? 
Currently, Burztech provides the pods for free usage at Keat Hong Community Club, with take-up rates of up to 18 hours a day. The Boon Lay pilot is the first-time users have to pay to use the pods.
Co-founder of Burztech, Mr Leong, said, "Everybody wants to come when it's free, but we don't know what if it's not free."
He sure knows the culture of our fellow Singaporeans.
So, how much will it cost to rent a space to escape your wife's annoying nagging?
It costs $0.075 a minute, which adds up to about $4.50 per hour. However, from now till 10 October 2022, you can enjoy their launch promotion at $0.06 per minute, which is about $3.60 an hour.
To make a booking, all you have to do is use the Burztech app. You can make bookings up to two weeks in advance and the app has currently over 2,000 users.
Currently, 25 lower-income students in Boon Lay are given 35 hours of credit worth over $150, sponsored by the Boon Lay Community Development and Welfare Fund.
If these ongoing pilots show a strong uptake, more pods will be implemented around the neighbourhoods in Singapore.
Read Also:
Featured Image: The Straits Times + Google Maps
---
Advertisements
---