---
Advertisements

---
Remember when Singaporeans scrambled to stock up on toilet paper and instant noodles during the circuit breaker?
Well, we have a similar situation again, except people are scrambling to buy medicine this time.
Here's what you need to know about it.
People in Singapore Scrambling to Buy Medicine to Send to Relatives in China
According to Lianhe Zaobao, Chinatown is starting to get busy, and it isn't because Singaporeans are getting kiasu with shopping for their Chinese New Year goodies.
People are trying to send medicine to their relatives in China through various express shipping services.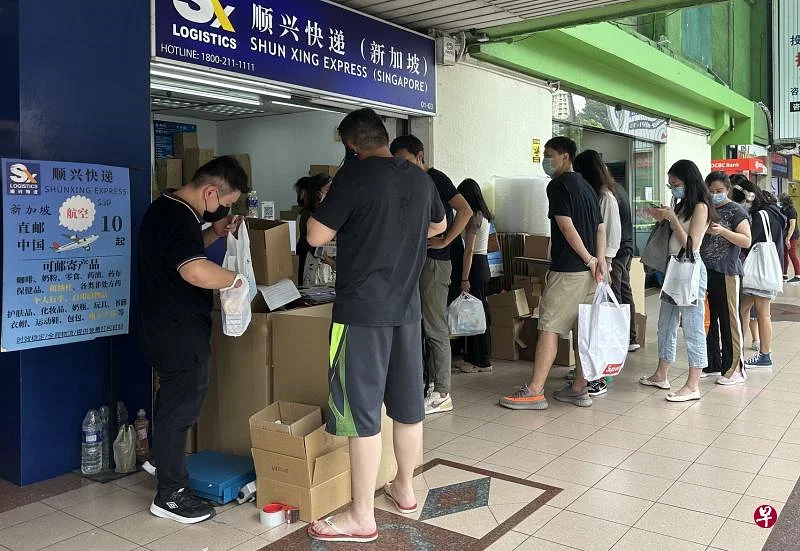 And while you might think that most people in the queue are kiasu aunties and uncles, you'll be surprised to hear that the lines were full of people in their 20s and 30s.
Let's face it; you're the auntie/uncle here.
Surge in Number of People Infected with COVID-19 in China
As China eases their restrictions and begins to reopen, the world is on high alert.
The nation's reopening has brought about a surge in the number of people infected with COVID-19 in China, and you know what that means: China's long-expected great COVID-19 wave is here.
The newest COVID-19 wave has put their hospitals under strain and brought about devastating medicine shortages in several areas.
Many Chinese people studying or working in Singapore, concerned for their relatives' well-being, have resorted to buying medicines in Singapore to ship to China.
Apparently, one can send a maximum of eight boxes of non-prescription drugs in each airmail package.
Most people, however, were unaware of this requirement, and many turned up to the queues with more than ten boxes of medicines.
Express shipping service operators interviewed by Lianhe Zaobao also shared that rapid antigen test kits and prescription drugs cannot be mailed.
So, we'll save you the effort; don't start packing your spare ART test kits; you can't mail them to any friends and family in China.
Join our Telegram channel for more entertaining and informative articles at https://t.me/goodyfeedsg or follow us on Twitter : https://twitter.com/goodyfeed
After the courier services send out the packages for delivery, the estimated delivery time could vary from two to four weeks.
Ultimately, the estimated delivery time depends on the local COVID-19 situation and how smooth customs inspections go.
Mailed Medicines Mostly For Cough & Cold Symptoms
Most of the medicines mailed were to relieve cough and cold symptoms, such as Panadol Cough & Cold, Lianhua Qingwen Capsules, cough drops and Vitamin C effervescent tablets.
Hopefully, you don't fall sick from the rainy weather within the next few weeks because we can't say for sure whether you'll be able to get your Panadol fix.
One student in line interviewed by Lianhe Zaobao shared that she managed to ship 18 boxes of Panadol and two bottles of cough drops to her parents in Beijing via Shun Xing Express. All that for the price of just $32!
Of course, with the shipping limits in place, she had to split up the medicines and ship them in three separate packages.
---
Advertisements

---
She shared that Panadol can't be purchased in China, so although she was aware that the medicine could take up to a month to reach her family members, she was willing to ship them anyway.
She added that her family and friends in Beijing have yet to be diagnosed with the dreaded virus. However, she just wanted to send the medicine home for peace of mind.
Another person in line, interviewed by Lianhe Zaobao, shared that she was sending more than $200 worth of medicines to her family members in Guangxi.
This is just one of the many heartwarming spectacles arising as a response to the COVID-19 wave in China.
Online, many netizens are sharing their tips on how to ship medicines to China through Singapore Post's Speedpost Express.
Are Local Pharmacies Facing Another Drug Shortage? 
Interviews conducted by Lianhe Zaobao also revealed that several Guardian and Watsons pharmacies have reportedly already run out of stock for cough and cold medicine like Panadol.
---
Advertisements

---
Some of those in line who were interviewed shared that they had to visit multiple pharmacies before finally getting their hands on the medicine they wanted to purchase.
You know what that means: another drug shortage could be upon us.
While this has yet to be confirmed by any authorities, it has happened before in February and August this year.
Earlier this year, local pharmacies faced shortages of several non-prescription drugs, most of which were cough and cold medicines.
Currently, the websites of various pharmacies indicate that the medicines are still fully stocked.
---
Advertisements

---
With any luck, it'll remain that way.
The Local Situation: More People Falling Sick This December
This month alone in Singapore, we've seen a rise in respiratory infection cases by up to 20 per cent.
It's partly because people are sick from staying up late to watch the World Cup (or perhaps they're just sick of watching their favourite teams flush their money down this World Cup), but also because it's flu season.
Even clinics have been scrambling to ensure sufficient medication is available to prepare for the worst.
The best thing you can do for yourself now is probably to stay healthy and take good care of yourself.
Of course, we're not saying it'll happen, but you don't want to end up in the scenario where you're sick but can't even self-medicate because there's another Panadol shortage.
And also so that you won't miss out on Christmas celebrations and the New Year's Eve countdown.
Read Also:
Featured Image: Lianhe Zaobao + TY Lim / Shutterstock.com
---
Advertisements

---

Fresh grads, you don't need any experience to earn up to $4,200 with this "secret":
Read Also: