Did you know that according to the Housing and Development Board (HDB), cats are actually not allowed in flats?
Well, neither did I until now, which clearly shows you how absolutely obsolete and ridiculous this prohibition law is.
Another High-Profile Figure Stands Up for the Felines
Six months ago, Law Society's President Adrian Tan posted this on LinkedIn, and of course, it didn't go viral until it was shared on Facebook recently:
The four reasons being listed as to why cats should not be allowed in flats are not mutually exclusive to cats alone:
Cats can be easily contained within homes with railings or anti-scratch bug screens and are in fact more likely to remain within the confines of the apartment because they are solitary animals,
Cats do shed fur, but so do other animals,
Domesticated cats prefer to defecate and urinate in their own designated litter boxes, almost instinctively, as opposed to dogs that need to be trained or picked after
Cats rarely make noises, as opposed to other species like dogs and birds which can get loud when other people walk by.
His given verdict is that all the reasons that supposedly support the prohibition of cats in flats are ridiculous and obsolete, which I strongly agree with.
At this point, the government is just being cat-sist. Feline-sist? You get what I mean.
Other Damning Implications
Since cats are only disallowed in HDB flats, cats then become some kind of exotic animal that condominium or bungalow owners are allowed to raise.
Then, what differs a condominium apartment from a HDB flat?
Besides the private facilities that condominium owners have access to, the square footage of condominiums are nearly the same as HDB flats, and you rarely hear complaints about cats being an annoyance to the community.
Secondly, Muslims can't keep dogs due to their inherent belief systems, but they aren't allowed to the alternative of cats. Tan even goes as far as saying that "an argument that this rule discriminates against them" can be made.
Moreover, this affects 80% of the Singaporean population since most of us are housed in HDB flats.
If we hardly enforce the rule in the first place, why is the use of it, and why are we keeping it?
It doesn't even serve decorative purposes; it is just ludicrous and contravenes what we determine as necessary laws in the first place.
Re-Evaluation of the Cat Ban
Unsurprisingly, Tan's post has gained quite a bit of traction online.
---
Advertisements
---
Thus far, his post has circulated around Sayang Our Singapore's Community Cats and has garnered than 1,000 shares.
Cat lovers are supportive of Mr Tan's views, even pointing out that there might be lesser problems concerning pet abandonment if the ban is lifted. That definitely is a good point raised; abandoned cats are a more frequent sight than abandoned dogs, so there might actually be a correlation there.
Cats should be given their rightful status, which will only further improve and protect these beloved domesticated animals that have brought much joy into our lives.
Parliamentary Enquiries
This might seem a bit absurd, but apparently the debate to allow cats in HDB flats has been ensuing for many years, but the ban still remains in its place, like a chewing gum underneath a table—oh wait.
That piece of legislature went through pretty quickly, didn't it?
One of the most ardent advocates against this ban is Nee Soon GRC MP Mr. Louis Ng, who has raised this issue in Parliament a number of times.
---
Advertisements
---
Mr Ng has also been vocal about his views on Facebook, bringing up similar reasons that Mr Tan has addressed in his own post. He believes that this ban can be easily addressed and shouldn't be a point of content, since the ban itself has never been actively enforced, merely a rule that the parliament turns a blind eye to.
Like many cat lovers, he hopes that the Parliament can rectify and remove this ban to "reflect what we already accept in reality—that residents are allowed to keep cats."
And…speaking of Parliament, even the Speaker of Parliament has publicly spoken about this law, stating in a comment that "we should" legalise cats in HDB after he shared an image of his new cat.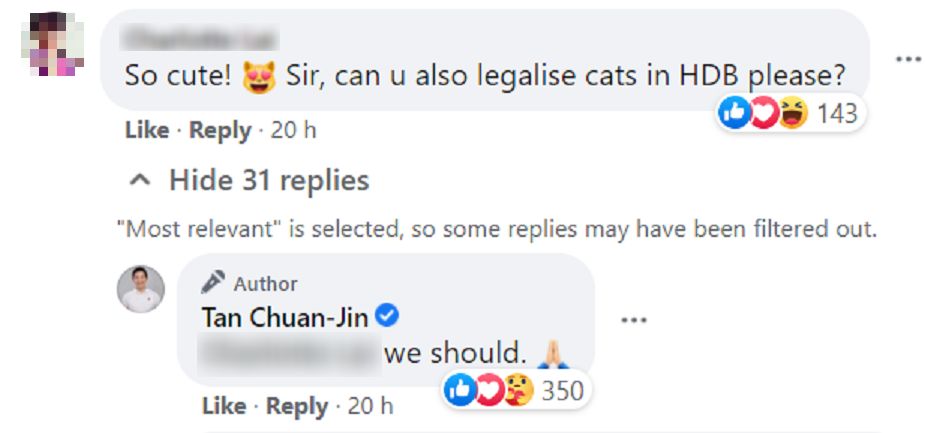 It's not even controversial or anything, just let this motion pass through.
---
Advertisements
---
If there is an ongoing petition for supporting the allowance of cats, sign me up for it.
This article isn't sponsored by any cat. We're just forced at gu—
Read Also:
Featured Image: Yimmyphotography / Shutterstock.com
---
Singapore will be hosting Dota 2's The International this year. Here's why it's such a big issue: