---
Advertisements

---
As a public figure, all it takes is one unpleasant situation to ruin your reputation. And once that is down the drain, one can bid your career ado.
After all, bad events wear off more slowly than good ones.
And when I talk about unpleasant situations public figures could face, these three scenarios take the cake by a fair margin.
Family disputes
Cheating cases
Corruption incidents
In the past, we saw how several Mandopop singers faced severe allegations against them. First, we had Jay Chou and his rumoured secret child. Next, we had Wang Leehom and his elaborate scandal.
I think we all know what happened so no need to dwell on the specifics.
And now, we have JJ Lin who is being accused of being a "playboy".
Women on Weibo said JJ Lin deceived her
Around Christmas last year, a Weibo user dropped hints that she once had an intimate relationship with Mandopop singer JJ Lin. However, she later clarified that it was "a misunderstanding".
Well, apparently not anymore. It looks like the matter isn't over.
While we're mostly trying to start the New Year on a high note, things aren't looking so good for Lin. He is now being accused by Weibo user @C-peaceful-and-quiet1011 of deceiving her.
Apparently, JJ Lin had once promised a 5-year timeline to her and they did have an intimate relationship in the past.
According to the Weibo user, JJ Lin has destroyed her trust in people. "You are not the kind, warm person I thought (you were)," she mentioned.
---
Advertisements

---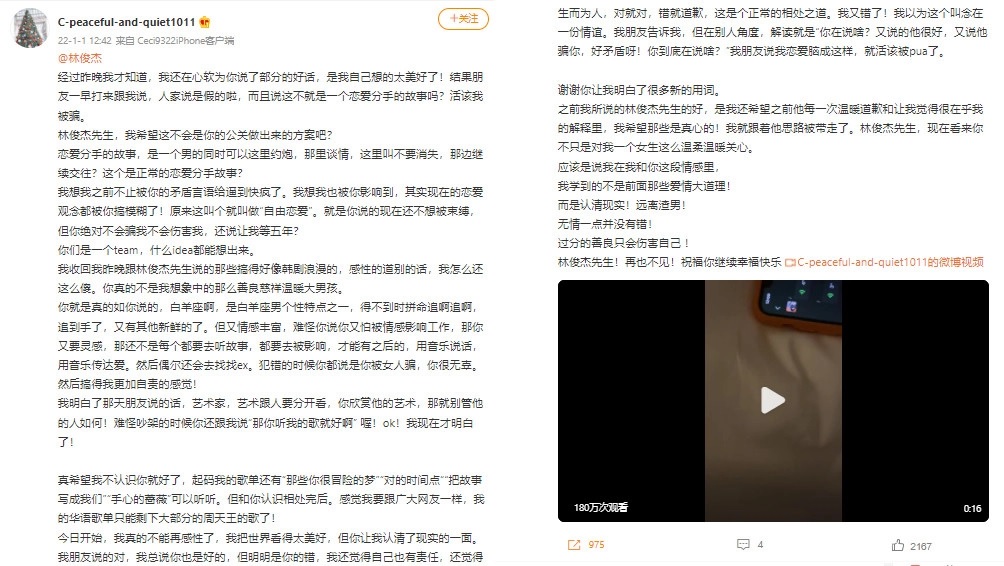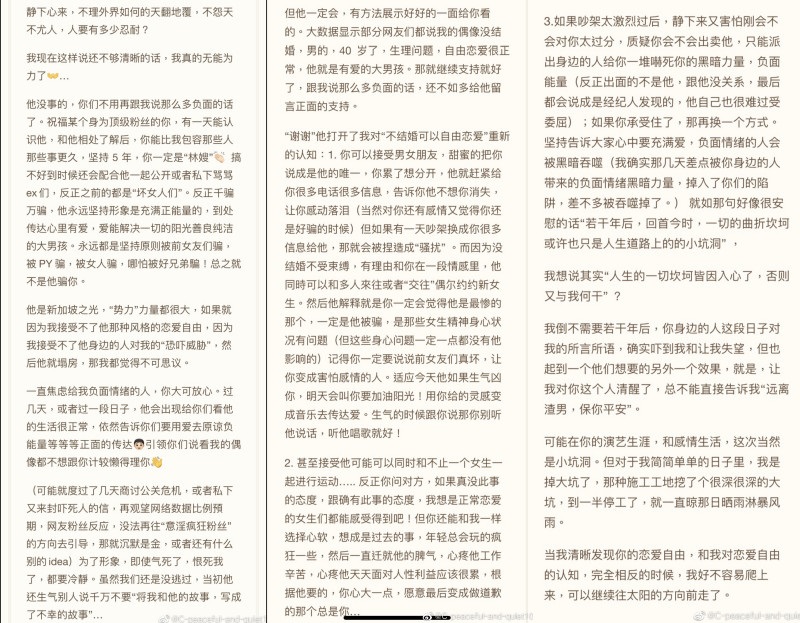 Not the only person who has been tricked by JJ Lin
Just as you thought we can catch a breather from the Wang Leehom saga, another incident popped up. Here we go again.
The Weibo user also claimed that she is not the only person who has been duped by JJ Lin. She said that JJ Lin would often tell girls that he is only looking to be in a relationship but nothing more than that.
However, JJ Lin would not let the girls leave the relationship. Instead, he is the only one who is allowed to ghost on them. And when he does that, the girls' texts are subsequently considered as "harassment".
She also provided a voice recording, but when even my boss sounding like JJ Lin, it's hard to discern the authenticity of the recording.
Join our Telegram channel for more entertaining and informative articles at https://t.me/goodyfeedsg or download the Goody Feed app here: https://goodyfeed.com/app/
Many not convinced by her story
Of course, all of the aforementioned are only alleged by the Weibo user. Many netizens aren't convinced by her side of the story.
After all, she hasn't given much concrete evidence. Maybe she'll do so in the coming days or weeks?
Some netizens have also chimed in to say that her writing is too ambiguous which leads to many loopholes. This makes it had to grasp the account of the full event.
Also, for the story to come out right after the Wang Leehom saga?
Sus?
In any case, JJ Lin's company has previously responded to the previous allegations, saying that they "do not respond to those with ulterior motives in spreading rumours. We do not want to waste public resources because of the behaviour of a few trouble-makers. It does not mean that the rumours are true."
---
Advertisements

---
Read Also:

Here's why a 4-day workweek might finally really be possible in Singapore soon:
Read Also: