Regardless of whether it's Facebook, Twitter, Weibo, or Tumblr, there will always be a corner that's reserved for the toxic.
Weibo clearly has its own cancerous cancel culture, and it has reared its ugly head after US House Speaker Nancy Pelosi's visit to Taiwan on 2 August.
After Pelosi's visit to Taiwan was announced, the Chinese social media picked up their figurative pitchforks and torches with a terrifying fervour.
Leading the charge was Chinese state broadcaster CCTV, who published a post on their Weibo account, declaring that there is "Only One China" (只有一个中国).
The one-China policy refers to the Chinese Communist Party's stance on Taiwan, wherein it believes that the unification of the "errant" breakaway province and the mainland is just a matter of time.
There is no such thing as "Taiwanese Independence" in Beijing's eyes; the Chinese government is determined to see the unification through, even if it means resorting to force.
Following the post, a large number of Chinese celebrities, as well as those from Hong Kong, proceeded to share CCTV's post on their personal Weibo accounts to show their support.
The Call Out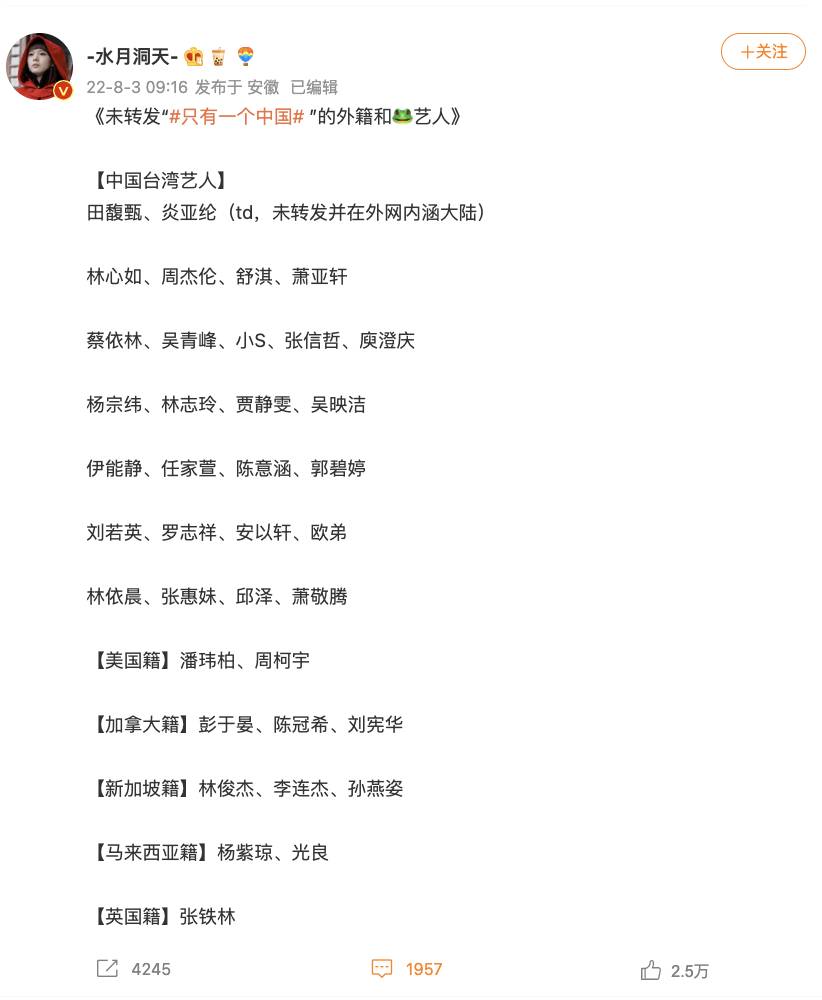 Evidently, one Weibo user had too much time on their hands, because they decided to scroll through the list of celebrities to check who hadn't shared the post.
Why do you do this?
The list of celebrities was categorised based on their nationality, from Chinese and Taiwanese celebrities to American, Canadian, Singaporean, Malaysian and British.
This is almost as ridiculous as S.H.E member Hebe Tien being accused of being a pro-Taiwanese Independence supporter just because she posted a picture of herself eating spaghetti on the day of Pelosi's visit.
The mentioned celebrities included A-Mei, Ady An, Alyssa Chia, Annie Yi, Ariel Lin, Aska Young, Bea Hayden, Dee Hsu, Elva Hsiao, Eddy Ou, Emma Wu, Harlem Yu, Ivy Chen, Jam Hsiao, Jay Chou, Jeff Chang, Jolin Tsai, Lin Chiling, Rene Liu, Ruby Lin, Roy Chiu, Selina Hen, Show Luo, Shu Qi and Wu Qing Feng.
Wilber Pan and Daniel Zhou were considered American celebrities, while Eddie Peng, Edison Chen and Henry Lau were named as Canadian celebrities.
Even Singaporean celebrities such as JJ Lin, Stefanie Sun and Jet Li were not spared.
Malaysian celebrities Michelle Yeoh, Fish Leong and Michael Wong were noted down as well.
That's 36 named celebrities right there.
---
Advertisements
---
Join our Telegram channel for more entertaining and informative articles at https://t.me/goodyfeedsg or download the Goody Feed app here: https://goodyfeed.com/app/
What was the rationale behind creating this list, you might ask?
The creator said, "Sharing might just be a surface-level [show of agreement]. But for those who didn't share it, they definitely have something to hide."
Since it's Weibo, the site that decided food choices dictated one's political beliefs, the vocal majority agreed that celebrities deserved to be called out for not supporting China's stance.
Thankfully, there were some sane netizens who thought that there wasn't a need for foreign celebrities to declare themselves.
After all, their ethnicity might be Chinese, but they don't hail from mainland China.

The original poster is definitely a keyboard crusader too, because they have a comeback for every argument.
---
Advertisements
---
When one netizen pointed out that individuals like JJ Lin, Stephanie Sun, and Fish Leong weren't from China to begin with, which therefore meant that they didn't have to voice their opinions, they were met with a scathing reply from the original poster:
"Don't they earn money from the Mainland? Aren't they part of our local showbiz scene?"
Then in the same vein, don't all the other celebrities who have voiced their agreement with the one-China policy profit off the US audience? Should they swear off all their connections to the US, just to show solidarity with the Mainland?
Another netizen asked, "Why must they voice their opinions? Isn't it the best for them to avoid political topics altogether?"
Which is true; if you don't take sides, neither side will have ammunition against you.
---
Advertisements
---
The creator refuted this, arguing that it is the celebrities' duty to share these posts. As long as they earn China's money, they have to share it; if they don't share it, then it's very obvious what kind of attitude they hold towards China.
Hey, creator, the human right to the freedom of speech means that public figures also have the right to remain silent, if only to avoid dangerous topics like these.
Live and let live.
You can watch this video to know more about Nancy Pelosi and her visit to Taiwan:
---
Advertisements
---
Read Also:
Featured Image: Instagram (@jjlin & @michelleyeoh_official & @jetli)
---
OTRO is closing, and this time, it's confirmed. Here's what you need to know: