---
Advertisements
---
On certain occasions, anger propels us to assert and confront.
In a recent event (9 January), a group of cyclists surrounded a driver's car after getting honked. According to a viral Facebook video, here's what happened.
Driver Honked At Cyclists That Blocked Road
The driver was just about to turn into New Bridge Road when a group of 11 cyclists rode past the junction and obstructed his way.
The driver made his turn only seconds later.
However, they were fated to meet again at the next intersection, where the cyclists came to a stop. Blocking the road leading to Keong Saik Road, the driver was unable to make a turn.
It was likely at this moment that the driver honked at the group, though there is no audio made available in the video.
The moment was filled with tension as the cyclists glared at the driver.
But this was only precursory to the confrontation.
Cyclists Surrounded His Car in Keong Saik Road
At some point along Keong Saik Road, the driver picked up a passenger. Everything seemed peaceful for a while, but it was only in a matter of seconds that the cyclists abruptly overtook his car.
Stopping in front of him, they dismounted synchronously and started to gesture aggressively. Encircling the vehicle, they came closer to make antagonistic taps on the vehicle.
At the end of the video, a large handprint likely made by the cyclists can be seen on the rear window of the car.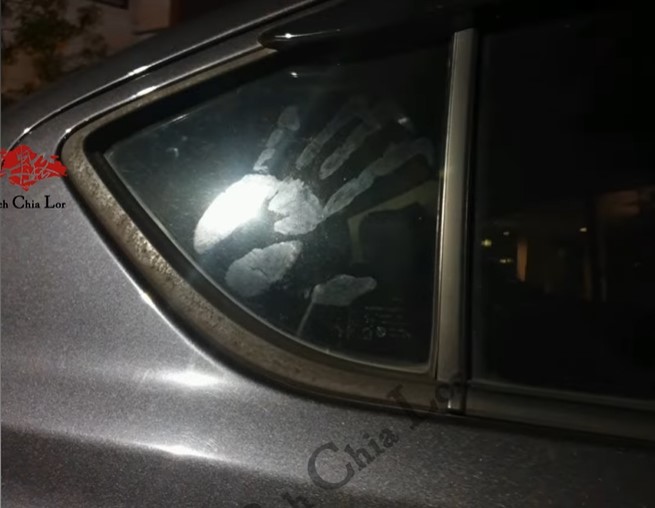 The handprint reminds me of my kindergarten art classes…
Join our Telegram channel for more entertaining and informative articles at https://t.me/goodyfeedsg or download the Goody Feed app here: https://goodyfeed.com/app/ 
You can watch the video here:
Netizens Berate Cyclists For Their Actions
This video has garnered 269k views, and netizens seem to be on the driver's side.
Many of them are unhappy with the way the cyclists were confrontational despite being at fault for blocking traffic. Others tagged the Singapore Police Force in their comments, in hopes that justice will be served.
However, some comments are suggesting that the driver could have flicked his headlights to signal his turn; blaring his car horns immediately may have been rude.
Apparently, vehicles talk.
What Do The Rules Say?
Many responses seem to be in favour of banning cyclists from roads. Unbeknownst to some, it is an offence to cycle on roads in groups greater than five from 2022 onwards. If cycling two abreast, 10 is the maximum number.
This law comes after a six-month review of the existing regulations by the Active Mobility Advisory Panel (AMAP). Those found violating this rule will be fined $150.
Done to mitigate the spike in traffic accidents involving bicycles, this rule is targeted at errant cyclists who endanger the safety of others.
Perhaps it is better to be safe than sorry.
One Of Many Instances
This incident is far from an exception; the growing popularity of cycling has led to "increased interactions between cyclists and other road users", as stated by the Ministry Of Transport (MOT).
We can see this in the example of the road rage dispute between a cyclist and a lorry van driver. Said to have occurred in July 2020, both parties got involved in a heated argument. The cyclist ended up getting fined $5,600.
Would 2022 be filled with more of such 'cyclists versus drivers' incidents?
Read Also:
Featured Image: Facebook (Beh Chia Lor – Singapore Roads)
---
Advertisements
---