On 15 Nov 2021, Rebecca Lim announced her sudden engagement to the world via her Instagram account.
View this post on Instagram
Her husband-to-be isn't Ian Fang, with whom she was rumoured to be in a relationship.
Nonetheless, that hasn't stopped Fang from congratulating her on the post.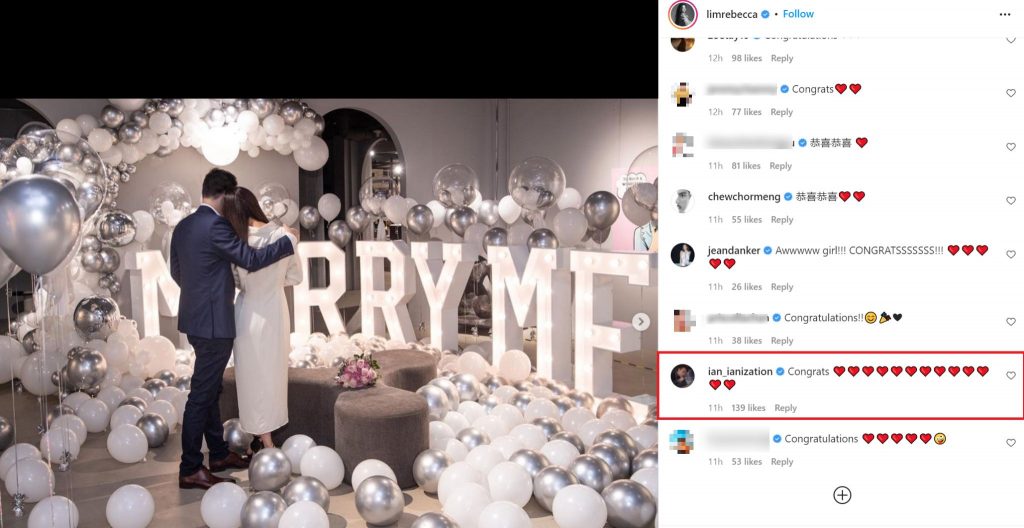 Turns out, her sudden engagement wasn't just a surprise to members of the public.
Even her fellow star and "best friend", Desmond Tan, was unaware that she was in a relationship.
Actor Desmond Tan, Rebecca Lim's 'Best Friend', Didn't Even Know She's in a Relationship
On 18 Nov 2021, Tan had an interview with the Chinese newspaper Lianhe Wanbao.
During the interview, he claims that he did not know Lim was in a relationship.
In fact, he found out about her upcoming marriage the same way most of us did: via her Instagram post.
While he had yet to congratulate Lim via text or online, he was "very happy" for her.
"Finding someone to spend the rest of your life with is a very difficult task. Especially for us actors, it is even tougher."
He said he merely wanted to convey his congratulations in person.
Tan and Lim were close friends even before entering showbiz.
However, they drifted apart due to a misunderstanding about five or six years back, a misunderstanding that Tan apparently took responsibility for.
Join our telegram channel for more entertaining and informative articles at https://t.me/goodyfeedsg or download the Goody Feed app here: https://goodyfeed.com/app/
Then, he had stated on the show Hear U Out that he was "a bit of an idiot".
One Other Person Knew The News Before Lim Announced It
It turns out that there was at least one person that Lim told about the engagement before she announced it to the world, and that was Ian Fang.
In an interview with Lianhe Zaobao, Fang said that Lim "respected" him well enough to inform him of her engagement beforehand.
---
Advertisements
---
He did not deny being in a relationship with Lim before but did not elaborate on why they broke up.
Fang only talked about how he tried his best but couldn't be Singapore's Golden Couple, Christopher Lee and Fann Wong.
Lim stated that she and Fang have always been good friends and Fang was excited about her engagement as well. Fang wished her well and Lim also hoped that he will find happiness in the future.
Getting Emotional On Social Media
Nonetheless, that hasn't stopped Fang from getting emotional on social media a few hours before she revealed the happy news.
In a post that is already removed, he talked about how "not every Christopher Lee will have his Fann Wong, and how not every Fann Wong will stay with Christopher Lee".
He also got into an online altercation with an aggressive netizen and briefly lost control.
---
Advertisements
---
You can read more about it here.
Read Also:
Feature Image: Instagram / IMDB
---
Goody Feed might be getting a second lawyer's letter due to this video. Here's why: