---
Advertisements

---
When you've been married to a Victoria's Secret model for almost a decade, and she's pregnant with your third child, what are you inclined to do?
Cheat on her, apparently.
Popular Maroon 5 lead singer and The Voice mentor has been exposed for his alleged cheating scandal with an Instagram model, Sumner Stroh, who took to TikTok to share the details of their year-long affair.
In the video, she chalked up her role in the affair to being "young" and "naive", and felt that Levine had exploited his position of power in the industry as she had just entered the entertainment industry in Hollywood.
"Quite frankly, I feel exploited. I wasn't in the scene [in LA] like I am now, so I was definitely very easily manipulated," the model said.
Though she did not explain how the two met, she said, "Adam and I were seeing each other for about a year."
She also showed a series of screenshots showing racy messages being exchanged between the two.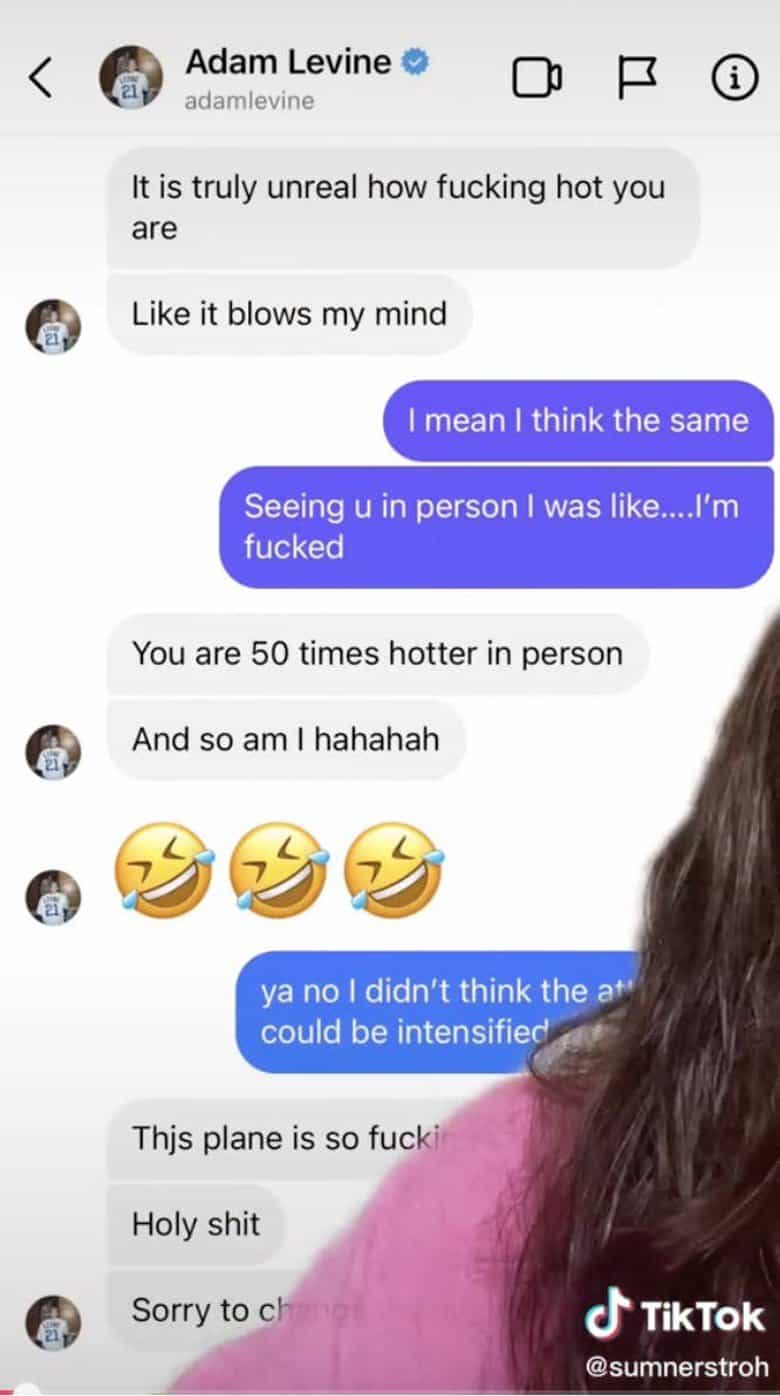 She elaborates on how they stopped talking for a few months following the affair, where Levine then reappeared into her life suddenly via an Instagram direct message.
This time, he posed a query to her that was highly questionable, to say the least.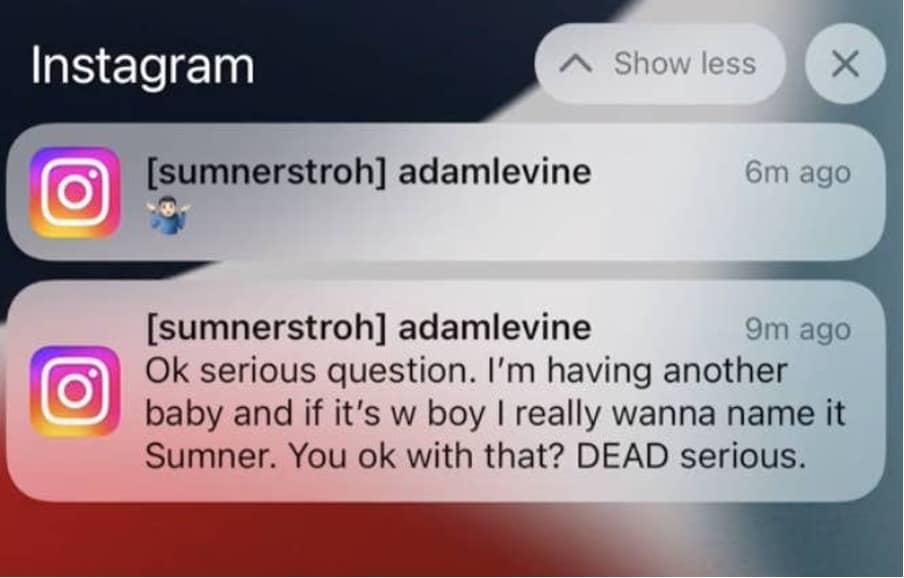 Yes, the man literally slid back into her DMs to ask if she'd be okay with naming his third child he's having with his wife after her.
Also, we're pretty sure that Behati, Levine's wife, wouldn't be "ok with that" if he had bothered to run this whole "I'm naming our child after my side chick" thing by her. DEAD serious.
Levine Alleges That He Didn't Cheat, but "Definitely Crossed The Line"
The reason for the exposé was, according to the model, because one of her friends she had confided in tried to sell the screenshots showing Levine's messages to her to tabloid news outlets.
"I had sent some screenshots recklessly to a few friends I thought I trusted, and one of them had attempted to sell to a tabloid, so here I am," she says at the end of the now viral TikTok that has garnered 22.2million views at the time of writing.
In response to the backlash from netizens and disappointed fans, Levine posted an Instagram Story addressing the issue with a statement: "I used poor judgment in speaking with anyone other than my wife in ANY kind of flirtatious manner. I did not have an affair, nevertheless, I crossed the line during a regrettable period of my life."
He also added that he has "taken proactive steps to remedy this [situation] with [his] family."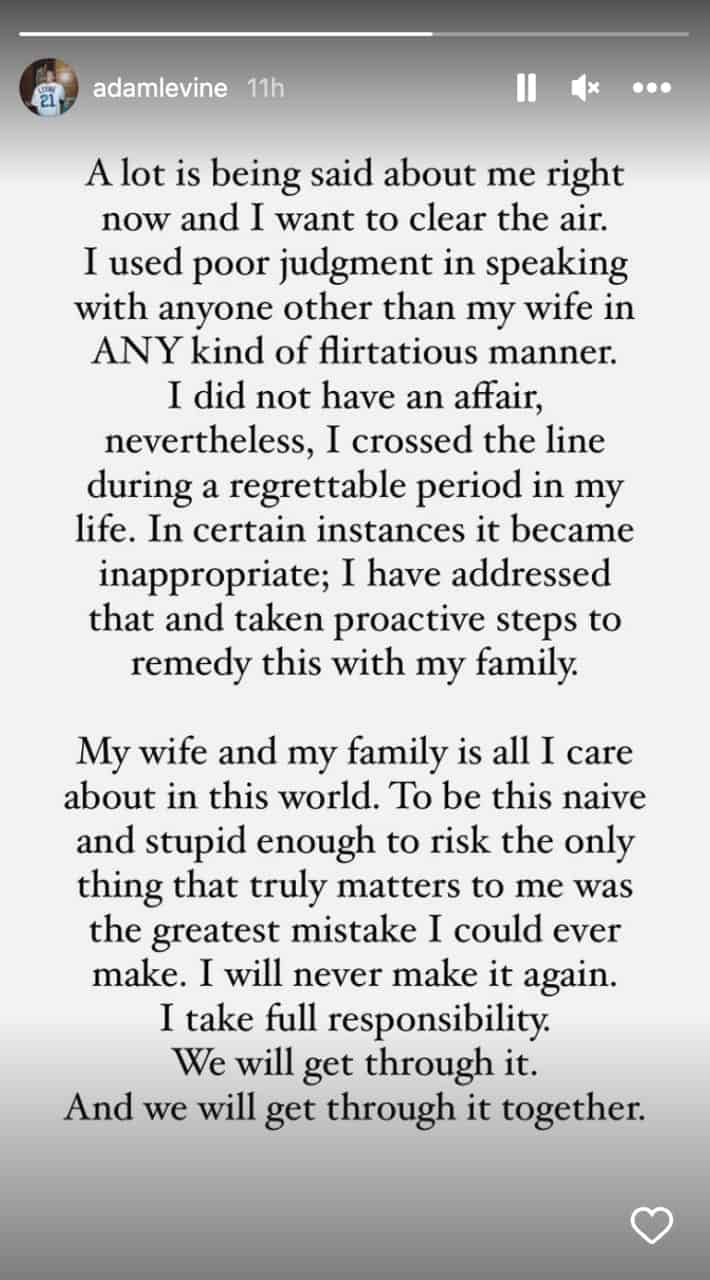 Seemingly, in response to this, Stroh posted an Instagram story with text reading, "Someone get this man a dictionary."
So is this the end?
No.
Other Models Came Forward with Similar Stories on Levine
At least two other women have now come out with their stories on how the singer sent them inappropriate messages on social media.
Alyson Rose, another Instagram model, shared her story later that day, in a now-deleted TikTok video.
In the private messages, Levine appears to be acknowledging the fact that he "shouldn't be talking to her."
---
Advertisements

---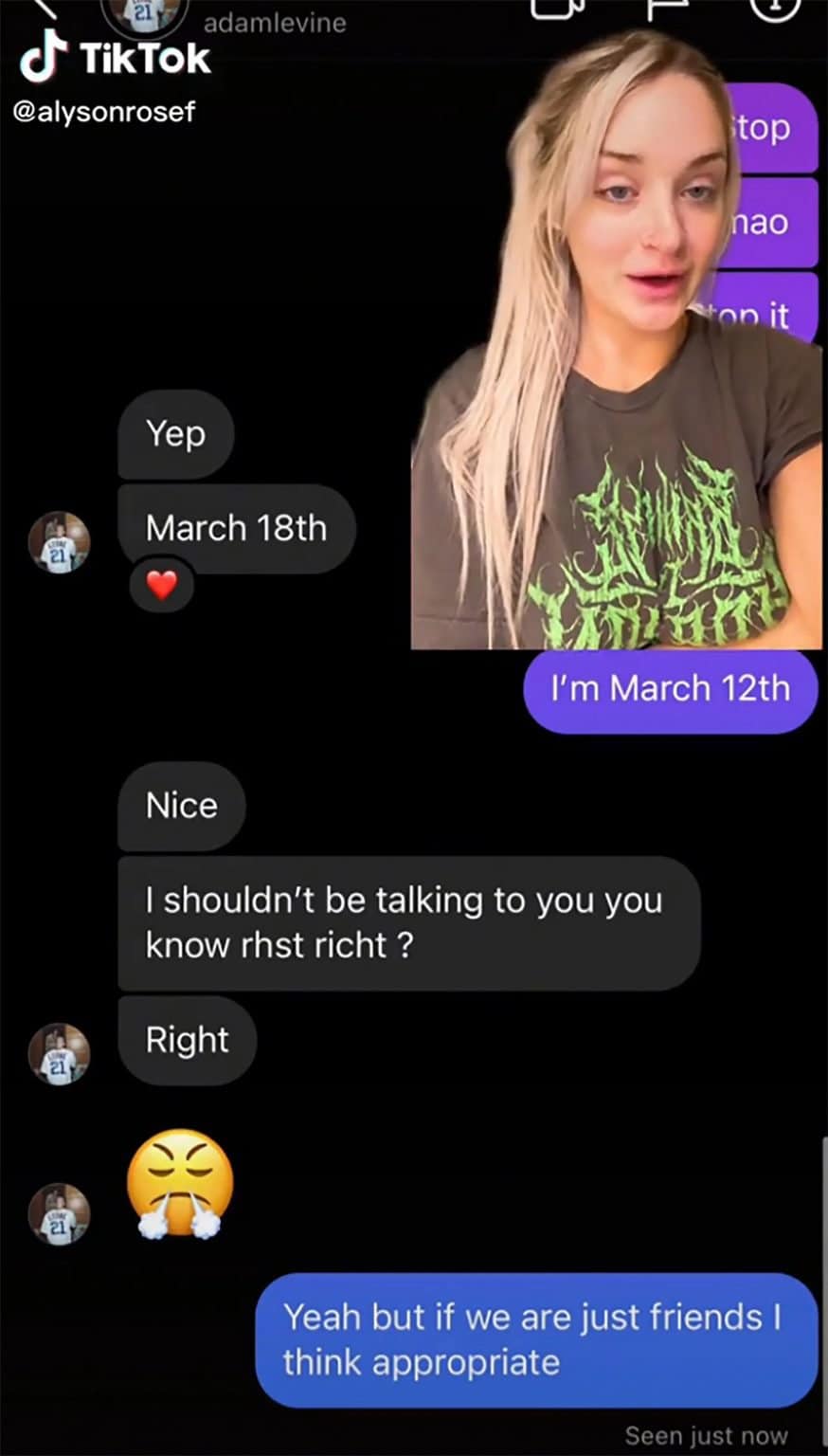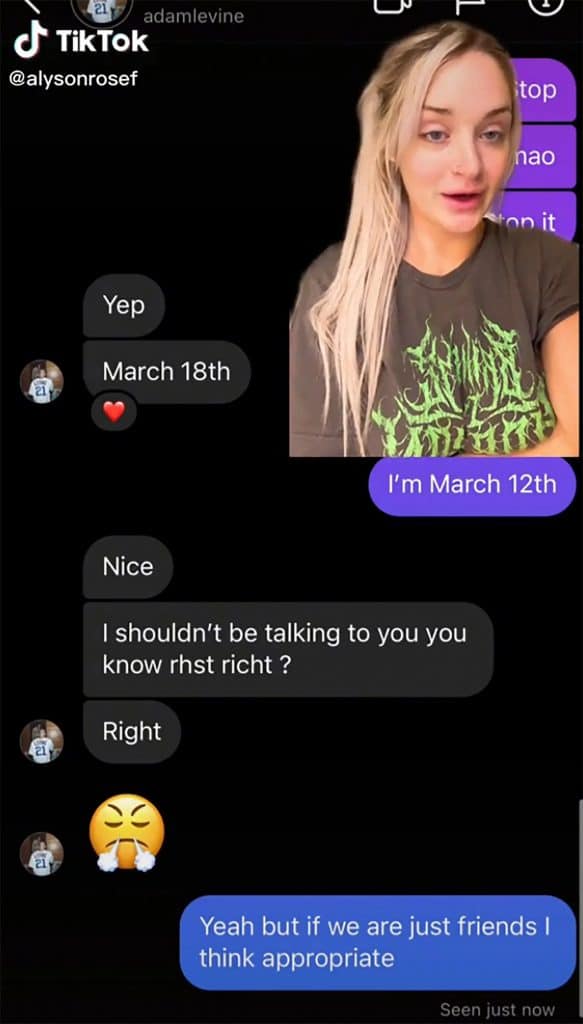 According to Rose, a lot more was sent from Levine to her that she didn't feel comfortable enough to share given its highly inappropriate nature.
She also added that she "feels really bad for his wife", and that "nobody deserves this."
Alright, on to the next one.
Yet another Instagram model (there seems to be a trend going on here) posted on the same day on Instagram stories, showing her own set of screenshots in the mission to #exposeadamlevine.
Using her account with the handle @mvrykv_, she shares about how Adam had sent her a multiple sexually explicit comments, including one that read, "Distract yourself by f***ing with me."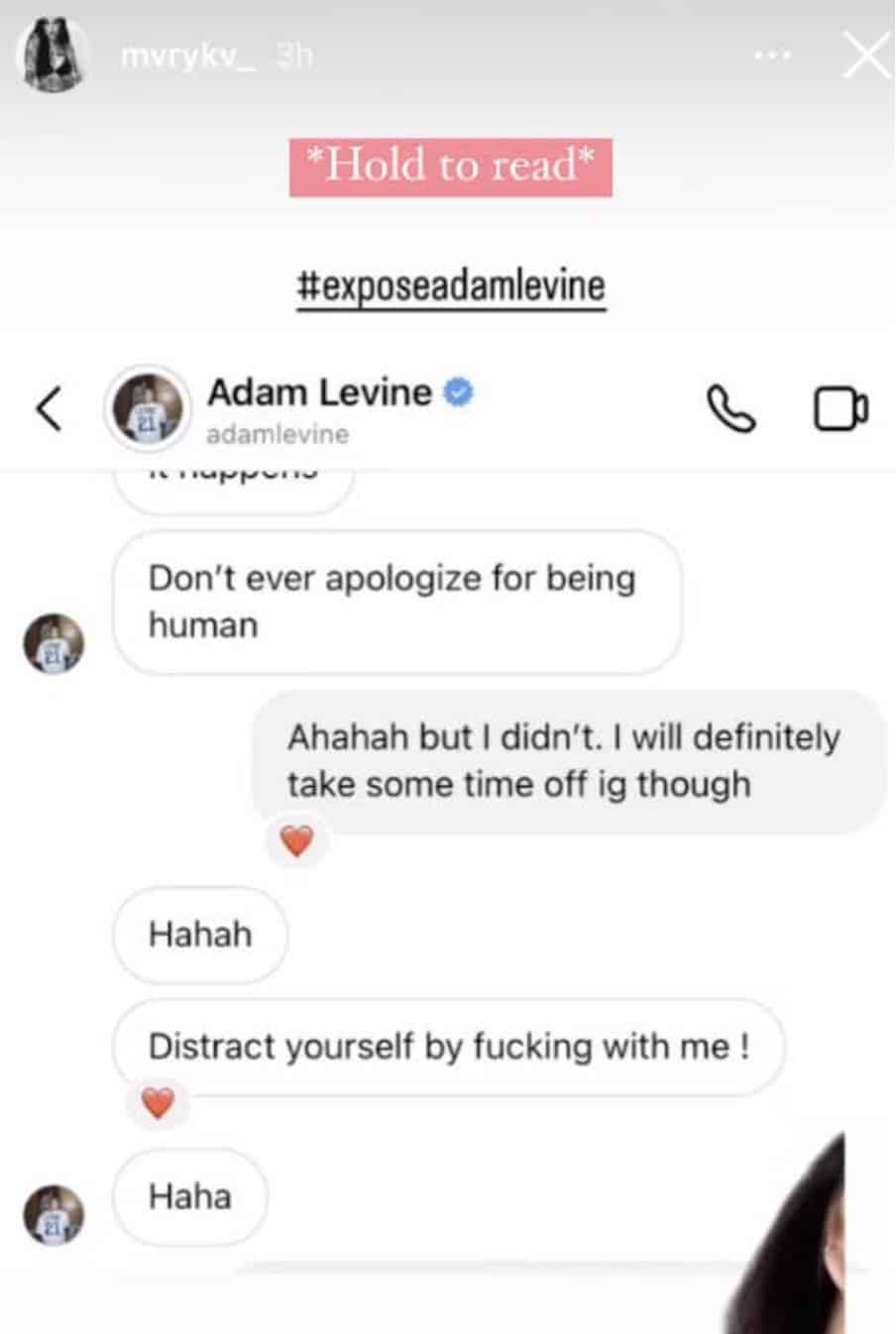 Levine's Inappropriate Behaviours Might Have Started Before Marriage 
Alanna Zabel, a yoga instructor who had allegedly worked for the singer back in the years 2007 to 2010, jumped on the Exposé bandwagon to share how he had inappropriately messaged her while he was still with then-girlfriend, Rebecca Ginos.
---
Advertisements

---
Their relationship lasted between 2006 and 2009, and during one instance, Levine reportedly sent her a text that read, "I want to spend the day with you naked."
Zabel's then-boyfriend, who saw the message, immediately flew into a rage. She then assured him that he had probably meant to send it to Rebecca and not her, and that it was probably a mistake.
"I texted Adam to ask if that was the case. Adam didn't reply," she said.
Well, if we learnt anything from Jeff Ng and other famous singers, it's that your cheating past will likely catch up with you so long as the internet exists.
Read More:
Featured Image: TikTok (sumnerstroh), Instagram (@adamlevine)
---
Advertisements

---

Fresh grads, you don't need any experience to earn up to $4,200 with this "secret":
Read Also: