---
Advertisements

---
Local celebrities Felicia Chin and Jeffrey Xu are getting married on 22 October 2022.
If you want to be part of the celebration, you might be able to watch the livestream of their wedding from the comforts of your own home.
On Friday (21 Oct), Felicia made an Instagram poll, asking her fans if they would be interested in watching a livestream of their wedding.
The answer was an overwhelming 'yes'.
Perhaps the fans may get their wish after all.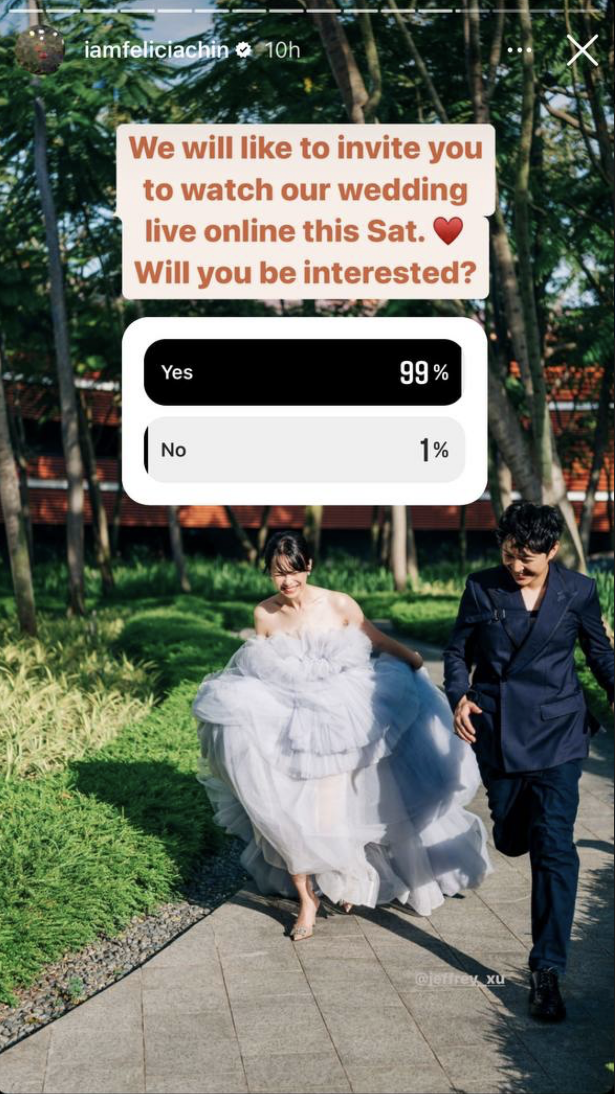 Celebrities get married every once in a while, but most of them tend to be held privately, to avoid their special day from becoming a media circus.
As for Felicia Chin and Jeffrey Xu, who are aged 37 and 34 respectively, a part of their romantic lives has been made available for public consumption.
Jeffrey's proposal in a beautifully decorated tent at Night Safari, under the witness of their family and close friends, was truly special.
In the days leading up to their wedding ceremony, the affianced couple have been sharing their wedding photos in bits and pieces.
One of their photoshoot locations was at a road near the old Mediacorp building.
It was special place for the two artists who debuted under Mediacorp: they met there, and it was at that road where they first confirmed their relationship seven years ago.
---
Advertisements

---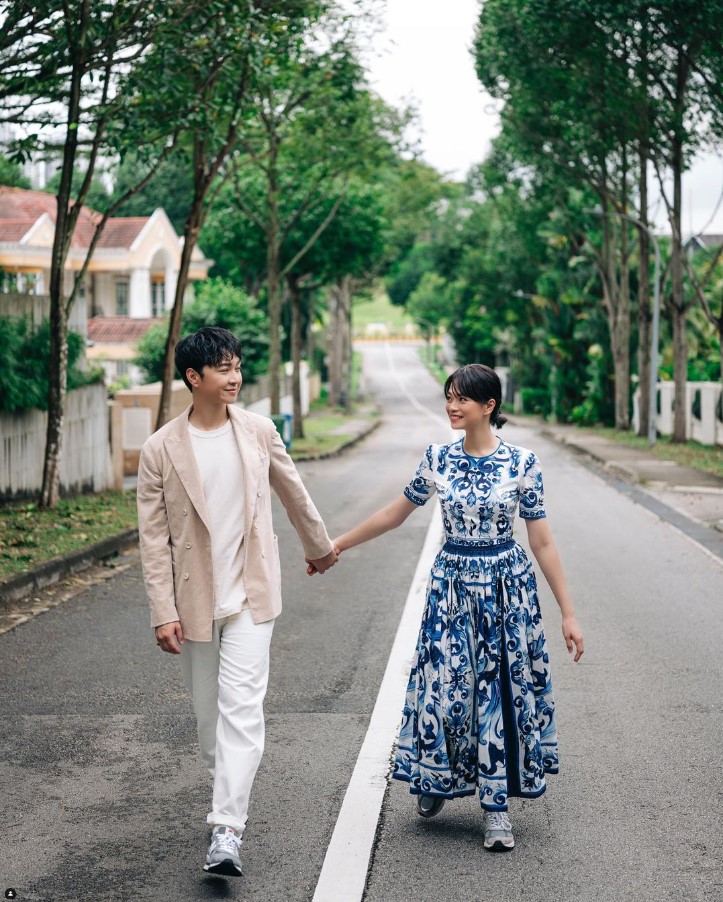 Felicia writes in the post description, "Quick question: if the guy that you are dating holds your hands for the first time one day, do you still ask him, "You didn't ask me if you want me to be your girlfriend."
"Will you? Hahahahah, anyway, I did," the actress adds a few laughing emojis before continuing, "I thought some things couldn't be taken for granted so I asked him."
Send help, I think I'm getting cavities from how sweet this is.
In two other photos, it appears that Jeffrey was writing a part of his wedding vows in the letter.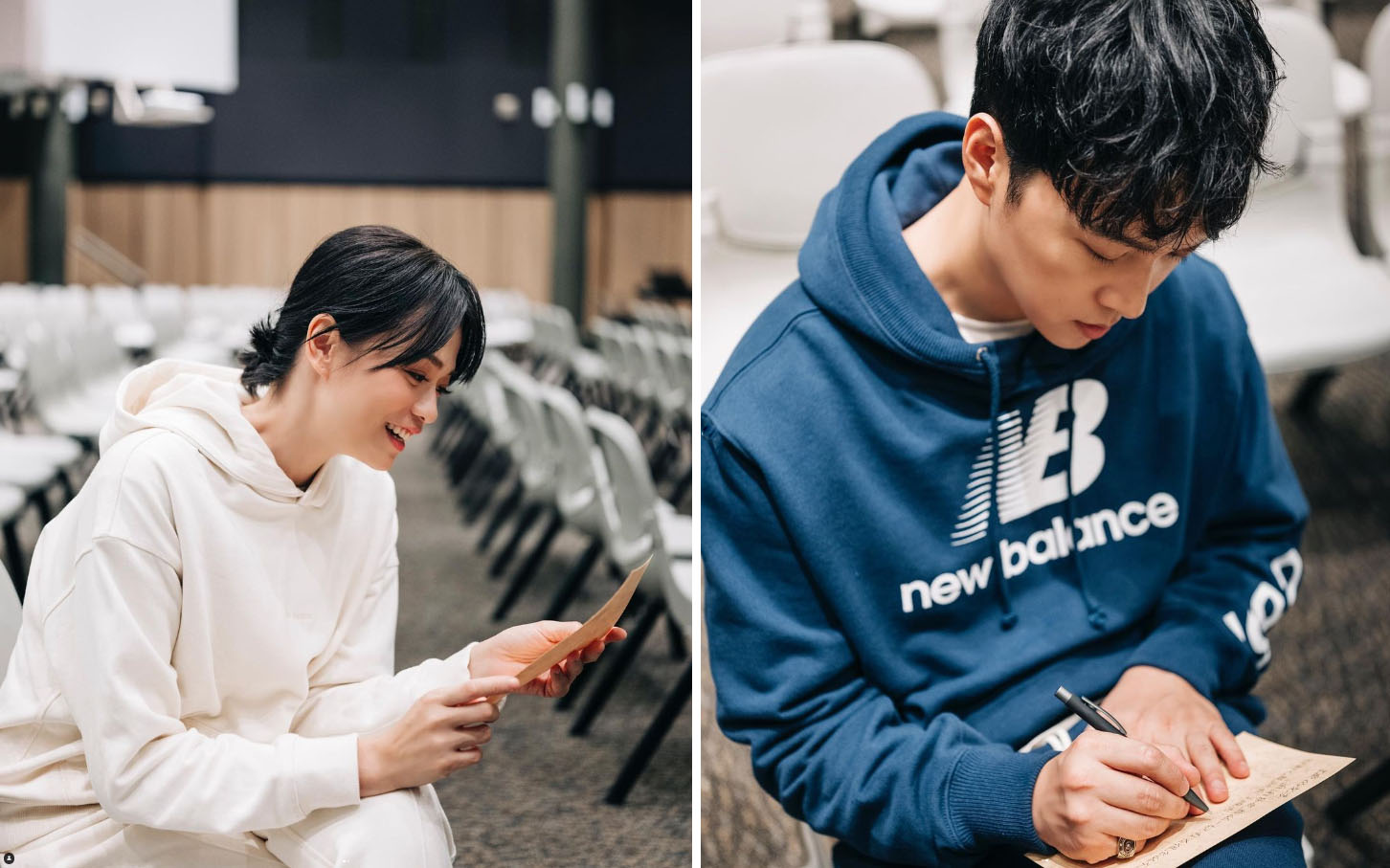 The 34-year-old actor states, "2019 can be considered the valley of our relationship. But I'm thankful, we did not give up. As I'm recounting the past, I'm grateful. Because of everything that has happened, it made us understand one another much more."
The letter is short and sweet, well, at least compared to the three page proposal letter Jeffrey wrote for Felicia.
In the latest Instagram post, the pair are in the wedding suit and gown, faces pressed together underneath the thin veil with the evening light outlining their figures.
View this post on Instagram
It has been a long journey.
They are ready to get married at last, and step into a new chapter of their lives.
---
Advertisements

---
We wish a happy marriage to them in advance!
Read Also:
Featured Image: Instagram (@iamfeliciachin & @jeffrey_xu)

Worker's Party just agree with PAP on something, but there's another reason why they did that. Watch this to the end and you'll understand:
Read Also: