---
Advertisements

---
Have you guys been checking calories and keeping track of what you're eating this Chinese New Year?
While everyone is worried about the weight they will gain after, one person, in particular, is worried about a surprising protein in their snack.
An Unwanted Surprise
Imagine you're chilling on the sofa, enjoying your favorite CNY snack. Perhaps The Golden Duck Co.'s salted egg fish skin crisps? And when you finished the addictive crisps, you realised that there's a surprise in the bag.
But it's not a surprising last crisp; instead, it's a dead, shivered-up fried lizard. Who knew the snack had added protein?
Jokes aside, that was the shocking discovery for 53-year-old Mr Zhang, who bought the fish skin crisps back in March 2022.
The bag has been sitting at his house untouched until recently. After he opened and finished the large crisps, he was planning to have the small pieces with rice. But as he was preparing his meal, the little protein surprise fell out, much to his shock.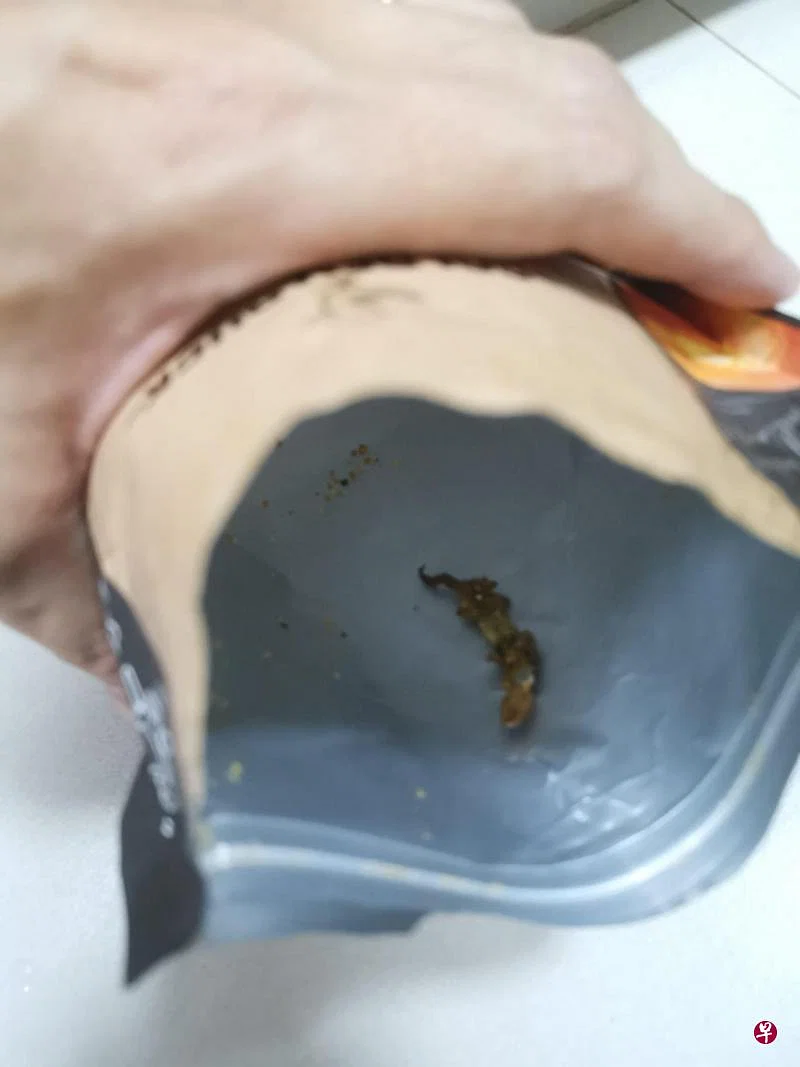 The fried lizard wasn't small either: it measured about 4-5 cm long. Naturally out of disgust, Mr. Zhang threw away whatever he was preparing.
He later wrote to the company to complain about this incident.
Prolong Silence
His complaint, however, was not returned for a "long" period of time. This led him to believe that the company was not taking his concern seriously.
He then contacted Singapore Food Agency (SFA) to inform authorities about the situation. In response to inquiries from Shin Min Daily News, the SFA stated that after receiving the complaint, officials had conducted an inspection of the company's factory but had not uncovered any infestations.
SFA asserts that businesses are to maintain a pest-free and clean environment on their premises at all times.
From The Golden Duck Co.'s side, no quacks have been put out by the company for now.
Join our Telegram channel for more entertaining and informative articles at https://t.me/goodyfeedsg or download the Goody Feed app here: https://goodyfeed.com/app/
Lizards & Salted Eggs
Unsurprisingly, this is not the first time an unwanted surprise was found in tightly sealed snacks. And like this incident, the similarity in the case is uncanny.
In 2018, Irvin's signature Salted Egg Fish Skins also had a scandal of fried lizards making it into their packets. Seems like there might be a correlation between lizards and salted egg fish skins.
You think that'll make the company more diligent, but it seems a lizard's love for the salted egg is unbeatable because the same little rascal was found a year later in one of their products, and the exact same flavor.
If this keeps up, companies might as well consider producing a salted egg x lizard powder flavor potential.
Read Also:
Featured Image: Shin Min Daily News

Fresh grads, you don't need any experience to earn up to $4,200 with this "secret":
Read Also: