---
Advertisements

---
Do you guys remember the moulded HBD flats that made the buildings look super old and ghost-like, despite being relatively new? It's so bad, that it's almost passable as a backdrop for Mr Midnight.
It looks like the Housing & Development Board has finally come around to put an end to this nightmare.
Complaints of Mould
Let's bring it back to what happened.
Last month, Facebook user Jane Wendy posted that although she had only stayed five years in her Anchorvale Parkview flat in Sengkang, the building walls had moulded to a degree so bad, it almost resembles a "haunted house".
She had already written a ticket to the town council about this issue, who at the time, informed her that she would have the wait two years for a repaint job to be done.
Unsatisfied with the reply, Wendy then took it to Facebook to further publicise her complaint.
While some users emphasized and agreed with Wendy's frustration, others tried to be rational: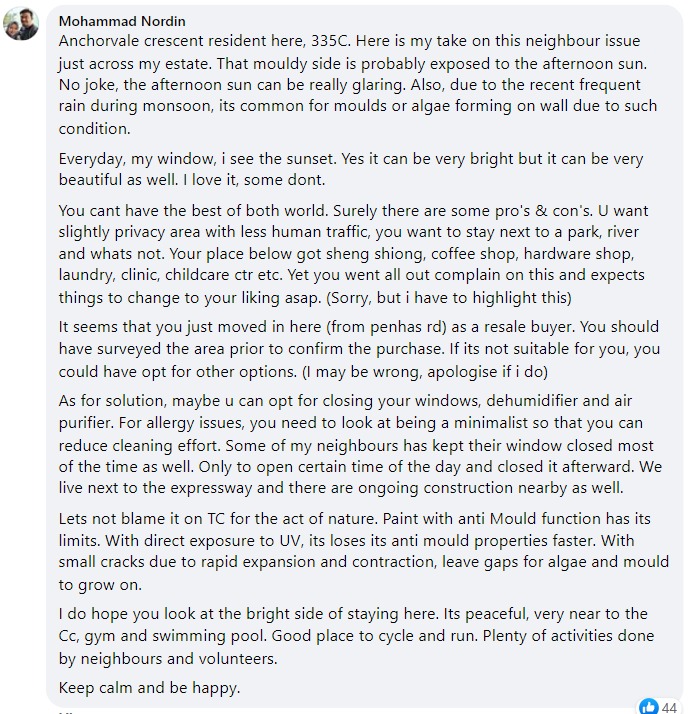 Can't deny the crazy weather in the past few years might have played a part in the mould's accelerated growth (remember all that flash floods and insane heat?). Yet, who wants to wake up to a scenic view with mouldy walls included?
Fast forward to today, there have been updates from HBD regarding this issue.
Join our Telegram channel for more entertaining and informative articles at https://t.me/goodyfeedsg or download the Goody Feed app here: https://goodyfeed.com/app/
Actions To Be Taken
The Housing Board will conduct a professional, independent study to examine the unusual mould growth in Wendy's neighbourhood, and also at Matilda Court in Sumang Lane.
---
Advertisements

---
According to the written response provided by National Development Minister Desmond Lee, the study, which is anticipated to take three to four months, will examine why some blocks are more prone to mould, the subsequent course of action and better prevention.
Healthwise, everybody will still be living well. He asserted that flat owners are far less affected by the mould on the front than if it was developing within.
In spite of this, the study will identify the type of mould growing in the two neighbourhoods for future risk assessment.
In terms of paint used, Mr Lee emphasized that emulsion paint and sealer are often utilized in both private and public sector projects and that they adhered to Singapore's standards.
There is also a six-year external paint warranty for newly completely HDB blocks that covers flaws such as peeling paint, discolouration and mould. At the same time, the suggested time frame for repair and redecorations are seven years, though town councils can practice flexibility and begin work earlier.
Wendy had also updated on her Facebook that the town council are on their way to clear up "reachable area like lower ground, floor etc."
Nice. Looks like residents can sleep well tonight knowing that the horrors will come to an end soon.
Read Also: 
Featured Image: Facebook (Jane Wendy)

Here's why a 4-day workweek might finally really be possible in Singapore soon:
Read Also: