---
Advertisements

---
Still think it's impossible to catch COVID-19 at this point?
Think again. If even the Prime Minister's wife can catch COVID-19, you can too.
Here's everything you need to know about how Mdm Ho caught COVID-19.
Ho Ching Caught COVID-19 from Visitors During F1 Night
On Friday (6 Jan), Mdm Ho uploaded a post on Facebook sharing that she had caught COVID-19 from visitors during the F1 night.
The Grand Prix took Singapore by storm last year from 30 September to 2 October after a brief hiatus due to COVID-19.
Yet, the dreaded virus continued hanging over our heads during the Grand Prix last year, with Singapore seeing nearly 7,000 cases following the race weekend.
Mdm Ho wasn't spared as well.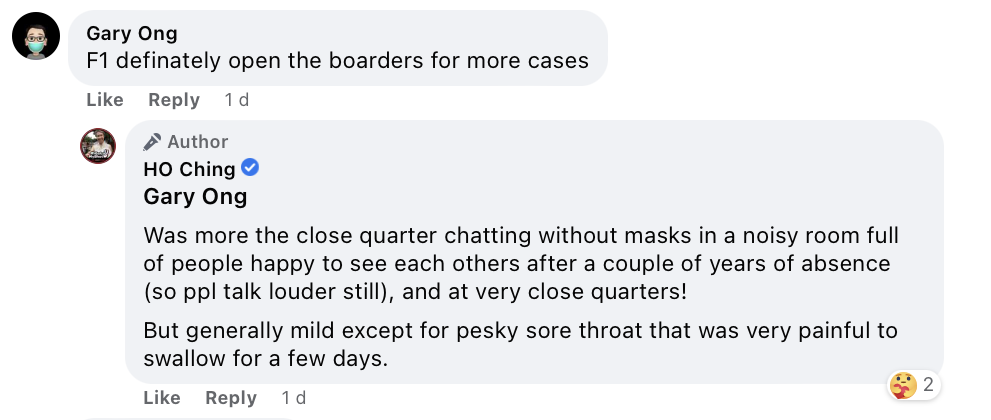 In response to a comment speculating that the night race opened Singapore to more COVID-19 infections, the 69-year-old shared that she appeared to have got the infection from "close quarter chatting without masks".
Join our Telegram channel for more entertaining and informative articles at https://t.me/goodyfeedsg or follow us on Twitter : https://twitter.com/goodyfeed
She also added that the room was filled with "people happy to see each others after a couple of years of absence", causing them to talk louder, which she insinuates was the reason for her infection.
Ho Ching Took Paxlovid on the Second Day After Testing Positive for COVID-19
The 69-year-old also shared that she tested negative for the virus by the fifth day.
Perhaps COVID-19 affects the elite differently from the average person. Maybe the virus understands that elites only need four-day MCs, while the common person needs seven.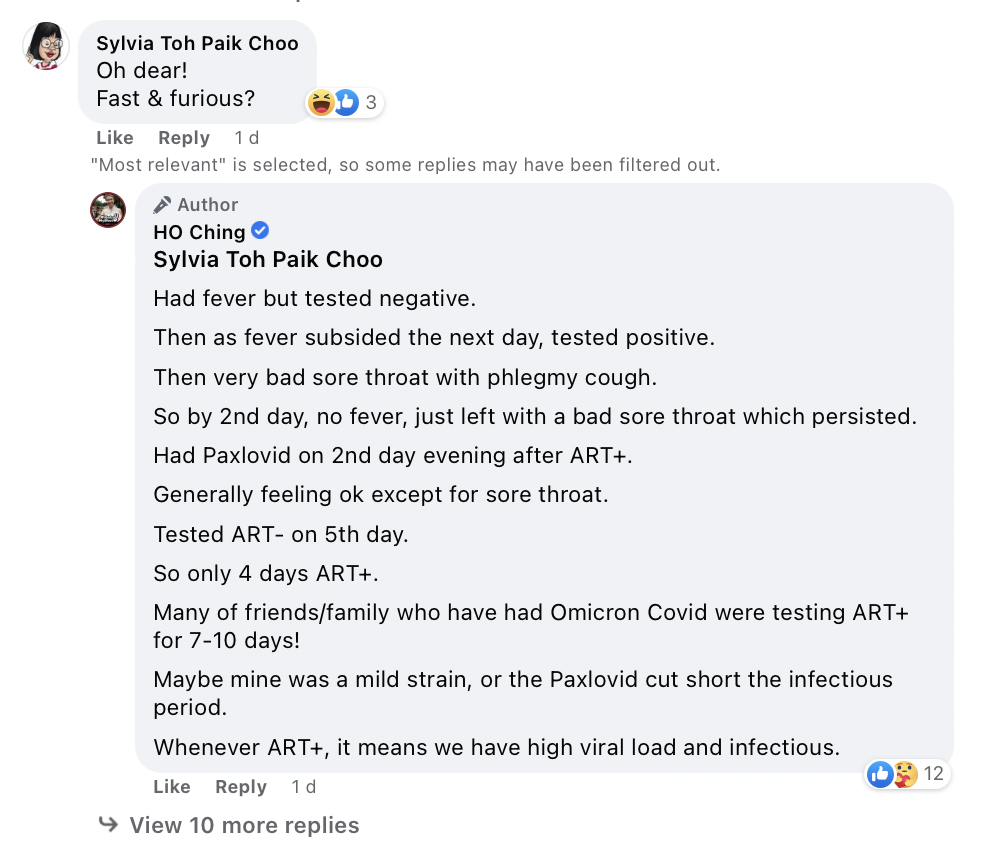 The 69-year-old shared that she only tested positive for COVID-19 after her fever subsided. She then had a "very bad sore throat with phlegmy cough", which led her to take Paxlovid on the second day after testing positive for the dreaded virus.
Generally, her symptoms appeared to be relatively mild. The same can't be said for the rest of us though. Some of our infections were so severe we even exhibited the "Splurge $200 on GrabFood" symptoms.
Eligible Individuals Able to Receive Bivalent Vaccines Without Prior Appointment
Due to her brush with the virus, Mdm Ho will only be taking her bivalent vaccine this month.
Currently, two bivalent vaccines are available: the Pfizer-BioNTech/Comirnaty bivalent vaccine and the Moderna/Spikevax bivalent vaccine.
It is unclear which bivalent vaccine the prime minister's wife will take.
One thing's for sure though: you should take your bivalent vaccine soon if you're eligible. There's no excuse for you not to—it's so convenient that you don't even have to book an appointment to get your vaccination anymore.
Now, all eligible individuals can walk into any Joint Testing and Vaccination Centre (JTVC) to get their jab.
All you need to bring is your identification card or birth certificate for children without identification cards.
---
Advertisements

---
Read Also:
Featured Image: Facebook (HO Ching) + Facebook (Singapore Grand Prix)

Fresh grads, you don't need any experience to earn up to $4,200 with this "secret":
Read Also: