---
Advertisements

---
China will finally open up their borders after three and a half years, starting on 8 January 2023. They will welcome international travellers from around the world without needing to quarantine on arrival. No more is the need to quarantine for five days before seeing the sun. 
However, the Land of the Rising Sun is unhappy about this. Coughing and sneezing will still be head-turners at the airport. 
Travellers from China cannot enjoy the sights of Mount Fuji or the delights of sushi unless they produce a negative COVID-19 test upon their arrival in Japan. 
You Shall Not Pass Unless You Have a Negative COVID-19 Test 
Japanese Prime Minister Fumio Kishida said on Tuesday that mandatory COVID-19 testing would be in place for all incoming travellers from China when they arrive in the country, effective from 30 December 2022, Friday. This move is to brace for the year-end festivities, where travelling numbers will spike, and COVID-19 numbers will likely rise.
So long as you have been in China seven days before your arrival in Japan, you will be subjected to mandatory COVID-19 testing. 
Those who test positive for COVID-19 will be quarantined for seven days per usual protocol. Local health authorities will use the samples of COVID-19-positive patients for genome analysis to examine their variants.
In addition, Japan will be restricting flights from mainland China, Taiwan, and Hong Kong. The flights will be limited to only four airports — namely Narita and Haneda Airports serving Tokyo, Kansai Airport serving Osaka, and Chubu Airport serving Nagoya. 
This move is in response to the Chinese National Health Commission (NHC)'s announcement that inbound travellers to China will no longer have to quarantine. The Red Dragon is currently experiencing an initial spike in COVID-19 numbers ahead of the relaxed measures as the nation shifts from its zero-COVID policy to living with the virus. 
This move is a first for any country coming to Japan. The Prime Minister said that due to "information that infection is spreading rapidly" in China, it is a "growing concern" for Japan to open up their borders to travellers coming from China. 
For other travellers coming to Japan, like us, we do not have to take a pre-departure COVID-19 test, so long as we are 3x vaccinated. Otherwise, we will still have to submit proof of COVID-19 testing by an official clinic approved by the Ministry of Health.
Modes of COVID-19 Testing 
Although the Japanese authorities will not be using Polymerase Chain Reaction (PCR) testing, they will still be using Quantitative Antigen Testing (CLEIA) (QAT). Antigen Rapid Test (ART) will not be allowed. 
---
Advertisements

---
Unfortunately for the travellers from China, the Quantitative Antigen Testing will still require a deep nasopharyngeal or throat swab. 
Teary eyes will still be a thing for travellers from China. They will still have to endure an uncomfortable deep poking of their noses or throats, unlike the simple swabbing of the nostrils for our usual ART kits we are used to now.
Join our Telegram channel for more entertaining and informative articles at https://t.me/goodyfeedsg or follow us on Twitter : https://twitter.com/goodyfeed
Pros of Using Quantitative Antigen Test
There is still a silver lining in every storm. The upside is that there will not be a need for quarantine for Chinese travellers while they wait for their test results. It is a quick and easy process.
The QAT can return results on-site, which means that passengers from China could take the test at the airport and go their merry way once it produces a negative result. 
Furthermore, the QAT will take only 30 minutes before it shows whether one is positive or negative. Thankfully, travellers from China will not need to spend money finding a good hotel and frantically Google for activities to do in isolation while waiting for the results. 
The good thing about the Quantitative Antigen Test is that it is highly accurate, comparable to PCR testing when a person is first infected with the COVID-19 virus. It is the most crucial stage to detect and quarantine infected persons, as the virus is most contagious during this period (first five days of infection). 
COVID-19 is the virus that Japan wants to minus. 
Japan is experiencing an upward trend in COVID-19 numbers after opening its borders in October.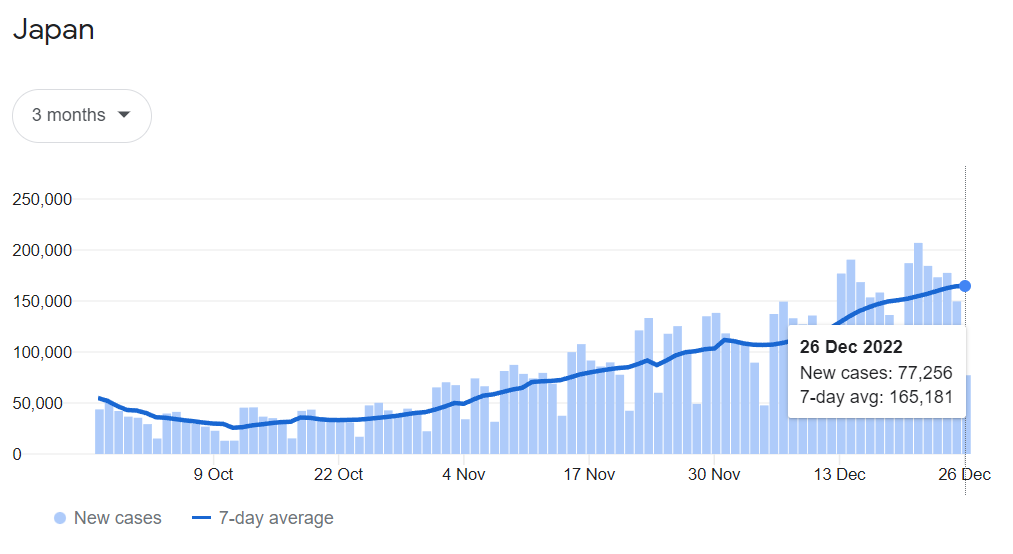 Afraid of opening the floodgates to new COVID-19 waves, this move will be the best to combat increasing infection rates.
Read Also:
Featured Image: simpletun / Shutterstock.com
---
Advertisements

---

Your parents are wrong: MSG (Monosodium Glutamate) is good for you (sort of). Here's the truth:
Read Also: