---
Advertisements

---
What do you get when you pay an arm and a leg to sit down for two hours at the National Stadium?
A frown, a clown, and a pricey karaoke experience. 
Fans Disappointed After the Jay Chou Concert
The Jay Chou concert was held over two days, Saturday (17 December) and Sunday (18 December). 
After years of waiting for the mandopop King's return, many were hyped, and the National Stadium saw thousands of people crowding to watch the concert. 
Unfortunately, it was a bummer. 
Fans' bubbles burst, and the anti-climatic performance let them down.
Why? 
Firstly, the short duration. For context, regular concerts last around three hours. In Jay's case, his concert was a mere two hours. 
To put things into perspective, cutting the time by an hour means that fans miss out on 15 to 20 songs. 
Because the time was cut short, he had only briefly sung many of his top hits, leaving fans desperate for more.
Secondly, the concert had too many fillers. As if slashing the concert timings by a third wasn't enough, Jay didn't even sing throughout the entire duration. 
Instead, he invited other singers to sing his songs. While said singers performed well, fans weren't happy he pushed the responsibility away. Many people criticised him for having the concert like a game show, inviting whoever he wants on. 

---
Advertisements

---
After all, they paid good money to hear him, not his friends, sing.
Also, there were unnecessary parts of the show, like a magic trick segment where one of Jay's friends did not one but two tricks. 
The trick was a long drawn card performance where he firstly "predicted the future" and then gave a fan two tickets for the next day's show.
With all the time burnt, people predict that the star sang for a total of less than an hour. 
Moving on, fans were unhappy with his less-than-ideal singing. In the concert, he sang softly, and there were certain parts of the song where he'd gone silent. 
Also, viewers thought his voice could be better; even some backup singers could perform better than him. 
If you didn't know, the original song plays in the background while the artiste sings. Many concertgoers felt that his on-stage singing was incomparable to the original piece. 
Some also noted that he had forgotten the lyrics to his songs. 
Yikes.
Lastly, the concert lightsticks. Some of the complimentary lightsticks provided at the concert were dysfunctional. 
---
Advertisements

---
Prior to the show, the organising team broadcasted a message that the lightsticks weren't working due to "too many rehearsals." They also invited fans to return home and install new batteries personally. 
However, some reports say the lightsticks were reused from his previous concert. Needless to say, fans were dissatisfied with the apparent lack of effort. 
As a whole, fans didn't enjoy the experience at the concert. Being there on Day 1, I can attest that the claims are valid. One family sitting next to me even left after two songs!
Join our Telegram channel for more entertaining and informative articles at https://t.me/goodyfeedsg or download the Goody Feed app here: https://goodyfeed.com/app/
Comment Section Chaos
After the first night's performance, the Taiwanese posted on Instagram: "Singapore seems to be a bit high. Hopefully, this high continues for the second day."
Leveraging the opportunity, many fans left their complaints in the comment section. 

"Brother Chou, I'm not a fan, but I admire your talent. Your concert this time was too disappointing. For the past three months, I've watched JJ, guns & roses, maroon 5, Mayday, and your concert. You're not even 10% of them. A sentence: it sucks! You really let your fans of over 20 years down."
---
Advertisements

---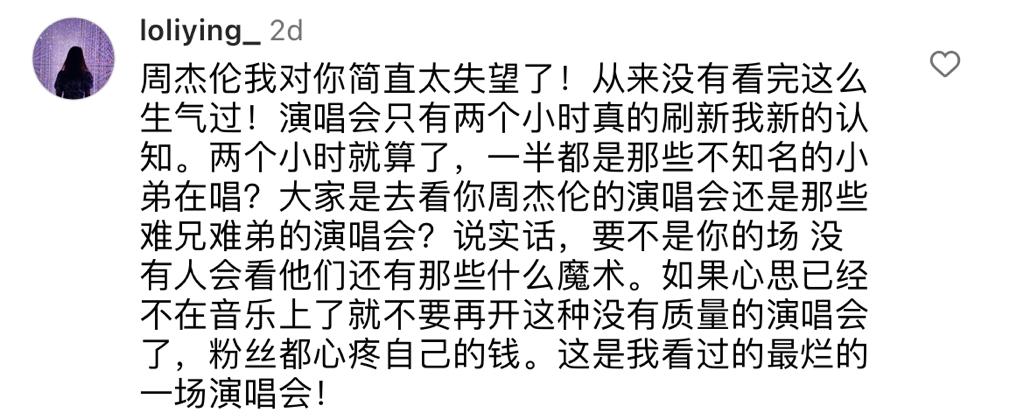 "Jay Chou, I'm so disappointed in you! I've never been so angry after watching your performances! Your short two-hour performance gave me a new impression. I won't harp on it being only two hours long, but half of it is occupied by unknown boys singing. Do people go to your concerts to watch you or your brothers sing? Truth be told, no one would have wanted to watch the magic show if it wasn't at your concert. If your mind is no longer on music, then don't have the concerts anymore, and fans are all heartbroken over their money. This is the worst concert I've ever seen!"

"Why'd you sing so little."

"Properly sing a few songs, don't keep letting those unknown people sing. Also, stop with the magic. The time is only so short."
One user even compared his performance with JJ Lin's, saying the latter did way better.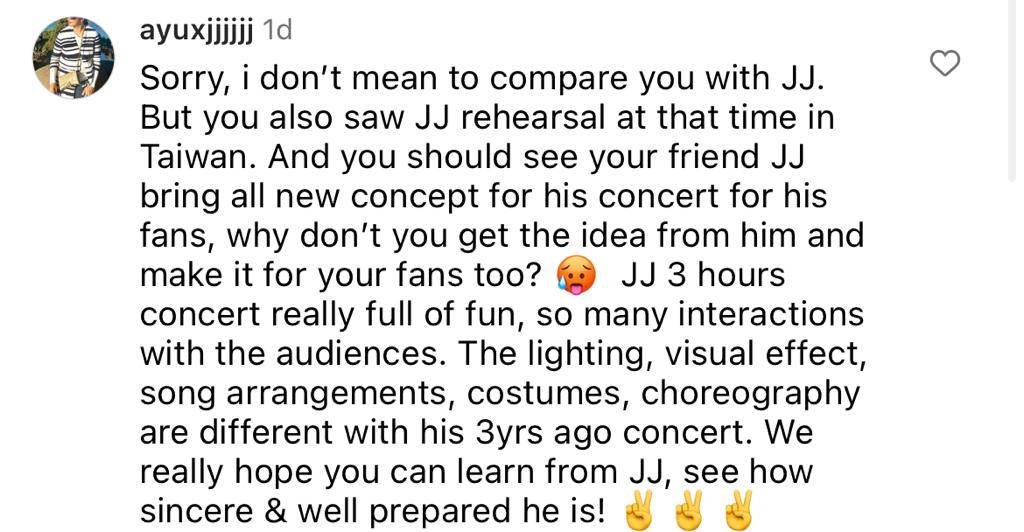 View this post on Instagram
---
Advertisements

---
Jay Chou Carnival World Tour
After the pandemic, Singapore's show is the first he's done on his world tour. The concert theme? The Carnival. 
No wonder so many people thought it was a circus performance…
Apart from Singapore, he will be performing in Malaysia, Australia, and Hong Kong. 
From Cat 5 to Cat 1, the tickets at his concert were priced from $218 to $388. 
Now, we're all looking for a refund. 
Featured Image: Variety + Jay Chou/ Instagram

Here's why a 4-day workweek might finally really be possible in Singapore soon:
Read Also: