---
Advertisements

---
Last Updated on 2022-06-28 , 3:12 pm
For the past few Saturdays, a local singer by the name of Jeff Ng has been busking outside the Cathay Building.
Perhaps you've read an article about the large crowd he managed to attract with his melodious and soulful voice, or stumbled upon a TikTok video of him serenading from a bystander's point of view.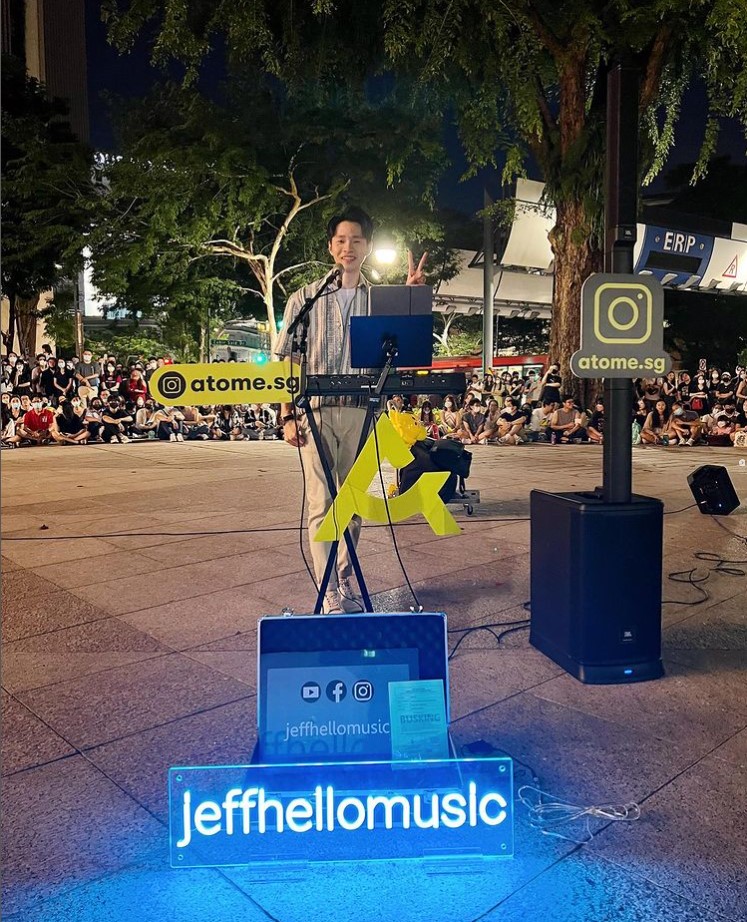 Regardless, it's undeniable that Jeff Ng, the 32-year-old soloist, is incredibly talented.
If you've only two minutes, you might want to watch this video instead:
Jeff Ng's Reaction to the Viral Reception
When Jeff Ng was interviewed by the Chinese newspaper Shin Min Daily News, he conveyed that he was really shocked by the size of the crowd, and felt extremely gratified.
"I told myself, this is a once in a lifetime opportunity," he added truthfully.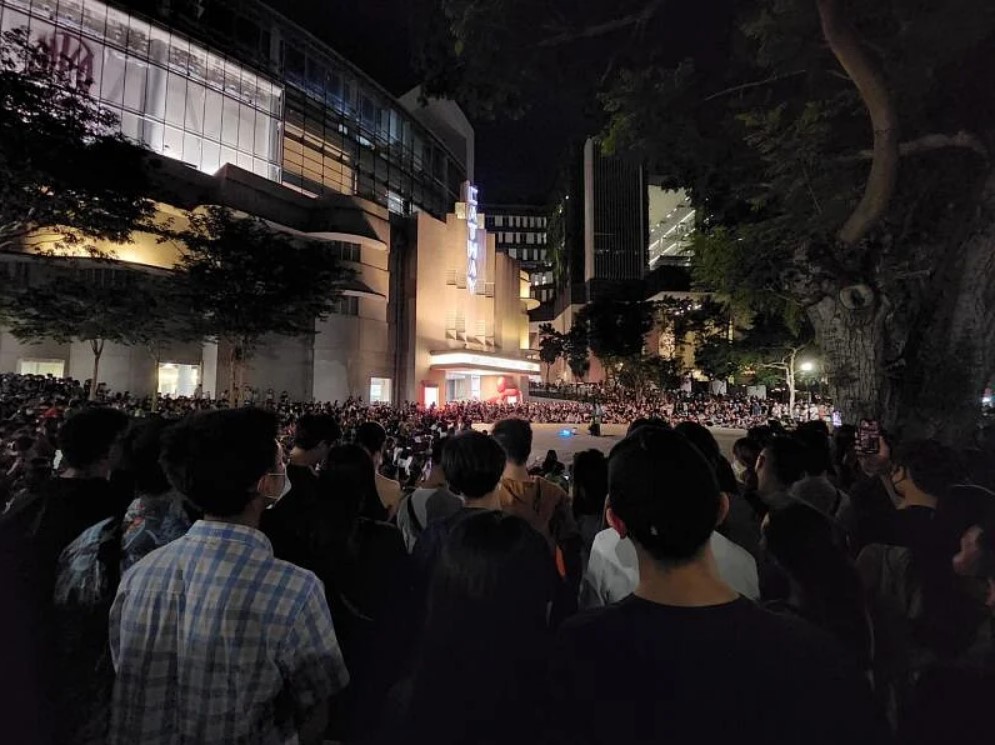 When he performed in front of the Cathay Building for the first time on 3 May, there were roughly three to four hundred people in the audience.
During his second performance, he estimates that there were approximately 2000 people for the entire night.
Before the pandemic struck, he used to busk at Chinatown Food Street in 2018.
After the restrictions were lifted, he switched locations to the Cathay Building, and even invested nearly S$5000 to add three speakers to his set-up.
---
Advertisements

---
His Upbringing and Achievements
As a matter of fact, Jeff Ng is a rather accomplished artist.
At the age of 24, he joined the third season of the singing competition The Voice of China (中国好声音) and managed to enter the Top 22.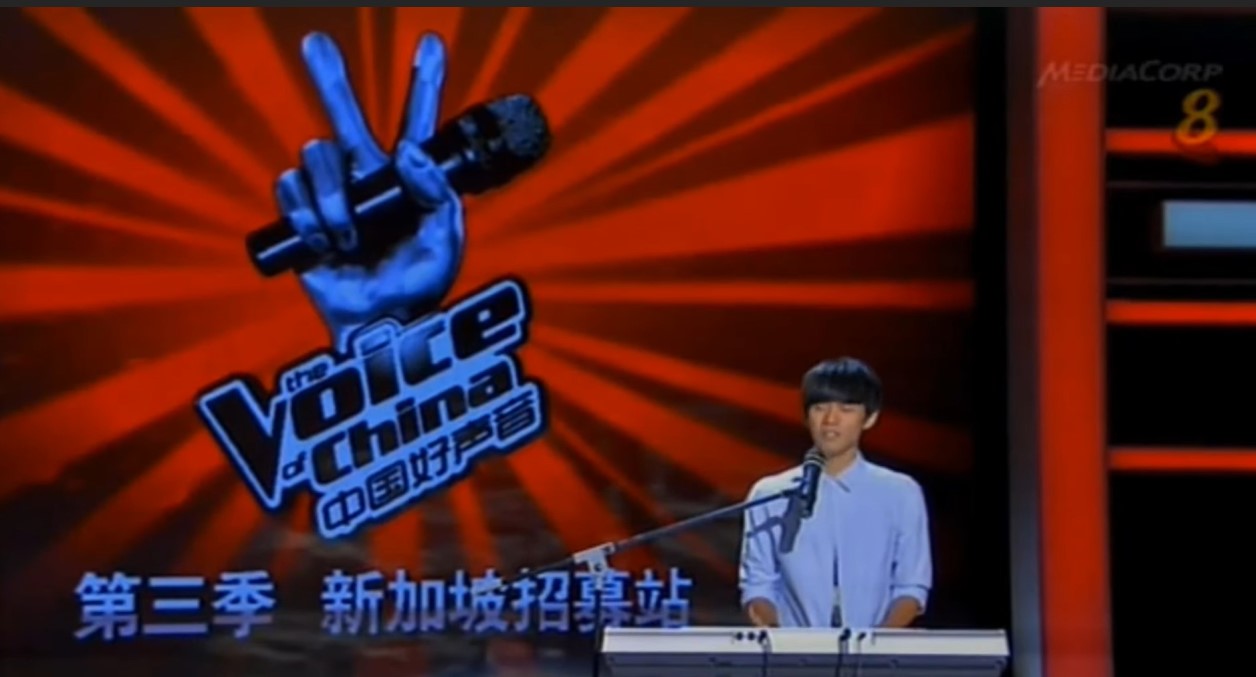 He later participated in the pilot season of Singapore's One Million Star, climbing all the way to the semi-finals.
Ng released his first single in 2017.
While the Singaporean singer's debut can be considered as relatively smooth-sailing, his childhood and upbringing were anything but.
Join our Telegram channel for more entertaining and informative articles at https://t.me/goodyfeedsg or download the Goody Feed app here: https://goodyfeed.com/app/
Ng admits that he grew up in a poor family that stayed in a two-room flat, and his parents couldn't afford to send him for piano lessons.
He started working at Ark Music Café at the age of 16, since they would give their staff music lessons.
"One afternoon, I was secretly singing, and encountered the boss who had just returned from the toilet, and I was incidentally plucked out," Ng recalls.
And just like that, Ng started to study and learn how to sing at the same time.
---
Advertisements

---
Once he had served his time in the National Service, he continued to work part-time at Ark Music Café for seven days a week.
He only went abroad to make his debut at 24, joining The Voice of China overseas auditions.
Afterwards, Ng received many invitations, asking him to perform at their restaurants during the evening peak hour (7pm).
While he was performing in restaurants, there were some bosses who would talk really loudly.
There was one instance where he stopped playing his piano to ask, "Could you please be quieter?", to which the boss immediately refuted that he can't do that.
In response, Jeff Ng said that he wasn't going to sing anymore.
---
Advertisements

---
To his surprise, the entire audience applauded him for his bold response.
It was at that moment where he realised that the crowd were merely there to while their time away, and he had gone to the wrong place.
Hence, when Jeff Ng was 28 years old, he took to the streets to sing instead.
Whenever he's not busking during the weekends, he's busy composing songs or giving vocal coaching lessons.
Some lessons are conducted in-person, while others are done online. His students come from many places, either Singapore, Malaysia, Taiwan, or China.
---
Advertisements

---
Never Asking The Audience For Money, Hoping Sponsors Come To His Door
When it comes to busking in the streets of Singapore, Jeff Ng sees it as a form of entertainment and doesn't hold any biases against it. Whenever he performs on the streets, he never asks for money.
"It doesn't matter if they're giving me money, it's more than enough that they came. Or maybe even leave a message, like 'You're very good!'. In my eyes, that's worth $10, or $100."
With his soaring popularity, more sponsors have come up to his door.
Ng mentioned that 1000 light sticks will be distributed this Saturday.
Compared to the last week, the quantity has increased by 600, but that's because he was informed that all 400 light sticks were given away in less than 10 minutes, and he hadn't even arrived at the scene that day.
He promised that for his next performance, the audio will be louder as there will be five speakers, plus an electric generator.
Unfortunately, he didn't manage to secure permission from Cathay to perform outside their building for the month of July.
He's intending to ask the audience if they want him to perform in the same location, or if they're fine with moving the Saturday performances to Dhoby Ghaut Green instead.
---
Advertisements

---
Honestly, Jeff Ng is an incredibly hardworking individual.
For every nightly performance, he sings a total of 50 songs.
Most of his song selections are made by the audience.
For the sake of fairness, he will start asking the audience to give song suggestions on Instagram at 7pm, and he will sing each and every one of them without fail.
One or two songs out of the fifty will be his originals, but Ng is afraid to make his own compositions the main items as he's afraid that the crowd will walk away because they are songs that the audience are unfamiliar with.
When he returns home, he will see more than 800 messages on his Instagram, and he always makes it a point to reply to each message.
For street performance, Ng claims that the first factor is talent, the second is experience, like how a singer should rev up a crowd and express themselves, then the last component is his form and appearance.
Ng Hopes To Hold an Official Concert in August
With regards to his own originals, he released his own song last month, and he's planning to shoot a music video and release a CD.
Jeff Ng hopes that he can have a formal concern in August, and there has been an outpouring of questions regarding this matter whenever he's performing on the streets.
The greatest concern right now is the ticket price.
He hopes that everyone can afford to come and see his performance.
"Right now, many people on TikTok are discussing, how long will my sudden rise to fame last? My answer is, I don't know. I'll try my best, and that will suffice."
Read Also:
Featured Image: Instagram (@jeffhellomusic)

Here's why a 4-day workweek might finally really be possible in Singapore soon:
Read Also: