---
Advertisements

---
It feels like there's something about the March weather that's throwing people into fits of violent frenzy, because we have another blade incident on our hands.
Unlike the chopper incident at 29 Bendemeer Road, or the samurai-wannabe that slashed at cars and lunged at a pedestrian, the outcome of this assault was extremely bloody and life-threatening.
The culprit is still on the loose too.
That being said, there are graphic images ahead, so viewers' discretion is advised.
An Attack That Came from Nowhere
It was a Sunday night (20 Mar) when the assault took place.
The 30-year-old financial consultant, who only wants to be known as Mr Chua, was originally celebrating a friend's birthday with four other friends at a restaurant near Riverside Plaza, Clarke Quay.
Everything had been fine until he got up to get a drink at a nearby 7-Eleven around 10:40pm.
Mr Chua's friends recounted that the financial consultant had gone off alone. He was merely making his way to the convenience store when someone attacked him by striking the back of his head multiple times with a sharp object.
Stunned and bleeding, Mr Chua doesn't remember if he had tried to turn around to catch a glimpse of the attacker.
Speaking on behalf of her boyfriend, Miss Low told 8World News:  "He didn't see who it was, and he doesn't remember if he turned around to check. He can't really remember what happened after the attack because it was all so sudden."
No one could have anticipated that a simple gathering would end in bloodshed.
---
Advertisements

---
Mr Chua Was Bleeding Profusely
By some miracle, Mr Chua managed to walk back to the restaurant to ask his friends for help, who promptly called the ambulance.
The Singapore Civil Defence (SCDF) confirmed that they received a call for help along Keng Cheow Street at 11:05pm that night.
Miss Low recalled that Mr Chua's friend had phoned her as well, informing her about the attack and telling her to rush over because "the blood seemed to be overflowing".
In the brief video taken by Mr Chua's friend to show Miss Low how horrid Mr Chua's condition was, two paramedics can be seen attending to Mr Chua as he lay on the ground at a slanted angle.
One paramedic was holding a towel or bandages to stem the blood flow on his head, while another was adjusting Mr Chua's posture at the hip.
The victim was visibly covered in blood, from his pants to his sports shoes, with more bloodstains on the ground.
The Extent of Damage
Mr Chua was taken to the Singapore General Hospital afterwards.
When Miss Low joined Mr Chua's friends later at SGH, they were seated in the waiting area with tears in their eyes and clothes bloodied.
By the time she could see her boyfriend again, he was out of the surgery room, head shaved and given some 20 stitches to patch the three long gashes on his head, each gash roughly 8 to 10 cm long.
---
Advertisements

---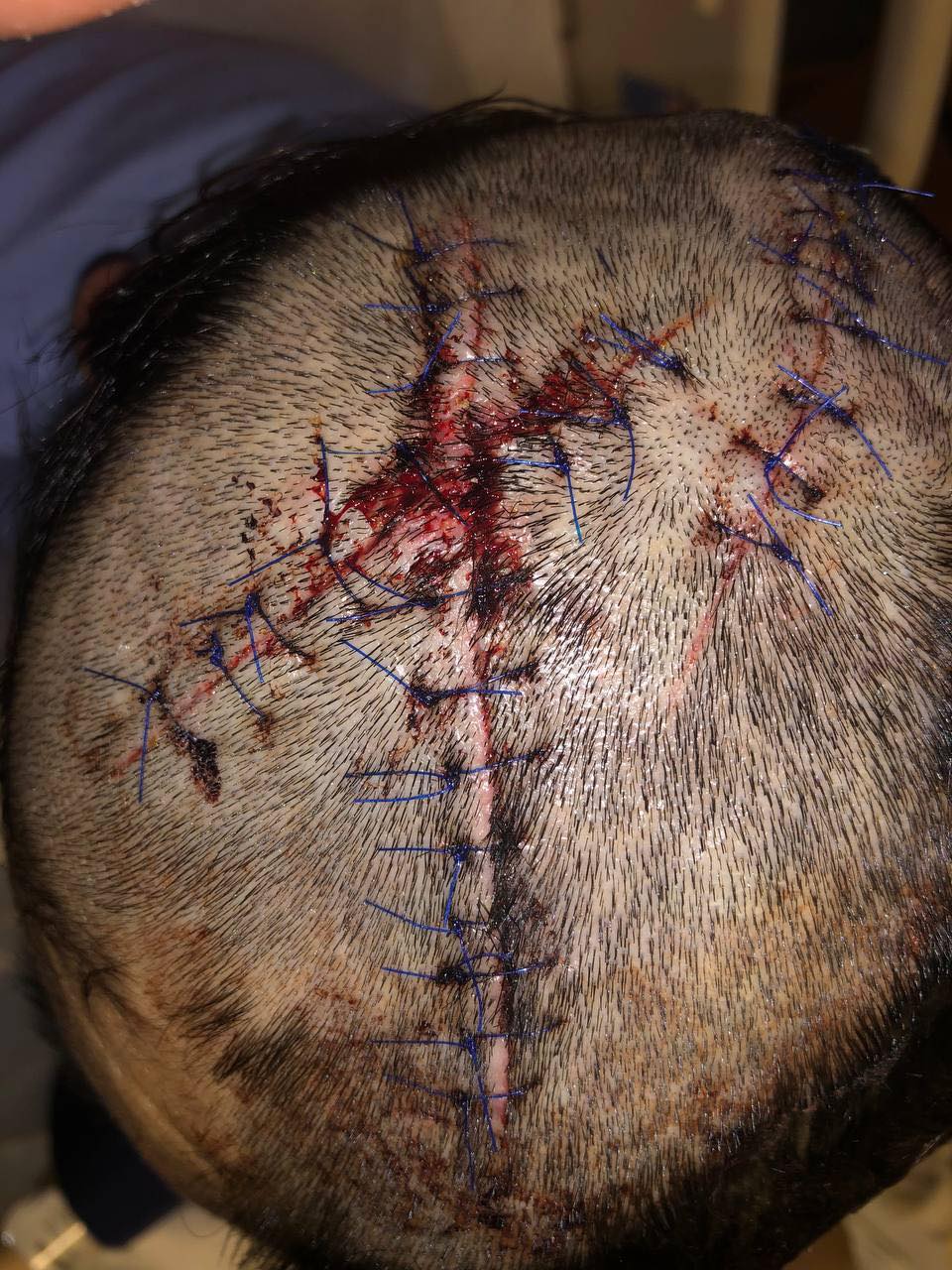 While Mr Chua was unaware what weapon had been used to strike him, his doctor deduced that it was highly likely that he was bludgeoned by a sharp object that is approximately 10cm long.  
Owing to the heavy blows inflicted on Mr Chua, and the time taken to receive the appropriate medical attention, Mr Chua suffered from excessive blood loss and needed two bags of blood for transfusion during his first operation.
It had taken two operations before the surgeon managed to stitch up the three large lacerations on his head.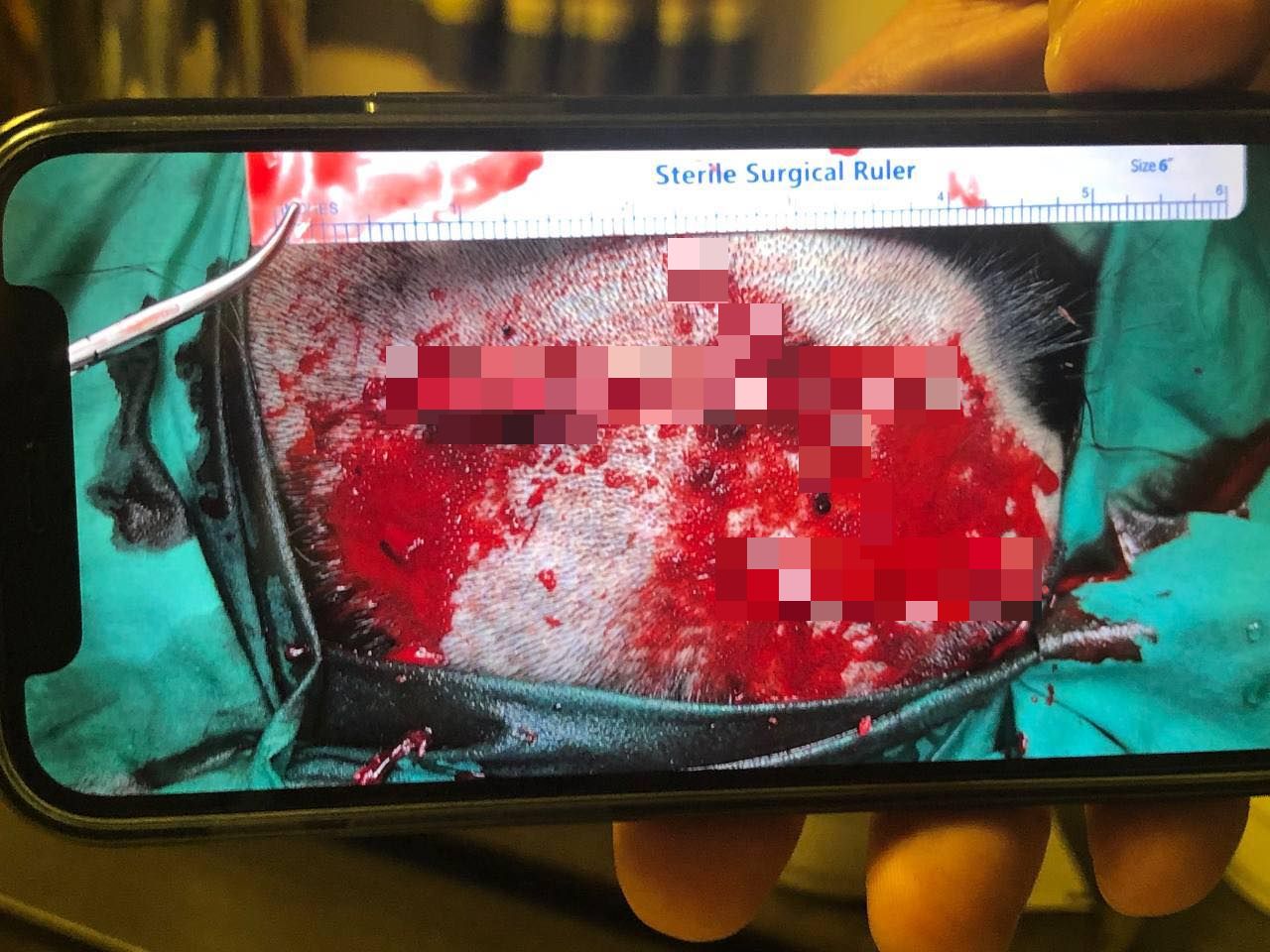 Looking for Witnesses
Based on Mr Chua's recollection, the attack had taken place at the 7-Eleven close to a bus stop on Keng Cheow Street.
Thanks to Google Maps, the scene of the crime can easily be pinpointed; there is a 7-Eleven located in Central Square on Havelock Road.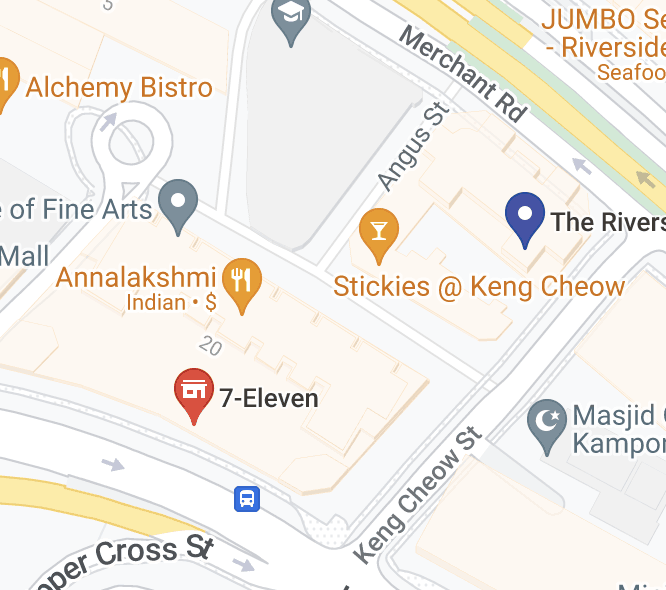 A police report has been lodged and investigations are currently ongoing.
---
Advertisements

---
On the other hand, Miss Low has taken to Facebook and Instagram to look for any eyewitnesses, or anyone in the vicinity at that time and place, who could give them clues into who the culprit was.
Most of all, Mr Chua hopes to understand the entire sequence of events that led up to the attack.
To repeat, the incident happened around 10:40pm at the location mentioned above.
Miss Low hopes that any eyewitnesses can contact her or the police directly.  
Mr Chua's Current Condition
In spite of the harrowing attack, Mr Chua survived and was discharged from the hospital on 23 March, though he still suffers from sharp headaches and dizziness.
---
Advertisements

---
He has been given 17 days of medical leave after his discharge. He stated that he had been well-looked after in the hospital and thanked his friends for their help and support.
His girlfriend states that the assault has traumatised him, such that he has been having nightmares about that night.
They hope that the perpetrator can be identified and be arrested by the police soon. 
Read Also:
Featured Image: Mothership & Facebook (Niliy Low)

Worker's Party just agree with PAP on something, but there's another reason why they did that. Watch this to the end and you'll understand:
Read Also: