---
Advertisements

---
On the list of things that can't be taken cross borders like weapons, drugs, flammable liquids, and whatnot, apparently Kentucky Fried Chicken is also on the list.
That's because because Singapore only allows a maximum of 5kg of meat products from a register of approved countries and Malaysia isn't one of them. Among many products, it includes cooked food containing meat, including bak kwa, pork floss, and fried chicken.
Which begs the question: how much did this traveller's Malaysian KFC weigh, such that she was stopped at Johor Bahru's customs?
Detained at Customs for Fried Chicken
According to the China Press, a woman tried to bring some KFC that she bought in Johor Bahru into Malaysia.
However, she never expected that she would be detained at the customs upon arrival.
Allegedly, the woman posted about her circumstances on Facebook on 27 March, at 1:36pm.
It was lunch time, and she was hungry.
---
Why Bird Paradise Suddenly Became Singapore's Yishun:
---
Her first line reads: "Urgent! Can I ask if I can enter Singapore with the KFC I took away from JB?
Hilariously enough, she gives an update three hours later:
"The issue has been resolved. I swallowed two pieces of fried chicken in front of the customs officials, Case closed…"
She definitely didn't chicken out and showed the customs officials her prowess at tearing into the chicken, savouring every bite under their strict stares.
---
Advertisements

---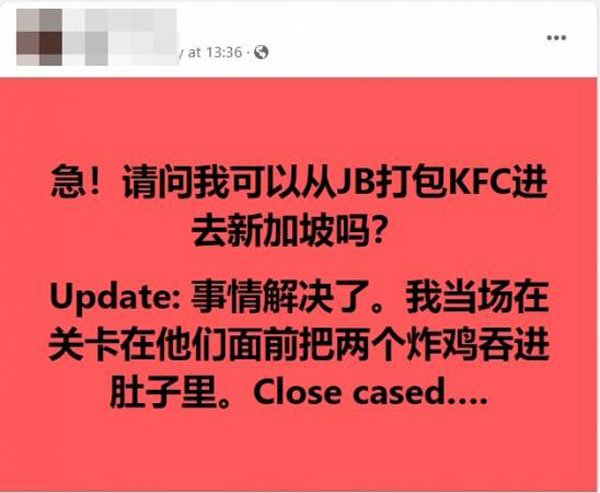 The Netizens' Response
Owing to the fact that China Press censored the identity of the Facebook user, we were unable to track down the original post.
However, the Chinese newsfeed picked out a few comments from the amused netizens.
The netizens threw out jokes like, "It's safer to store [the fried chicken] in your stomach" while another said that she should feel thankful that she didn't buy a family feast, or else she would be bringing supper for the customs officials.
Another commenter asserted strictly: "Don't stand there in a daze! It's time to perform the swallowing act for the custom officials to see!"
Join our Telegram channel for more entertaining and informative articles at https://t.me/goodyfeedsg or download the Goody Feed app here: https://goodyfeed.com/app/
After the traveller updated her post, the netizens reminded the woman to take this as a lesson, since there were regulations that forbid bringing in certain foods through the customs.
However, there were some netizens that were confused, pointing out that there were KFC outlets in Singapore as well, so why did she choose to take the risk?
The answer is pretty simple actually, because it's cheaper and it probably tastes better.
Read Also:
Featured Images: China Press & Shutterstock (Raziq Abdul Samat)