---
Advertisements

---
Some people have the smarts, but they channel it in all the wrong ways.
My Digital Lock, a company that sells locks, doors, and mattresses, claimed that their ex-employee, Travis Ow Jin Yuen, has scammed the company and customers of more than $100,000.
On 29 March, the owner of My Digital Lock, Ron, uploaded a video on Facebook to explain the entire situation and urged scammed customers to make a police report and come forward to the company, as they are willing to fulfil all the orders, even at their own expense.
How Did This Happen?
Ron doesn't exactly make excuses for the poor employment choice he makes.
He explains that the 22-year-old Travis Ow had come up to him, offering a sob story of how he was an ex-criminal with a daughter to raise, and that he was just recently released from jail and trying to make a living.
Ron chose to forgive his past history and gave him the job at My Digital Lock's Bukit Batok and Westgate outlet in February.
My Digital Lock functions like any other furniture company: it has showrooms, size specifications for furniture need to be confirmed and also a deposit-and-final-payment process to guarantee that the company upholds their promise of delivering and installing the product, while the customer gets the opportunity to check over the product and services before giving the final payment.
In between, there are always invoices, functioning as a receipt proof and for the company to know what orders they have to handle, and when the deadlines are.
So how exactly did Travis manage to take advantage of the system and make off with so much money?
Four Ways of Extracting Payments Illegally
Asking for Cash Payments Instead
The first method that Travis used was that he would tell customers that the outlet didn't accept credit cards and only did cash payments—which is completely ridiculous, considering how the company might deal with large sums of money for each transaction—and then he would usually pocket the deposit money.
---
Advertisements

---
In order to keep up the pretence that the transaction was "real" and ensure that the company was none the wiser, Travis would forge fake invoices and send them to the customers.
It's rather ingenious for all the wrong reasons, because it gives the customers the belief that they had made a "real" purchase, while keeping the company in the dark because those invoices aren't actually keyed into the database, but the problem with that is no products would be manufactured to match the orders that Travis took.
Doing PayNow Transfers
Cash payments are typically the best mode of scamming for Travis because physical money is harder to track or retrieve.
If the first tactic doesn't work, he offers the customers another alternative instead of credit cards: PayNow Transfers.
At first, he would use his own phone number to extract the money, but there were some customers that were more circumspect, suspicious as to why the money was going to the bank account under his own name of "Travis Ow Jin Yuen" instead of the company's name.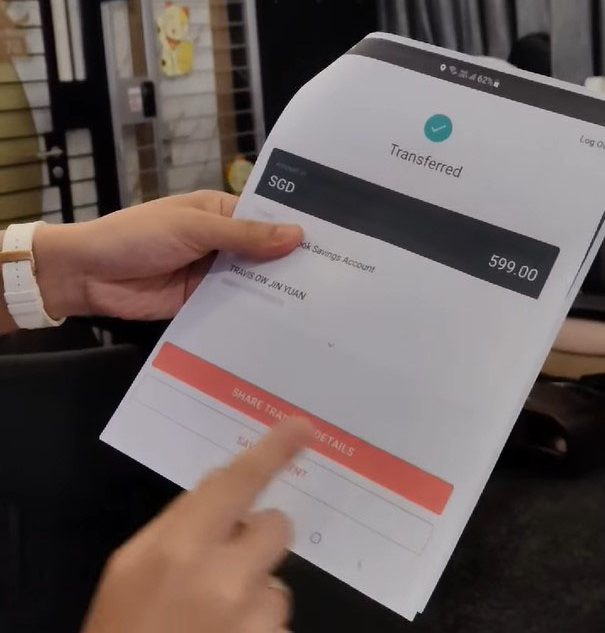 Opening a UOB Account and Using the Company's Name
Realising that some customers weren't as easy to fool, Travis decided to open another UOB account.
But this time, he changed the recipient's name to "MY DIGITAL LOCK PTE LTD".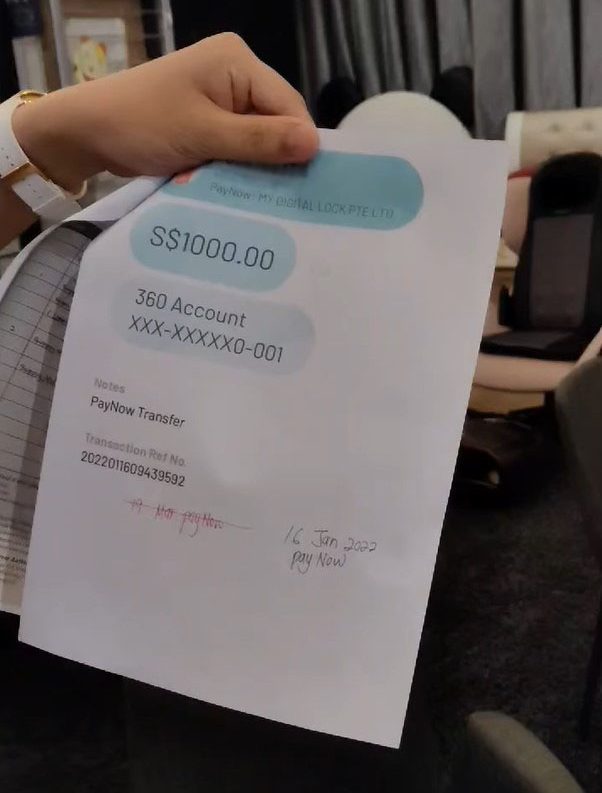 Since it was now under a more credible name, customers were more inclined to believe that they were paying to the right account.
---
Advertisements

---
However, not all customers are aware that all companies' bank accounts are registered under Unique Entity Numbers (UEN), which reflects their company registration number, not phone numbers.
Therefore, if a company ever requests a PayNow transfer, it's typically done through the UEN option instead.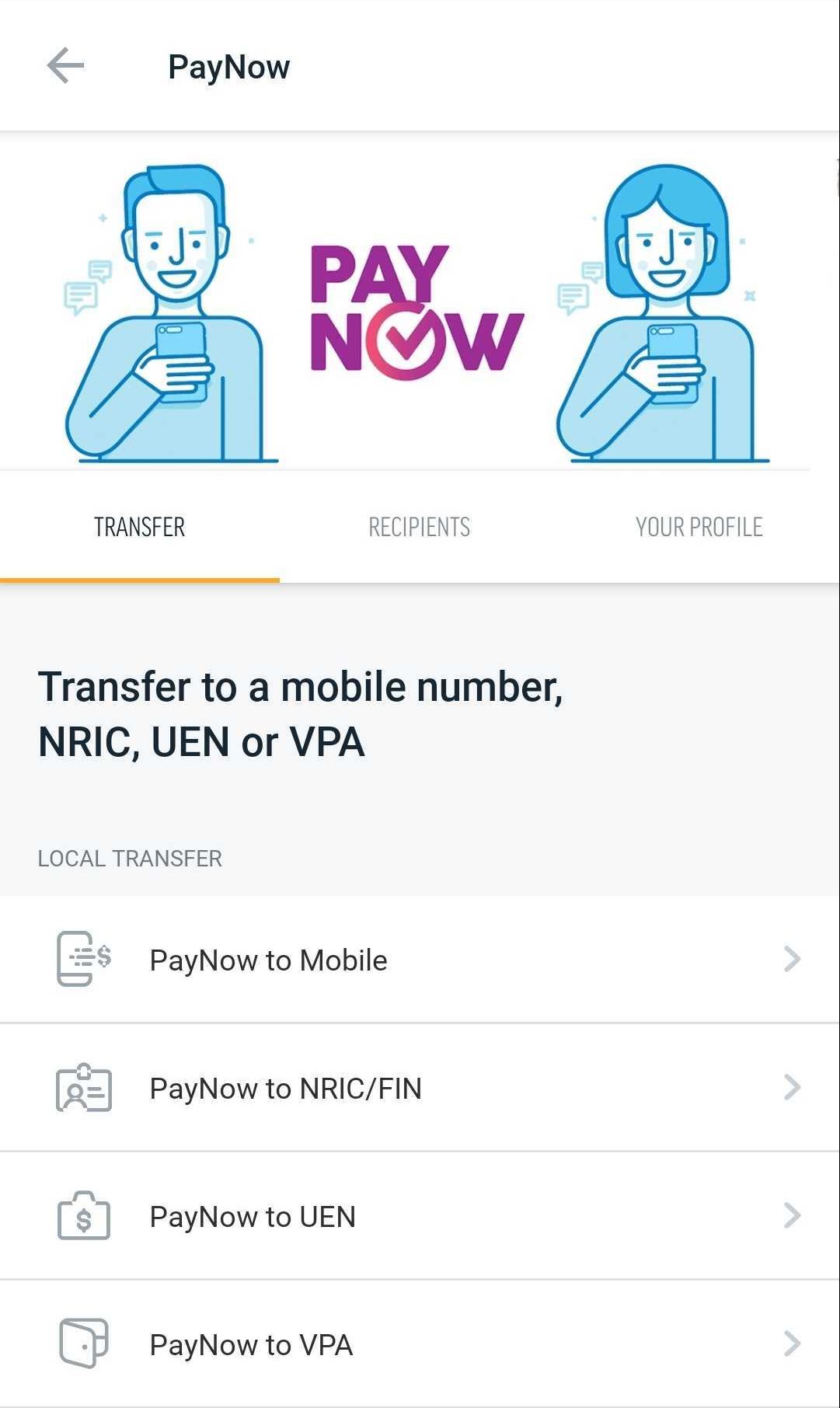 However, the problem with online banking is that they don't mention this distinction explicitly, which allowed Travis to take advantage of this loophole.
Giving Special Discounts and Upselling
In order to lure in more victims, Travis would often offer "special discounts" to the customers and tell them to pay through the methods mentioned above. He would also tell them that they didn't need to come down to the showroom after making the payment.
Then, Travis would follow up through WhatsApp, contacting his victims and offering more services like warranties and other products, sometimes at higher prices, and then extracting the money.
---
Advertisements

---
Sometimes, customers didn't ask for invoices, which was to his benefit since there's a smaller paper/digital trail.
He would also link the customers to the UOB account he created to facilitate the payments to himself.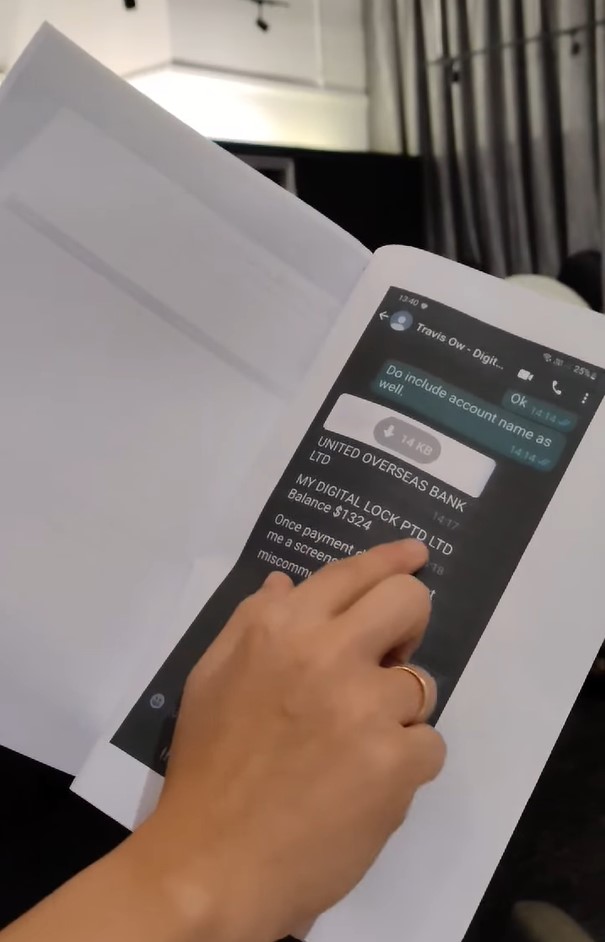 How His Scam Was Uncovered
It's evident that Travis knew that he wouldn't be able to keep the ruse up for long, because for the entirety of March, he told Ron that he was on COVID-19 medical leave.
COVID-19 medical leaves only last for 14 days at most (for the unvaccinated, immunocompromised, etc), but he didn't show up for work for 21 days.
All the while, he would still be contacting customers via WhatsApp and swindling more money from them.
---
Advertisements

---
It was only when customers started calling the official number or coming down to the outlets to demand for the orders that never arrived that Ron realised what Travis had done.
Travis ran away with more than $100,000, with an unknown number of victims being strung along, and leaving a huge mess for My Digital Lock to clean up.
Join our Telegram channel for more entertaining and informative articles at https://t.me/goodyfeedsg or download the Goody Feed app here: https://goodyfeed.com/app/
What Can You Do as a Victim?
Although Ron might have made a mistake in hiring Travis, he's definitely a man of integrity.
For the last three weeks, he has been collating the orders that Travis mishandled and working to fulfil those orders as soon as possible to compensate the scammed customers at the company's own expense.
In his own words, the company will "bear the responsibility to complete the project".
Ron has also been in contact with the police to undo as much of the damage as he can.
Presently, Travis' bank accounts have been frozen, but Ron advises that if they see a WhatsApp contact by the name of "Travis" contacting them, they should avoid falling for his schemes at all costs, and they shouldn't transfer any payment to him through any mode.
The owner of Digital Lock urges the victims to contact the police immediately and lodge a report.
---
Advertisements

---
After making the report, they can contact Elaine at 9161 6282, so that she can cross-reference if the invoice actually exists in the company's database system and to make the necessary product placement orders and schedule the installation.
It's important that victims approach the company, because Digital Lock doesn't actually know how many victims Travis has scammed, since those records don't exist. 
Ron understands that Hari Raya is coming soon, and he hopes that all the mishandled installations can be completed by then.
Read Also:
Featured Image: Facebook (My Digital Lock Pte Ltd) & Google Maps

Here's why a 4-day workweek might finally really be possible in Singapore soon:
Read Also: