---
Advertisements

---
For most families, going out for a simple dinner is a blessing as they get to spend quality time together over a meal, especially if it is on Christmas Day.
However, for Raymond Tan Rui and his family, their dinner slowly turned into a nightmare.
Allegedly Waited Two Hours for Food
According to Mr Tan's Facebook post on Complaint Singapore, on 25 Dec, he and his family visited Jiao Cai Seafood, located at the newly opened Senja Hawker Centre, to enjoy a simple meal during the festive day.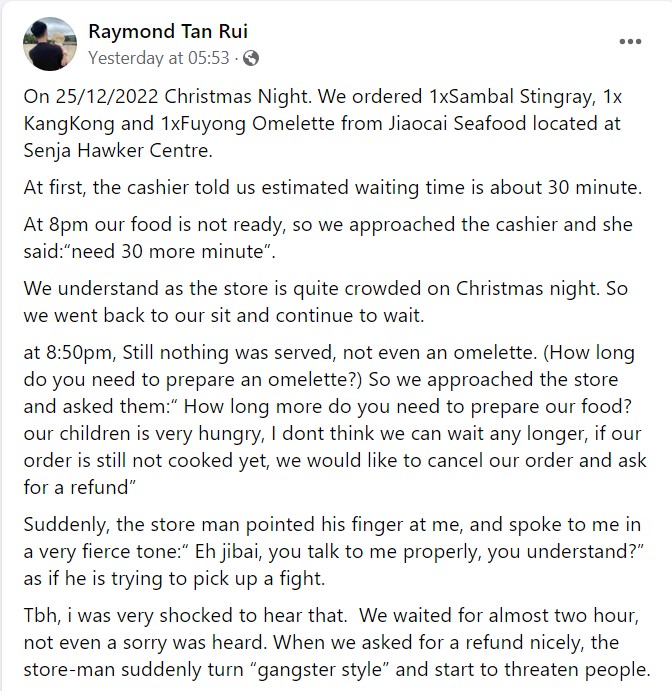 Upon placing their order of one Stingray, one Kangkong, one Omelette, and three bowls of rice at 7:19 pm, Mr Tan was told that he would have to wait for 30 minutes before being able to get his order, which Mr Tan agreed to.
After waiting for more than 30 minutes, Mr Tan approached the stall at 8 pm to check on his order. He was told that he would have to wait for an additional 30 minutes before the order would be complete.
Citing his understanding of the large crowd due to the festive season, he went back to his seat to wait for his food.
However, at 8:50 pm, their food did not arrive. Hence, Mr Tan approached the stall once more to enquire about his order mentioning that his son was very hungry and that it should not be taking so long to get their orders ready.
Refund Request Initially Declined
After finding out that his food was not ready, Mr Tan asked the stall for a refund, but one of the employees at the stall declined his request.
According to Mr Tan, after being declined, another employee allegedly hurled Hokkien profanities at him in a "gangster-style" and asked him to speak "properly".
The employee then followed up the string of profanities by telling Mr Tan that his food was ready and asking him if he still wanted the food items.
Mr Tan declined the food after allegedly being treated unfairly and insisted on getting a refund.
---
Advertisements

---
Eventually, the stall provided Mr Tan with a refund, but in exchange had to endure another set of profanities that were murmured by the employee.
Stall's Side of the Story
In the comment section of the same post, Jiao Cai Seafood provided a response.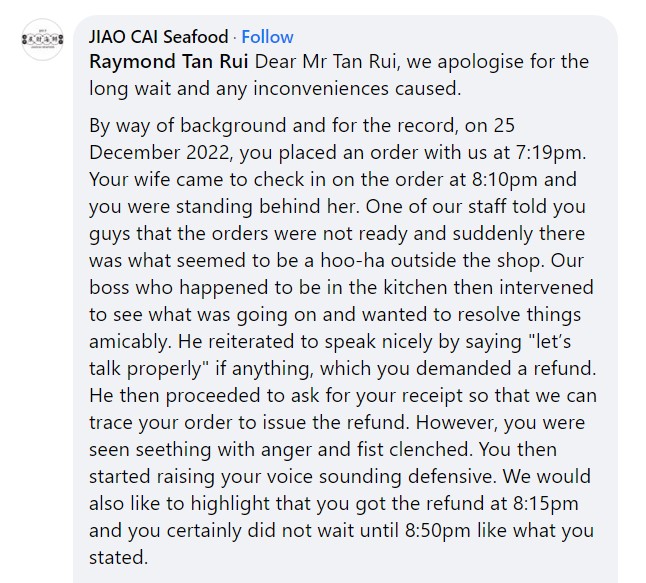 Jiao Cai Seafood confirmed that Mr Tan had indeed placed an order at 7.19 pm that day and that the couple did check on the status of their food at 8.10 pm.
However, this is where both stories do not match anymore.
According to Jiao Cai Seafood, the couple caused a big "hoo-ha" outside the stall after being told by one of their employees that their food items were not ready. This eventually caught the stall's boss's attention.
The boss then stepped out of the stall to try to settle things amicably. Upon hearing that the couple wanted a refund, the boss asked for the receipt so that he could issue them one.
Despite being offered a refund, Mr Tan was allegedly seen to be very angry with his fist clenched. Mr Tan then apparently raised his voice and sounded defensive when communicating with the boss.
At 8:15 pm, Jiao Cai Seafood states that the couple's refund was processed, countering the couple's argument, which states that they waited until 8:50 pm.
In addition to telling their side of the story, Jiao Cai Seafood has also asked Mr Tan to "not twist the facts of the incident".
They also further mentioned that the stall's employee did not spew or murmur any form of profanities in the presence of Mr Tan and that the allegation of their stall being run in a "gangster-style" is also untrue.
---
Advertisements

---
Closing off their reply, Jiao Cai Seafood adds that Mr Tan's allegations carry heavy consequences to their business, harming their reputation and integrity and hence causing irreparable damage to the brand.
Jiao Cai Seafood mentions that they will leave the case to the relevant authorities to investigate and handle, stating that "the truth will speak for itself".
Things Might Turn Legal
Since the incident, Jiao Cai Seafood has lodged a police report on 26 Dec against Mr Tan's Facebook post, citing serious allegations that are defamatory in nature, which has caused harm and damage to his business's reputation.
The comment also mentions that Jiao Cai Seafood has contacted its legal team pertaining to this matter.
In response to their actions, Mr Tan has updated his Facebook post to say that Jiao Cai Seafood is free to do what they want and that he will contact his lawyer as soon as he receives the legal letter from them.
In the update, Mr Tan also mentions the CCTV located beside the stall, saying that he does not know if it belongs to the stall or the hawker centre but that once the footage is out, so will the truth.
---
Advertisements

---
Read Also:
Featured Image: Raymond Tan Hui/ Facebook.com & Jiao Cai Seafood/ Facebook.com 

Here's why a 4-day workweek might finally really be possible in Singapore soon:
Read Also: