---
Advertisements

---
If you don't already know, the last few days have been nothing short of breathtaking.
In the sense that we were constantly being surprised, at every turn, by the most controversial of events.
The f***ing populist incident. The CPIB probe into Minister S.Iswaran. My neighbour Ah Seng's half-naked scandal. The recent extramarital affairs that took the careers of several established politicians.
All grade-A scandal quality. All thought-provoking.
And yet, just when we were all under the perception that the period of controversy has, at long last, ended, another bomb hits us:
Political letter grading.
Someone Marked The Politicians' Resignation Letters Like a School Teacher
Okay, so maybe this latest issue isn't actually a controversial topic. But political letter grading?
It certainly deserves some recognition.
So for context, the satirical media page @mkbdnews recently unveiled a flurry of political resignation letters… alongside a standard school-grade marking scheme.
And yes, those letters initially hailed from the Saucy Political Four, also known as the SPF: former Speaker of Parliament Tan Chuan-Jin, former Tampines GRC MP Cheng Li Hui, former Aljunied GRC MP Leon Perera as well as former president of the Worker's Party Youth Wing Nicole Seah.
And so, without further ado, let's take a look at Mr Tan's one first.
---
Advertisements

---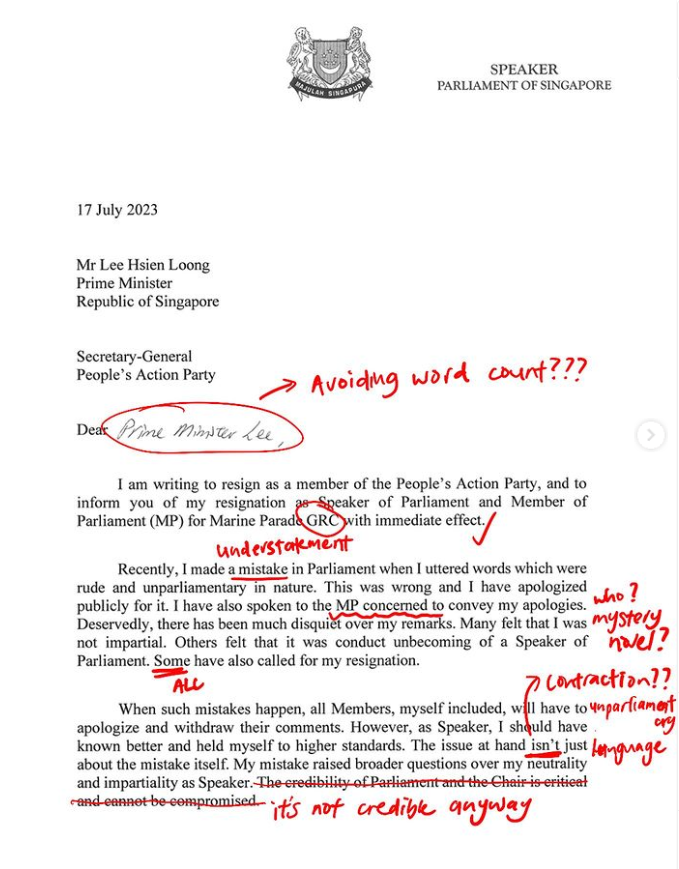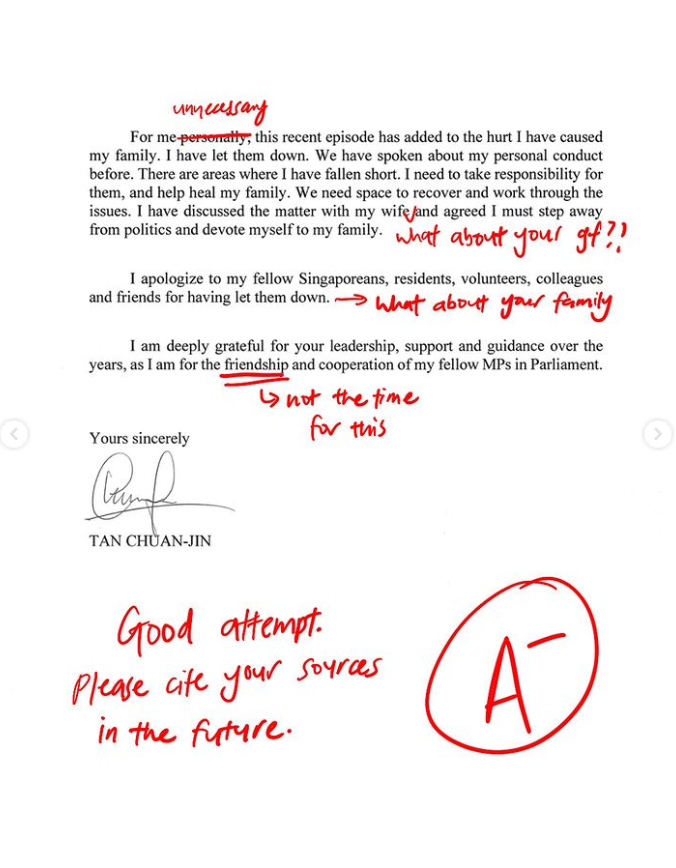 As you can see, Mr Tan made the criminally offensive error of handwriting the words "Prime Minister Lee".
"Avoiding word count???" the marker commented.
Next up, you can see how Mr Tan professed that he made a "mistake". But the marker was critical of the word, deeming it as an "understatement".
Additionally, Mr Tan made the bombastic mistake of not specifying a particular party, the grave error of leaving unnecessary terms in, and the "Vin Diesel disapproved" mistake of leaving his "gf" and "family" out.
As a result, the market deemed his effort as an A-.
Not too shabby at all.
Meanwhile, Mr Perera's efforts didn't go anywhere as well.
Having been guilty of several "mistakes", Mr Perera was deemed to have shown little accountability and was thus advised to revisit the curriculum.
Yet, Mr Perera's effort still far outshone Ms Cheng's effort.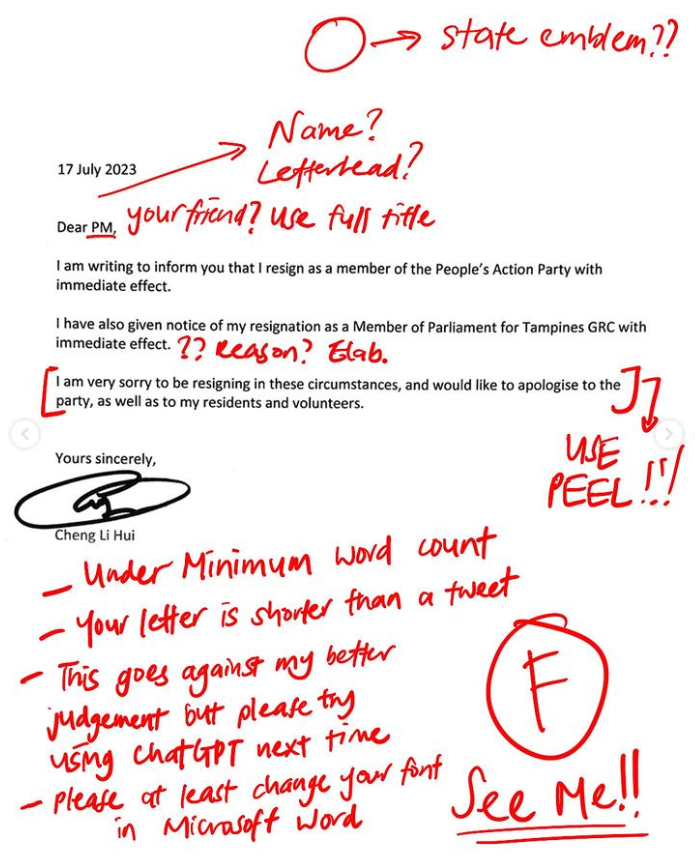 Though, whether Ms Cheng will make a U-turn to meet the teacher is quite another issue altogether.
---
Advertisements

---
And last but certainly not least, we have Mdm Seah, who proves once again that she's an ace in whatever she does.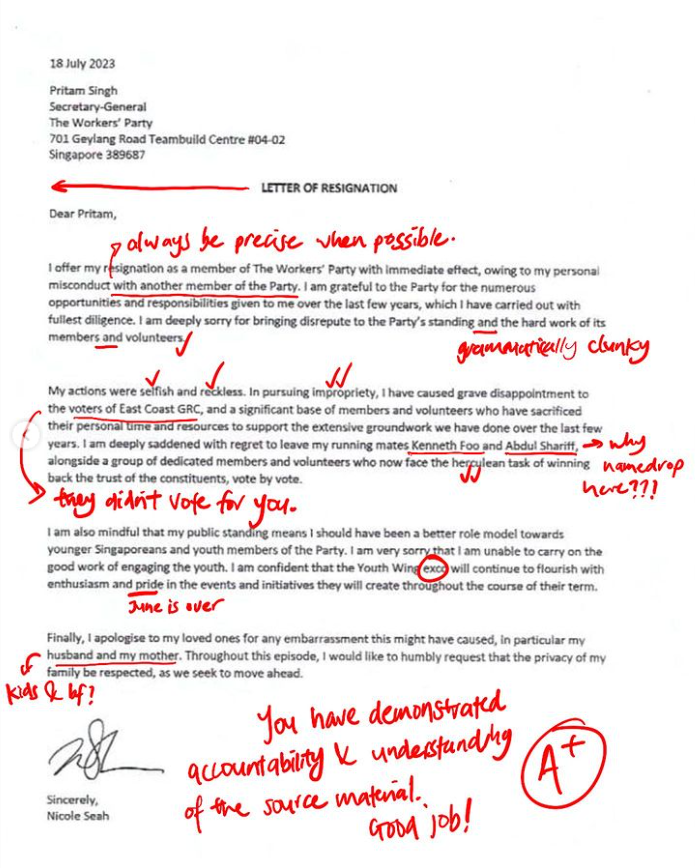 A solid A+.
Netizens Become Teachers
The graded papers, which were uploaded to social media platform Instagram, have since garnered over 16k likes.
Netizens were also keen to share their experiences.
While some highlighted additional mistakes that the former politicians may have inadvertently made…


Others felt the nostalgia of it all.
---
Advertisements

---

You can view the full Instagram post down below:
View this post on Instagram
Political Saga
Four local politicians recently had their careers cut short over extramarital affairs.
Former Speaker of Parliament Tan Chuan-Jin was said to have been in a relationship with former Tampines GRC MP Cheng Li Hui, and both tendered their resignations on the same day.
For the record, Mr Tan is a married man with two kids.
---
Advertisements

---
Meanwhile, former Aljunied GRC MP Mr Perera was caught stroking a woman's hand on a video. The woman was later confirmed as the former president of WP's Youth Wing, Nicole Seah.
An investigation was swiftly launched. A press conference was held days after, and the rumours were confirmed.
Both politicians have since resigned.

Your parents are wrong: MSG (Monosodium Glutamate) is good for you (sort of). Here's the truth:
Read Also: