---
Advertisements

---
Last Updated on 2023-07-25 , 12:36 pm
Recently, Singapore's political scene has far surpassed Medicorp(se)'s prime-time dramas in terms of entertainment value.
The latest development in a… scandalous string of scandals culminated in a press conference held by the Workers' Party (WP), where they addressed the "inappropriate relationship" between Nicole Seah and Leon Perera.
It looks like the one thing WP won't lose out on is their own share of sordid affairs.
Leon Perera Caught Stroking Nicole Seah's Hand
If it's gotten hard to keep track of current scandals and affairs, here's a quick recap.
WP announced on Tuesday that they would hold a press conference today (19 July), to address the viral video of Leon Perera and Nicole Seah that's circulating around the internet.
The video is just 15 seconds long, but it shows all you need to know, really.
In the clip, a man really resembling Leon Perera is shown sitting at a restaurant, stroking the hand of a woman who looks suspiciously like Nicole Seah.
Mr Perera, Aljunied GRC's 53-year-old Member of Parliament (MP), is married with two children.
Ms Seah, the 36-year-old president of WP's Youth Wing, welcomed her second child with her husband (who is not Leon Perera, just in case you needed that hint) in April 2022.
The original video was uploaded to Facebook by a mysterious account named "Victoria Wang".
The account and the original clip, however, are no longer available. You can still see a GIF of it here, though: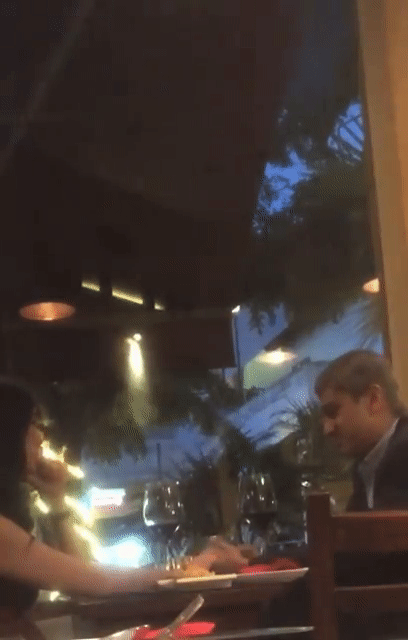 Of course, the clip quickly went viral, and WP indicated in a Facebook post they were aware of its circulation on Monday (17 July).
And Then What?
After the news spread, the WP called an emergency meeting, presumably to discuss the matter.
The two in the centre of the scandal, Nicole Seah and Leon Perera, were missing from the meeting. 
According to reports, the first to arrive at the building was WP's former Secretary-General Low Thia Khiang, at around 9.32 pm on Monday.
Current Leader of the Opposition Pritam Singh was spotted leaving the building two whole hours later, and remained vague about what was discussed in the meeting.
Adding fuel to the fire, though, Leon Perera's former driver spilled the beans about the affair to AsiaOne the next day, on the condition of anonymity. 
He worked for Perera for more than ten years, from 2010 to 2021. According to him, Perera had Nicole sit with him in his car on several occasions, and even asked his driver to send them home separately once.
The driver had also dropped him off at various hotels, and once spotted Seah leaving as well.
Although he tried to counsel Perera about his affair, his advice fell on deaf ears. He turned to party chief Pritam Singh instead, and told him of the affair in 2020.
---
Advertisements

---
According to him, however, Pritam Singh acknowledged this, but did not take action.
Allegedly, he told other party members as well, including the famous would-be "populist' Jamus Lim. 
His employment was later terminated by Perera—for not knowing how to use a GPS, apparently, which he denied.
So Is It True?
No, we're not asking if Leon Perera's driver can really use a GPS— so, did Nicole Seah and Leon Perera really have an affair?
The short answer is yes, they did.
Speaking at a press conference held in the afternoon today (19 Jan), WP's chief Pritam Singh revealed that Perera and Seah did, indeed, have an affair, which started after the 2020 General Elections.
---
Advertisements

---
He said, however, that the affair had ended some time ago.
Apparently, WP members had begun hearing rumours about the affair as early as mid-2020, with allegations of Perera and Seah behaving inappropriately with each other. 
Perera was mentoring Seah at that time, so they spent longer periods together.
According to Mr Singh, Perera's driver did inform him of it via WhatsApp around 2020 to 2021. Then, he told Mr Singh that he had spotted the pair holding hands, hugging, and frequenting hotels and restaurants together.
However, the driver did not provide any evidence to back his claims up, and Mr Singh also did not know him personally.
---
Advertisements

---
Still, he asked Perera if this was true. Perera denied the allegations and told Mr Singh that he was currently in a dispute with his driver, and planned to terminate the latter's employment soon. 
Mr Singh confirmed that Perera's driver later shared this information with other WP members, including Sylvia Lim, Jamus Lim, Gerald Giam.
When they approached Perera and Seah about the allegations, the pair denied having an affair and said the claims were untrue.
The party members also had not seen the video prior to its circulation online on 17 July.
After the clip was leaked, Mr Singh spoke to Perera and Seah separately. This time, both of them admitted they had an affair.
Perera also told Mr Singh that he should have been "more forthcoming" about the matter previously, when approached by other WP members.
The Pair Resign
In the aftermath of the events, both Nicole Seah and Leon Perera have resigned from their positions.
Perera handed in his resignation effective today. He also informed the acting Speaker of Parliament (no, not the equally disgraced Tan Chuan-Jin) to resign from his seat in Parliament as well.
---
Advertisements

---
Seah sent her resignation letter to Mr Singh on 18 July.
Mr Singh stressed that the WP values integrity and honesty from its members, in their dealings with the party as well as Singaporeans.
Perera, however, had been dishonest, and Mr Singh expressed that his behaviour "fell short" of WP's standards and was "unacceptable". 
He said that if Perera had not resigned, he would have recommended his termination to the party's central executive community.
He also requested that the public give space to Perera, Seah and their families, to allow time for them to "heal".
What Happens Now?
Nicole Seah, a fan-favourite during her time in the party, was the president of WP's youth wing.
Perera was previously the MP of Aljunied GRC's Serangoon division. 
In his absence, other Aljunied GRC MPs have been rostered to cover Meet-the-People sessions in Serangoon, till the end of the year.
Perera was not present at the Meet-the-People session this Monday.
WP's Sylvia Lim said that residents living in the GRC could reach out to the party by email if required.
She also reassured the public, particularly residents of the Serangoon division, that WP would employ its "best efforts" to ensure they were "well cared for". 
You can watch the full press conference on YouTube here.
What Else Is Going On?
Singapore's political scene has been especially happening lately—there's so much going on, for better or worse.
Even the seemingly-perfect People's Action Party (PAP) is dealing with two major scandals of their own, one of which is also an extramarital affair involving former Speaker of Parliament Tan Chuan-Jin and MP Cheng Li Hui.
Tan was also heard muttering an expletive at WP's Associate Professor Jamus Lim in a Parliament session, famously calling Lim a "f*cking populist".
The former speaker is married, and has two children. Ms Cheng, however, is unmarried.
Both Tan and Cheng resigned from their roles in PAP.
Apparently, Prime Minister Lee Hsien Loong was made aware of the affair in 2020, and counselled the pair regarding it. Then, Tan had offered his resignation, but stayed on to settle arrangements for after his departure.
PM Lee only found out the affair was still ongoing in July this year, and decided that Tan's resignation would be effective immediately.
A new Speaker will be nominated on 1 August.
In case the sordid stories have made you forget, though, here's a reminder that the PAP is also currently grappling with a high-profile corruption case, involving Transport Minister S. Iswaran.
The minister reportedly spent a gruelling 10 hours at the Corrupt Practices Investigation Bureau's (CPIB) headquarters on 18 July.
He was spotted leaving the building at 8.48 pm, despite entering at 10.50 in the morning. On a more menial note, Iswaran apparently entered and left in two different cars—he came in a Mazda and left in an Audi. 
If they're his, hopefully both were purchased in at retail price.
Iswaran is currently out on bail, after he was arrested on 11 July.
Billionaire Ong Beng Seng was also issued a notice of arrest in relation to Iswaran's case.
He travelled to Bali while out on bail, but has since returned in a private jet. 
No charges have been pressed on Mr Ong, but this isn't his first run-in with CPIB: he allegedly sparked controversy in 1996 after selling properties to PM Lee and former Senior Minister Lee Kuan Yew at discounted prices.