---
Advertisements

---
What comes to mind when you hear that Bali has been called the "Whitest Island in Asia"?
The nature lovers amongst you might dream of pristine white sandy beaches.
The cynical amongst you may think it's a reference to the tropical location being a popular holiday destination for Caucasians or other light-skinned people.
If you guessed the latter, congratulations, you're on a similar wavelength to Nas Daily (this is someone's name, not the name of a newspaper publication).
This comment has made waves across the internet, and netizens are divided on this sensibility of the label.
Bali Is Called the "Whitest Island in Asia"
On 8 February 2023, Nas Daily (@nasdaily) posted an Instagram Reel featuring Bali. His caption begins with the divisive "Whitest Island in Asia?" comment.
View this post on Instagram
Further down the caption, he mentions that "every Western tourist in the world comes to live in Bali".
In a call to his followers to watch out for his upcoming video on Bali, Nas Daily ends the post by saying that he has "found the answer" as to why this is so.
Nas Daily is an Arab-Israeli vlogger with a strong social media presence on many social media platforms, including Facebook, TikTok and Instagram. He also has his own website, nasdaily.com.
The Instagram Reel features shots of many light-skinned tourists in Bali, interspersed with scenic images of the Bali landscape.
Since that Instagram Reel was posted, netizens have taken to the post's comments section to express their unhappiness.
---
Advertisements

---
One of the comments from user @lolalu84 rejected pushing the "white people" narrative as it ignores the impact of tourism on locals, apparently glorifying gentrification.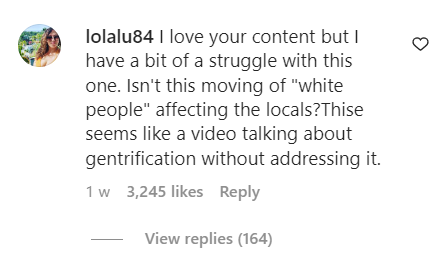 Another comment from user @helldibs was unhappy that Nas Daily used "white people visiting a place" as a selling point for the place instead of, presumably, aspects such as Bali's local culture. The user also took umbrage at how he equated "western" to "white people".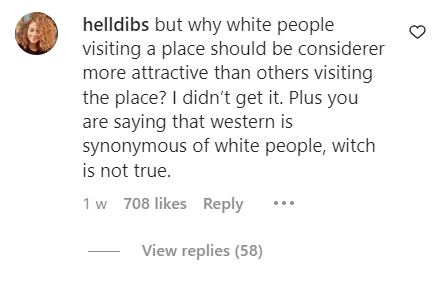 Displeasure was also shown by other users in a less specific way—a comment which served as a makeshift "dislike" button received over 3,000 likes.

Going by Nas Daily's way of labelling islands—could Singapore's very own Sentosa also be a "white" island?
After all, foreigners and Singaporeans alike heading to the island for a quick getaway is a common sight.
Especially if you hang around beach clubs or enjoy lounging on a deck chair with a drink (or coconut) in hand.
Join our Telegram channel for more entertaining and informative articles at https://t.me/goodyfeedsg or download the Goody Feed app here: https://goodyfeed.com/app/ 
Bali Tourism Agency Unfazed
Even though Nas Daily's post faced backlash from the public, the Bali Tourism Agency has expressed support for the post.
Indonesian news portal Detikcom reported Mr Tjokorda Bagus Pemayun saying that Nas Daily's phrases were "flattering Bali" and showing everyone that "Bali is green".
Mr Tjokorda Bagus Pemayun is the head of the Bali Tourism Agency.
---
Advertisements

---
He believes that Nas Daily's promotion would be good to boost tourism in Bali and is unlikely to leave a negative impact on Bali.
This support for labelling Bali as a tourist destination popular with light-skinned holidayers comes in the wake of fears that Indonesia's tourism could take a hit after it passed a ban against sex outside marriage.
Read Also:
Featured Image: Instagram (@nasdaily)

Here's a rather unexpected timeline of the $2.8 billion money laundering case in Singapore as revealed by Minister Josephine Teo during a parliament sitting on 3 October 2023:
Read Also: