When I first got this topic, I thought: Ha! So easy, how many parks can Singapore have?
The answer: over 350 parks, apparently.
I think by now we all know just how desperate Singaporeans are to get out of their houses. With travel restrictions still in place, people have flocked to nature parks and reserves to get a breath of fresh air.
Which is understandable, but with the pandemic still ongoing, the last thing we want is more community cases in a cluster. So, here are 10 other parks in Singapore that you can visit to enjoy nature.
1. Jurong Lake Gardens
Jurong Lake Gardens is perhaps one of the most picturesque parks in Singapore. It offers practically everything that one can dream of.
Looking for nature areas? Watch out for its Freshwater Swamp, Ecopond and the 300m Rasau Walk, which will introduce you to more than 50 species of plants.
Need a play-area to keep your kids busy? This lakeside garden offers two playgrounds; Forest Ramble, a playground inspired by nature, and Clusia Clove, a water playground.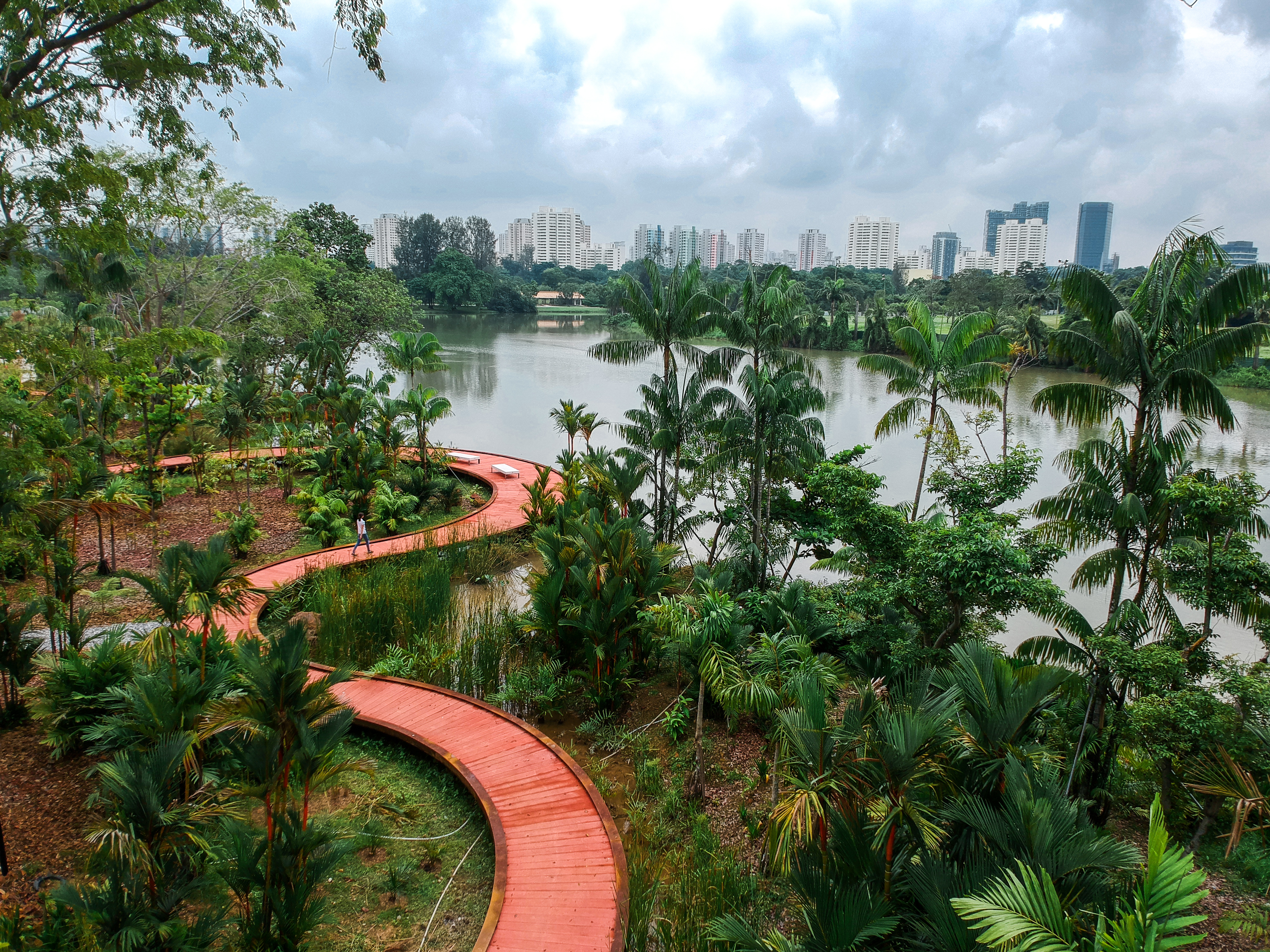 The gardens even provide space for sports and dining through its Active SG Park – which boasts a swimming pool and a 24-hour gym – and the Fusion Spoon restaurant!
Jurong Lake Gardens is also home to the Chinese and Japanese Gardens, which are currently closed for redevelopment till the end of 2021.
2. Hindhede Nature Park
If you're visiting Bukit Timah Hill, why not go down the road less travelled and opt for a quiet visit to Hindhede Nature Park?
Located just next to Bukit Timah Nature Reserve, Hindhede Nature Park remains pretty much an undiscovered gem amongst Singapore's nature parks.
The highlight of Hindhede Nature Park would definitely be the Hindhede Quarry, which is one of the three quarries that can be found at Bukit Timah Hill.
Another quarry is located in 'coughing hills' can you guess where that is?
3. HortPark
If you are looking for a solemnisation or wedding location in nature, HortPark is the place to be.
---
Advertisements
---
With 8 indoor and outdoor venues available for booking, it is no wonder we often see our friends' weddings held there.
Always the bridesmaid, never the bride.
View this post on Instagram
Aside from wedding locations, Hortpark is the place to be if you want to up your Instagram game.
From themed gardens inspired by certain cultures, such as its English and Balinese Gardens, to more unique gardens such as the Edible Garden. Get this, it's an interactive garden filled with vegetables, herbs and spices that visitors can even taste.
Even better, HotPark's themed gardens also cater to different age groups.
Their therapeutic Garden, which has been designed specifically to cater to the needs of the elderly, even those suffering from dementia or post-stroke complications.
As for children, the Pitter Patter Potter Garden and Nature Playgarden are sure to keep them occupied. Each garden contains several different unique play features.
4. Toa Payoh Town Park
With its huge willow trees, tall grass, and arched stone bridges interspersed throughout the pond, the park makes for a scenic view perfect for photoshoots.
---
Advertisements
---
Perhaps due to its small size of just 4.8 hectares, Toa Payoh Town Park remains a park that is relatively less visited. This is exactly what allows for a tranquil atmosphere where visitors can enjoy the surrounding nature.
The park's biodiversity mainly consists of dragonflies and damselflies, with 18 different species being recorded in 2010.
This includes the rare Orange-faced Sprite, which till then had only been sighted in a single location.
In September, keep a lookout for the blooming of the sakura-like Trumpet Trees, which in the past years has never failed to awe passers-by.
---
Advertisements
---
5. MacRitchie Reservoir Park
Nature lovers will love MacRitchie Reservoir Park for its wildlife that can easily be seen throughout the park. Here at MacRitchie, monkeys, squirrels and monitor lizards are some of the more common wild animals that can be spotted daily.
Other not so common wild animals include this mysterious alligator gar, an alien species that is not supposed to be there at all.
View this post on Instagram
The park offers 6 different nature trails of various length and difficulty, with some even extending into Central Catchment Nature Reserve and Windsor Nature Park.
View this post on Instagram
If you're feeling tired halfway through your trail, don't worry! The park has plenty of rest stops throughout, and even offers refreshments to tired visitors at the Mushroom Cafe.
Just beware of the aliens.
---
Advertisements
---
Currently, the famous treetop walk is closed for maintenance works, though it is expected to reopen by May 2021.
6. Fort Canning Park
In 2019, enhancement plans were made for Fort Canning Park to better showcase its rich history.
Today, the park offers 9 historical gardens: the Sang Nila Utama Garden, Pancur Larangan (which is Malay for Forbidden Spring), First Botanic Garden, Raffles Garden, Farquhar Garden, Artisan's Garden, Spice Garden and Armenian Street Park.
View this post on Instagram
For nature lovers who enjoy learning about the heritage of a place, Fort Canning contains a good balance of both heritage and nature.
---
Advertisements
---
The historical landmarks and gardens in Fort Canning are surrounded by lush greenery, with 9 of the listed 178 Heritage Trees being found in Fort Canning.
7. Thomson Nature Park
Did you know? This park is actually home to the endangered species of the Raffles' Banded Langur, with around 60 banded langurs estimated to be left in Singapore. If you're lucky, you might just spot one on the park's Langur Trail.
View this post on Instagram
Within the park also lies the ruins of an old Hainan Village, which is sure to give you a glimpse of the Kampong life in the 1930s.
8. Punggol Waterway Park
As you can tell from its name, this park is a waterfront park built around Punggol Waterway.
Get the best of both worlds here at Punggol Waterway Park, where one can enjoy the lush nature and greenery surrounding the park. Yet at the same time, the park's proximity to the water offers visitors scenic views and a breath of fresh air.
---
Advertisements
---
For nature lovers out there, you're gonna love this—the park is also one of the best spots for bird watching. Catch a glimpse of birds that one might not be able to find in the typical park, such as the White-collared Kingfisher and White-bellied Sea Eagle.
9. Lower Peirce Reservoir Park
Located along Old Upper Thomson Road, the park overlooks Lower Peirce Reservoir—the second oldest reservoir in Singapore.
Enjoy the scenic trails and boardwalks of the park while basking in the tranquillity that the park offers.
Or, if you feel like enjoying nature without doing much exercise, take a seat on one of the park's numerous green slopes and drink in the scenic view from an elevated height.
---
Advertisements
---
The park is also known to offer stunning views of the sunset, so be sure to bring your dates there.
10. Kranji Marshes
Kranji Marshes is a little different from other parks. Rather than being located amid forested areas or reservoirs, it is instead a freshwater marshland, which is a breath of fresh air to nature-lovers tired of the usual park.
It is precise because of this that has led to the unique biodiversity of the park. In fact, being home to more than 170 species of birds has made the Marshes a popular bird-watching spot, especially for Marsh birds.
---
Advertisements
---
With that, head out to these parks and breathe in some fresh air through your mask.
Featured Image: Facebook (NParks)
Like writing? Goody Feed is looking for writers! Click here for more info!