What would you do to entertain yourself in this age of non-existent air travel and very existent climate change?
Hug a tree, whisper amorous words of affection to its muscular trunk, gently caress its steadfast roots, kiss its leaves that bestow you the gift of life with oxygen from photosynthesis? 
Well, if that's your thing, here is a list of the most Insta-worthy trees to satisfy all your desires, courtesy of Lianhe Zaobao. If you are affectionate enough, maybe they'll treat you to some good Sunday morning branch. 
Jalan Sultan
A street neatly lined with intricately decorated shophouses, the shining golden dome of a magnificent mosque, a brilliantly blue sky garnished by clouds, and of course rows of tall palm trees gently swaying their fronds in the wind…
This is a tantalising photo taken by @victor_zhuo on Instagram at Jalan Sultan, featuring, of course, trees.
View this post on Instagram
Although what's more attention-grabbing are the eateries along the street. Trees are pretty, but can you eat trees?
Check out a guide to the best of Kampong Glam here.
Punggol Waterway
Alright, alright, no distractions. Let's get back to trees.
This picture taken by @hjchungphotography details a beautiful morning scene at Punggol Waterway Park.
Layers of green from thriving trees overlap and intertwine with one another, shades of light green, dark green, darker green… I should probably leave you to see the photo for itself.
View this post on Instagram

Anyway, if you'd like to go to Punggol Waterway Park to marvel at trees, you can take the Punggol LRT to Damai LRT Station. In the unlikely scenario that you get bored of looking at trees, there are also jogging tracks on both sides of the scenic waterway for your morning exercise.
Diverse avian life also thrives there, if you are one of those who can differentiate a red-whiskered bulbul from a sooty-headed bulbul.
Canberra
The Australian capital loves its trees so much that it recently assigned a price to every tree in the city. Whoever tries to damage a tree will be fined the corresponding price.
Oh sorry, wrong Canberra. Hahahahaha… You've probably heard this joke too many times. Anyway, local photographer Benny Tan took this photo of, well, a solitary tree under the backdrop of a surreal cyan sky, reminiscent of the 2001 film The Tree, as Zaobao comments.
Well, I've never heard of the film, and apparently, it received 0.5 out of 4 stars on FilmsAsia. So don't blame me… 
It's still a really pretty picture though.
---
Advertisements
---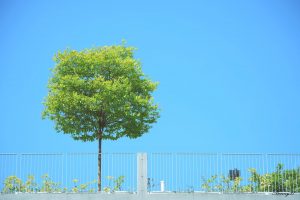 Katong Park
This tree, like the other trees, is also green. It is so green that even its bark is somewhat green, in this photo taken by Facebook user Francis Lee. Trees love green. As you might know, if you've seen a tree.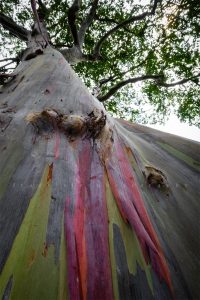 Anyway, this particular tree is a Rainbow Gum, a species of eucalyptus according to NParks. It is so named for its dazzling trunk in varying shades of pink, green, and grey, which are the results of bark shedding. 
As the grey outer bark sheds away, the green inner bark is exposed, which gradually matures to transition through blue, purple, orange, and finally maroon.
These beautiful trees are also growing at Bishan-Ang Mo Kio Park, North Buona Vista Drive, and Biopolis Drive, according to Mothership.
This specimen in Katong Park is, in fact, a Heritage Tree of Singapore, which NParks deems as "important green landmarks of our City in Nature". 
To be considered one, a tree must have a trunk circumference of more than five metres (in testament to its age), or "botanical, social, historical, cultural and/or aesthetical value". In fact, you can nominate a tree right here.
There are currently 263 such trees. Let's hope none of them gets accidentally cleared. 
---
Advertisements
---
Mandai Estate
Facebook user Adrian Ng shared these photos of ancient trees to the Nature Society (Singapore) Facebook Group. Taken directly from the bottom of the tree, there is a certain magnificence to these princely trunks.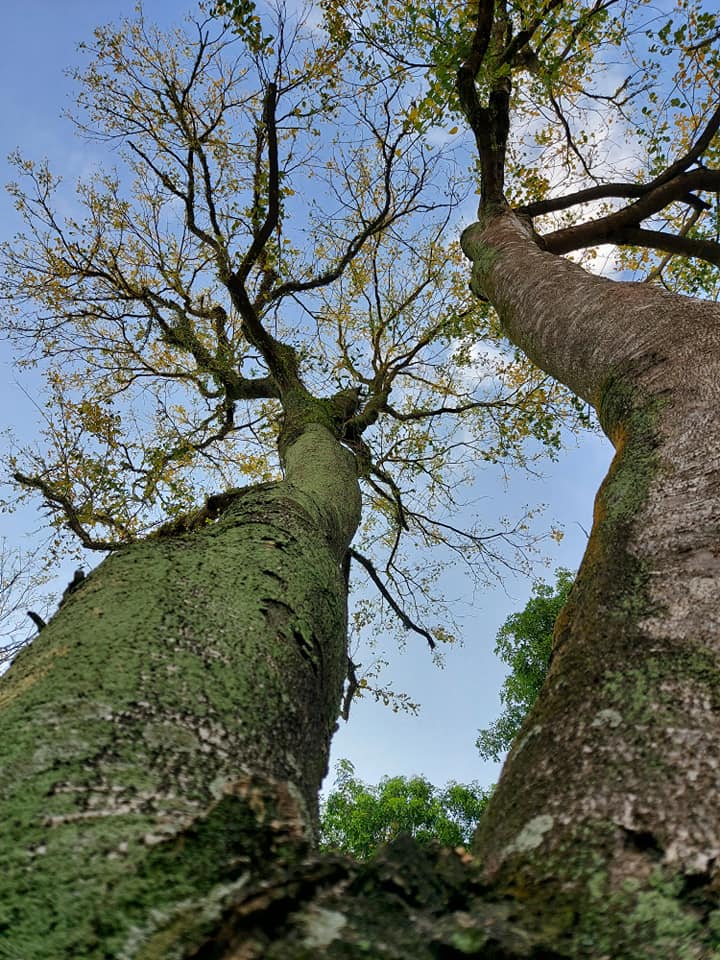 Apparently, the balding is not because of the moss that suck the verdure out of them, but rather that they are deciduous trees that lose and regrow their leaves every year or so.
While they are a fact of life in temperate climates, they can also be infrequently found on the equator.
Feeling like swiping left on any of the above trees? Well, if not, you can always find the tree of your life at Trees.sg, a map dedicated to documenting all the trees in Singapore. Happy tree-ting yourself!
---
Advertisements
---
Featured Image: Instagram (hjchungphotography), Facebook (Francis Lee, Adrian Ng)
Like writing? Goody Feed is looking for writers! Click here for more info!