---
Advertisements

---
National Day Parades are…ostentatious events, filled with casual money throwing because would you look at all those jets flying above your head as though oil prices aren't inflated right now, colourful and bright decorations, many dance items, and National Day songs of questionable quality.
If you have any secondary school friends who were in a uniformed group, then you probably know that National Day performers are paid well for their dedication and effort.
The heat and endless rehearsals may be terrible, but the money makes it worth it.
A Call for Volunteer Buskers
Now, imagine you're a busker and the National Day Parade (NDP) organising committee is calling for buskers to perform at the heartland fireworks celebration sites.
Except it's on a volunteer basis, ergo there's no pay or remunerations for travel and meal costs.
Also, National Day which falls on 9 August is less than a week away and you're expected to perform a list of NDP songs.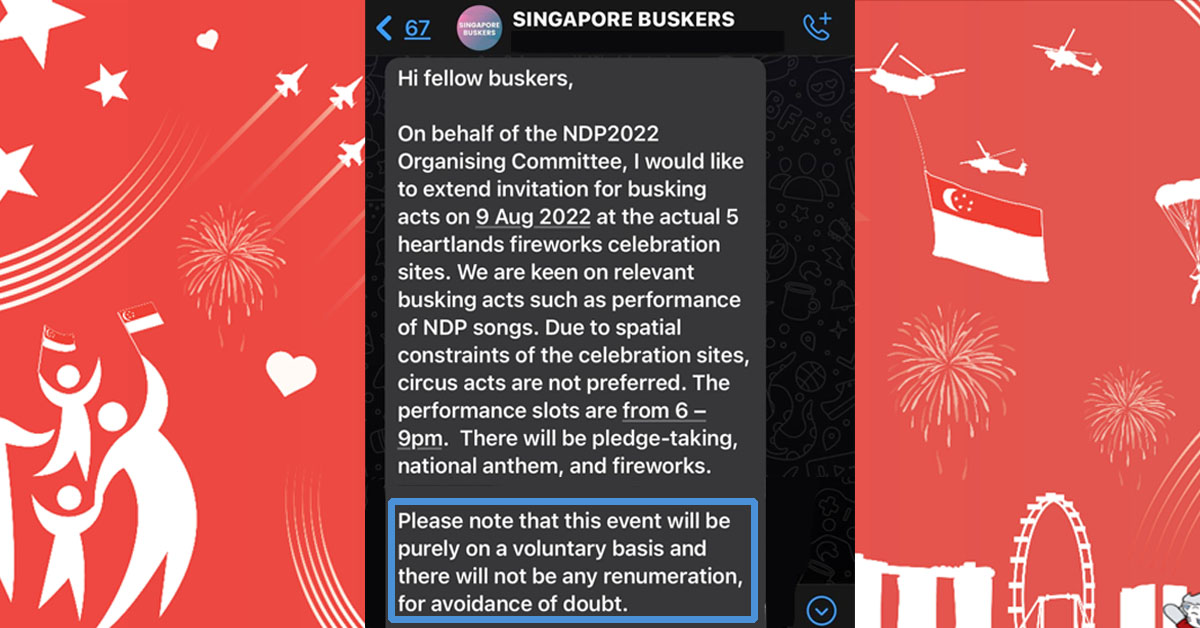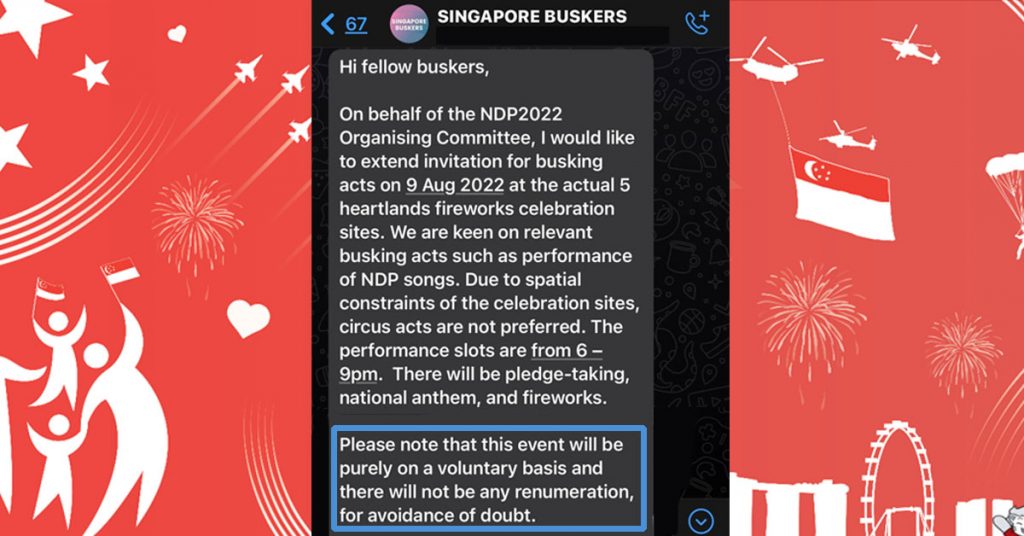 The message from the organising committee was sent to a WhatsApp group called "Singapore Buskers", which boasts 129 members.
It has been verified that the message is authentic.
Needless to say, the buskers were quite upset.
It's unclear if the plan will still go on, all things considered.
The Costs of Busking
When Mr Jonathan Goh, a 26-year-old busker who specialises in circus acts, was interviewed by TODAYonline, he opined that the organising committee could have offered to cover their transportation and meal costs at least.
Mr Goh points out that the buskers might need to take a cab because of their equipment, and cab fares can be pricey these days. If they're going to perform at heartland areas or the site with celebratory fireworks, there's definitely going to be a crowd which would hike up the fare.
That's to say nothing of time and labour spent in preparing for the performance.
While it could be argued that being able to perform for a large crowd widens the buskers' exposure, buskers need the money to sustain themselves; they can't just live off the cheers and happiness of the audience.
Monetary compensation for their time and provided entertainment is important, now more than ever, especially since buskers were all but out-of-business due to the pandemic. After a two-year-long drought, buskers want to earn money.
The NDP is technically a gig, but it doesn't pay at all.
There will also be "no tipping from the crowd".
Join our Telegram channel for more entertaining and informative articles at https://t.me/goodyfeedsg or download the Goody Feed app here: https://goodyfeed.com/app/
The Significance of NDP
Another problem that is highlighted by the buskers is that if they perform during NDP for free, it might set a precedent for other events.
"Other events organisers might say that because buskers performed for NSP for free, so we don't need to pay them also, just invite them to busk without hiring them," said Mr Goh, adding that he wouldn't have minded as much if it was a 30-person closed door event.
But it isn't. This is the National Day Parade we're talking about.
Mr Teo Yong Kang, a 25-year-old busker remarked that the lack of pay or renumeration feels like an "oversight" because the organising committee is allocated a huge budget and yet they forgot to set aside enough funds to pay the buskers for their time and effort.
---
Advertisements

---
To make matters worse, Mr Teo notes the message implies to the buskers that they need to bring along their own equipment and prepare a special list of NDP songs.
They were not told about the stage set-up or what songs are in the setlist at the venues because there are 34 NDP songs, and you can quadruple that number if you add in the different languages that it can be sung in.
Performing for free will only deepen the impression that buskers are either beggars or they are doing it for fun, and it's something that the buskers are trying to change.
The majority of them want to make something out of their artistic skills; busking is an avenue for improvement, but that doesn't mean their lack of stage experience should be taken advantage of.
All in all, it just leaves a bad taste in their mouth.
The buskers would be better off finding a gig at a local bar or restaurant instead on National Day.
---
Advertisements

---
Read Also:
Featured Image: Facebook (Jonathan Goh) & NDP

Fresh grads, you don't need any experience to earn up to $4,200 with this "secret":
Read Also: