---
Advertisements

---
In typical Singaporean fashion, we love to save money.
Many of our Netflix accounts are shared not just with one other person but with many others.
While this is a common practice, it appears that the end of Netflix password sharing is nigh.
So if you've been leeching off someone else's Netflix account to watch the newly released second season of "Alice in Borderland", all I can say is: Uh oh.
Netflix Reportedly Cracking Down on Password-Sharing
On 21 December, Wall Street Journal reported that Netflix plans to disallow people from sharing passwords from 2023.
However, the exact date is still unknown.
The exact method that Netflix will use to crack down on password-sharing is also unclear.
However, Netflix has been running tests in Latin American countries where the streaming service allows subscribers to pay to share accounts with up to two people who don't live with them.
Latin America is one of the regions where password-sharing is the most prevalent.
In these tests, Netflix prompts the password borrower to enter a verification code for their device. This code is sent to the primary account owner and expires after 15 minutes.
This sounds simple enough. However, people familiar with the tests have noted that though the password borrower can watch Netflix upon entering the code, they might keep getting prompts until the primary account owner pays an additional fee to add a sharer.
---
Advertisements

---
A Long Time Coming
For those in the know, password-sharing is an issue that Netflix has been keeping an eye on since 2019. 
Though Netflix has tolerated this issue despite the fact that it violates the platform's terms of service, it seems as if the company has finally had to put their foot down.
The company was allegedly hesitant to properly address the issue back in 2019 in an effort to maintain consumer loyalty.
Efforts to address this issue also dwindled when the COVID-19 pandemic boosted the company's growth in 2020.
After all, the whole world was watching Netflix in lockdown.
However, In 2022, Netflix lost subscribers for the first time in 10 years.
With revenue falling this year, the company finally has plans to act on the issue of password-sharing. 
In addition, around 222 million paying households share passwords with an additional 100 million households, according to MacRumors.
Of course, Netflix wants to monetise these additional 100 million households.
Join our Telegram channel for more entertaining and informative articles at https://t.me/goodyfeedsg or follow us on Twitter : https://twitter.com/goodyfeed
Netflix's "Basic with Ads" Plan
Last month, Netflix launched a new payment plan titled "Basic with Ads". 
---
Advertisements

---
Though only $6.99 a month, which is much cheaper than an ad-free subscription, this marks a stark change in Netflix's stance regarding ads.
They've previously resisted showing ads in content. The "Basic with Ads" plan was meant to get new subscribers who wanted a cheaper alternative to the ad-free plans.
Backlash
This has induced backlash for a few reasons.
Subscribers are concerned that even if they don't share passwords with others, they will only be able to log into Netflix one device at a time.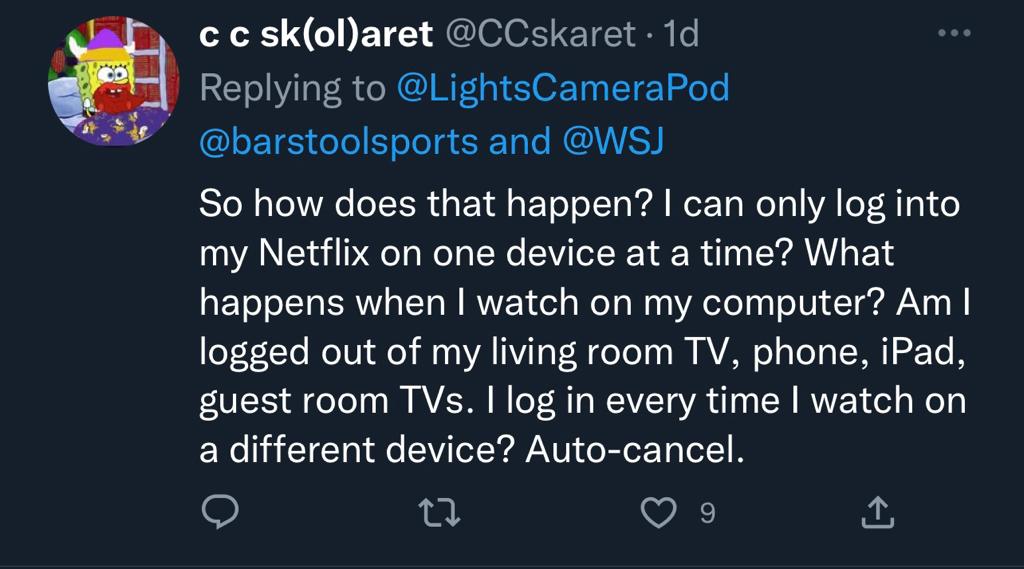 Other people feel that even with these restrictions, it doesn't impact them since they can turn to other streaming services like HBOMax or Disney+ instead.

When Will This Change Come to Singapore?
There is currently no news on when this change will come to Singapore or if we will experience the password-sharing crackdown at all. 
---
Advertisements

---
Though reports say that this crackdown will happen in 2023, there is also no news on how much the plan will cost either. 
Read Also:
Featured Image: Studio R3 / Shutterstock.com

How much cash are you getting in December 2023 from the Government? Here are the facts simplified for you:
Read Also: