---
Advertisements

---
This will not be a good year for beverage manufacturers in Singapore, because they can no longer get away with making slightly obscure nutrition labels on the bottle packaging since the new nutrition labelling scheme is kicking in.
In essence, it is supposed to ensure that consumers are aware of the amount of sugar and saturated fat content they are intaking, in an effort to reduce the average sugar intake among Singaporeans.
"Nutri-Grade" Beverages
Since October 2019, the Ministry of Health has been intending to introduce new requirements for nutrition labelling.
After carefully considering the feedback collated from the public, industry and relevant stakeholders, and going through existing overseas and local evidence, the Singapore Government has decided to introduce mandatory nutrition labels and advertising prohibitions for a certain category of Nutri-Grade beverages.
Nutri-Grade beverages include the following:
Pre-packaged beverages that are ready-to-consume or are packed in advance for sale in packages such as bottles, cans, cartons, packets, or other containers
Powders and concentrates that are meant to be diluted with fluids before consumption, like 3-in-1 coffees or Ribena syrup
Beverages from automatic beverage dispensers, where the machine dispenses the beverage according to a pre-fixed formula, and the consumer has no option to customise the amount of any ingredient.
Freshly brewed coffee, freshly squeezed juices and bubble tea also fall within the purview of Nutri-Grade beverages.
It should be noted that alcoholic beverages, special purpose foods, or beverages prepared by hand, or those that can be customised by the purchases are excluded from the definition.
It will be an amusing sight to see sleek alcohol bottles being slapped with Nutri-Grade marks because those marks aren't aesthetically appealing at all, however neutral the name sounds, though that is probably the main purpose of it.
It needs to be in-your-face about the facts to have any deterring effect.
Rating of "Nutri-Grade" Beverages
Nutri-Grade beverages will be rated according to its total sugar content, minus the lactose and/or galactose declared on the Nutrition Information Panel (NIP).


The Healthier Choice Symbol (HCS) guidelines have also been revised so that it matches the Nutri-Grade marks.
---
Advertisements

---
All HCS drinks are either Grade A or B.
For Grades C and D, it is mandatory for beverage manufacturers to be labelled with a Nutri-Grade mark on the front of the package, whereas Grades A and B can choose if they wish to label the product with HCS or the Nutri-Grade Marks.
Retailers are summarily banned from advertising any Grade D drinks on all media platforms, similar to how cigarettes cannot be advertised because it is bad for public health.
Grade D Nutri-Grade drinks can only be advertised at points of sale, in store, and nowhere else.
The Nutri-Grade mark is simple to understand, and it will look like this: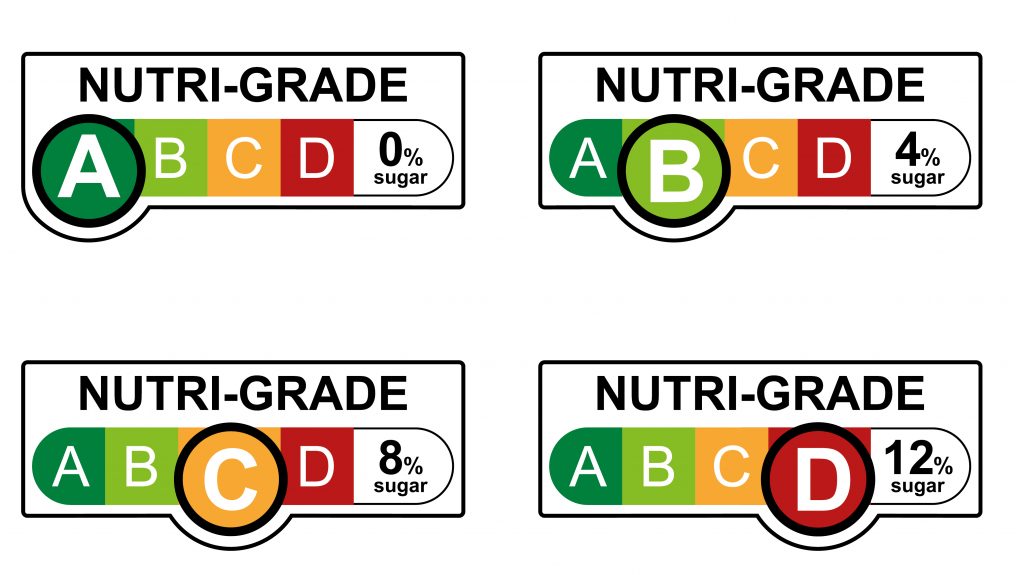 Furthermore, all Nutri-Grade beverages have to carry a Nutrition Information Panel that lists out the energy value, amount of protein, carbohydrate, total sugar, fat and saturated fat levels.
Companies must adhere to the new provisions, or they will be liable to a fine not exceeding $1,000, once the law comes into effect at the end of 2022.
For subsequent convictions, the fine may increase to $2,000.
The regulations will come into effect from 30 December 2022 onwards, to give beverage manufacturers time to transition and adapt to the new provisions.
Outlets selling freshly prepared drinks that are high in sugar and saturated fat contents must label their menu with Nutri-Grade marks by the end of 2023 as well.
---
Advertisements

---
With how sugary bubble teas can be and that blinding 100% sugar level option, it's no surprise that it will be graded D, to say nothing of how difficult it is for the stomach to digest tapioca balls…
So yes, bubble tea will be banned from advertising soon.
Why The Need For New Labels?
After taking Social Studies classes in Secondary School, every Singaporean is aware that we are facing an ageing population, which also means that there's a smaller workforce to support the larger category of ageing seniors as well as growing health needs.
One of the health concerns that has plagued Singapore as of late is diabetes.
The MOH stated that high sugar intake is linked to an increased risk of obesity and diabetes.
Plus, there isn't a nutritional need for sugar in a human's diet.
---
Advertisements

---
Sure, glucose fuels brain activity and it activates certain taste buds to send a signal to the brain to generate more dopamine (a feel-good brain chemical) but in the long term, excess sugar can impair your cognitive skills and self-control.
Having too much high-sugar foods kind of breaks your brain. The thing about our reward-response system is that the more sugar you consume, the more the reward response diminishes, which means that you need greater amounts of the substance to achieve the same level of reward.
This, in turn, leads to overeating and an addiction to low-nutrient foods rich in sugar, salt and fat that progressively worsens.
According to the 2018 National Nutrition Survey conducted by the Health Promotion Board (HPB), Singaporeans are consuming an average of twelve teaspoons (60g) of sugar daily, and 64% of the sugar intake comes from pre-packaged beverages.
All these initiatives fall in line with preventative care emphasis in the new healthcare transformation strategy called Healthier SG.
---
Advertisements

---
Join our Telegram channel for more entertaining and informative articles at https://t.me/goodyfeedsg or download the Goody Feed app here: https://goodyfeed.com/app/
The Thing About Kidneys
Besides the rising concern for diabetes, theirs is a rising number of patients suffering from kidney problems as well.
The kidneys play an important role in removing waste products and drugs from the body, balancing the body's fluids, releasing hormones to regulate blood pressure, produce an active form of vitamin D that promotes strong, healthy bones and control the production of red blood cells.
In short, the functionality of our kidneys is vital to a body's health and survival.
Yet, Minister for Health Ong Ye Kung notes that six new patients are diagnosed with kidney failure daily, an increase from four per day in 2011.
The number is mainly driven by age and disease prevalence, the latter of which stemming from diabetes and obesity prevalence.
As a result, most of these patients require some form of dialysis— a procedure that removes waste products and excess fluids from the blood since the patient's kidneys has failed to work properly.
Most patients opt for haemodialysis, which involves the diverting of blood to a machine to be cleaned.
Given that this method requires regular appointments at dialysis centres, the government is trying to push for a home-based treatment called peritoneal dialysis (PD) instead.
---
Advertisements

---
PD offers greater convenience and self-empowerment as a dialysis solution is introduced through a permanent catheter—a Y-shaped tube that is placed into a vein—in the abdomen, and later drained out once it has done its job.
The government hopes to increase the patients who opt for PD to 30% from 20% this year. The numbers stagnated around 20% due to the prioritisation of COVID-19 since it disrupted the caterer insertion operations and the subsequent training and home support services.
This April, MOH kickstarted the National PD Home Support Programme which provides home visits and specialised counselling for the patients.
The MOH will also continue to study and deploy new tools, like an automated PD device to guide the treatment and care of patients with kidney failure.
While medical advancements are all well and good, it's still best to keep an eye on what you're putting in your mouth and maintaining a balanced and healthy diet.
When all else fails, plain water is the way to go.
Read Also:
Featured Image: Shutterstock / NeedSwanya

How much cash are you getting in December 2023 from the Government? Here are the facts simplified for you:
Read Also: