Where oil prices are concerned, there's good news and bad news.
The bad news is that all posted petrol prices in Singapore are still hovering above $3.
You can watch this video to understand why fuel prices will continue to increase:
---
Advertisements

---
The good news is that after a series of sharp increases to the petrol prices in the last few months, the prices are finally plateauing and stabilising.
The Current Rates of Oil
According to a pump price tracker called Fuel Kaki, which was created by the Consumer Association of Singapore, 92-octane petrol now costs $3.05 at Caltex and Esso, and $3.04 at SPC.
For Caltex and Esso, the price has dropped by 11 cents, whereas for SPC, it has risen by 4 cents.
For 95-grade petrol, which is the most popular among Singapore residents, it costs $3.09 per litre across all brands except SPC, which is posted at one cent lower.
Even then, it's still a bit of good news that it's closer to the $3 mark, since prices had been 14 cents higher last week.
98-octane fuel showed similar trends of dropping by 5 to 14 cents, wherein it costs $3.56 for every other brand except Shell, which has a posted price of $3.58.
Whereas for the premium grade petrol, the rates are as follows:
$3.75 at Caltex, a decrease of eight cents

$3.80 at Shell, a decrease of 14 cents

$3.69 at Sinopec, a decrease of five cents
Well, I know which brand people will be on the lookout for if they want the premium grade petrol.
Prices Including Card Discounts
Of course, the prices listed above have yet to take into account card associations and benefits.
Depending on whether you're using the OCBC Voyage card, Caltex with Unlimited Cashback, Esso with Citibank Cashback or OCBC Cards, the 92-octane petrol can range from $2.47 to $2.62.
The lowest discounted price for 95-octane petrol is $2.42 from Sinopec.
---
Advertisements

---
Whereas for other petrol brands after discounts, it can range from $2.50 per litre (Caltex with OCBC Voyage Card) to $2.78 per litre (Shell with UOB One Card).
For the 98-octane discounted prices, they are as follows:
$2.80 at Sinopec

$2.92 for Esso, with the DBS Esso Card

$3.22 for Shell, with UOB One Cards.
Join our Telegram channel for more entertaining and informative articles at https://t.me/goodyfeedsg or download the Goody Feed app here: https://goodyfeed.com/app/
The International Prices of Brent Crude Oil
Among other things, the prices are crude oil have become one of the most difficult subjects to speculate.
Certainly, it had been projected that the prices of Brent crude oil would eventually reach the $100 mark by the third quarter of 2022, but it was exacerbated by the Russian Invasion of Ukraine, which caused the oil prices to shoot up to $105 on 24 Feb.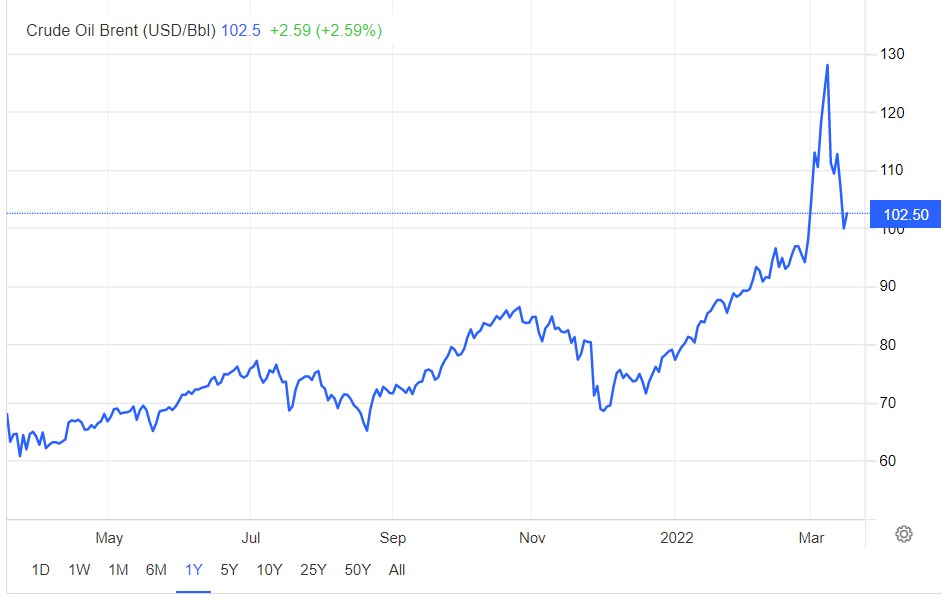 Since then, it has been fluctuating rapidly but constantly moving upwards, reaching a 14-year high of US$139.13 on the US West Texas Intermediate on 7 March briefly, before falling below the $100 mark on Tuesday (15 Mar), and shooting up slightly to $101 today (16 Mar). 
Reasons for the Price Dip
Among many things that the Western countries had been considering since Russia's invasion of Ukraine, was how much economic pressure they wanted to apply on the large country via sanctions.
Although the United States (US), European Union (EU), and other countries have proactively banned their financial institutions, sanctioned against select Russian oligarchs, and even closed off the airspace to Russian flights, countries have resisted placing restrictions on Russian crude oil imports.
---
Advertisements

---
Which might sound a little strange, considering how in the early 2000s, crude oil and natural gas exports accounted for nearly 10.6% of Russia's GDP, and it still takes up 4.9% of Russia GDP in 2020.
However, to completely cut off Russian oil imports would be detrimental worldwide; it means that five million barrels or more could be cut off from the international market, which would lead the US oil barrel to double from $100 to $200 due to the shortening supply. 
Having the oil prices soar above $130 is frightening enough, we don't need the prices to increase more, thank you very much.
Neither do we need a third Oil Crisis on our hands, while we're still dealing with a pandemic and war. It's almost like four horsemen of the apocalypse, we're just missing a ton of natural disasters or something—
In short, it simply isn't possible to erase the world's energy dependence on Russia immediately, especially for the European continent. The US has just announced a total ban on 8 March, though.
---
Advertisements

---
So why the drop in prices?
The recent ceasefire talks between Ukraine and Russia are very much welcomed, in conjunction with the fact that China has seen a decrease in demand for energy sources as it goes on lockdown to contain the surge in COVID-19.
These two factors relax the supply constraints and decrease the demand for oil, which contribute to the falling prices
Besides that, the International Energy Agency for oil-producing member states have been repeatedly called to release their stockpile into the market to regulate the oil prices.
It began with the US releasing 30 million barrels from its Strategic Petroleum Reserve, and working with other countries to release 30 million more, and then some from the other oil-producing countries.
---
Advertisements
---
Even with the small bit of good news, it's still undeniable that oil prices are much higher than what they were last month.
But it's still nice to have small victories.
And if the increase in petrol prices really bother you, always remember that there's the public transport to get around the small island of Singapore.
At least the Land Transport Authority hasn't announced an increase in MRT and bus fares yet?
Stage whisper: Is it too early to say this, or is this a jinx?
---
Advertisements

---
Read Also:
Featured Image: Shutterstock / Aleksandar Malivuk