Same-sex marriage might not be legalised in Singapore, but it's fine to hold same-sex wedding ceremonies, since it's a private affair behind the closed doors of a function hall.
Between Parkroyal Collection Pickering Hotel and one lesbian couple, this is a tale of odd business double standards.
There's no such thing as "too awkward", only more awkward as more details are revealed.
The Hotel's Refusal to Let The Lesbian Couple Get Hitched
On 20 June, Prout shared a redacted screenshot of an e-mail from an unnamed five-star hotel that is adjacent to Hong Lim Park.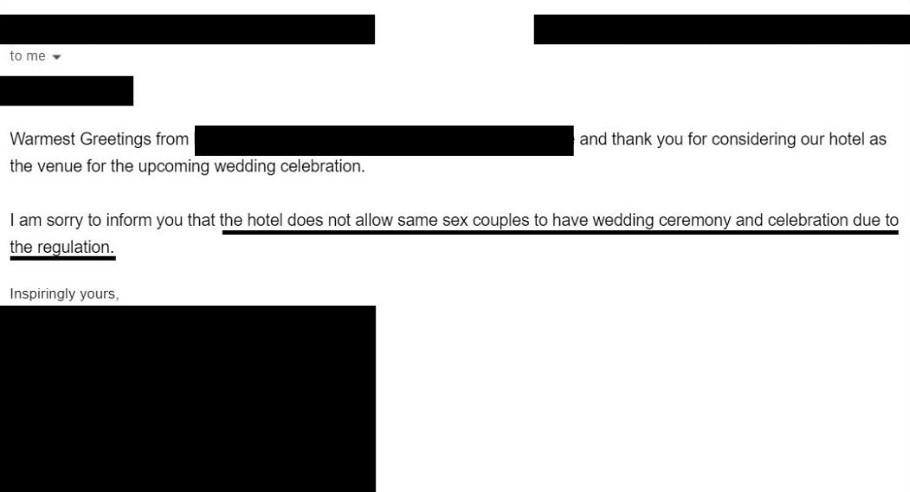 With additional descriptors like its "vertical greenery" to go along with its approximate geographical location, it's not hard for anyone to deduce which hotel Prout is referring to.
Google Maps is a wonderful application and website.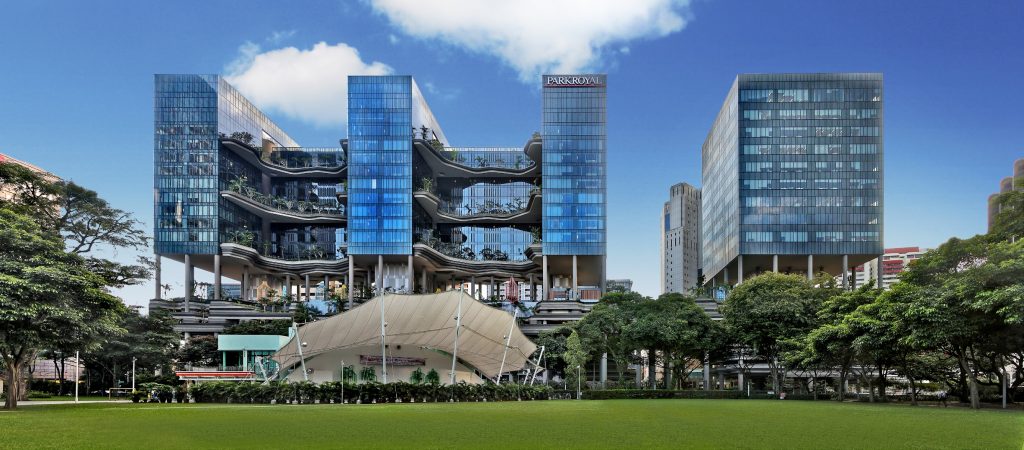 The answer is even more obvious to the LGBTQ+ community, since they frequently book rooms at the unnamed hotel whenever the annual pride day event comes around, and the hotel used to be one of the sponsors of the event as well.
So, it's one of those situations where everyone implicitly knows the name, but we're all just waiting for someone to break the ice and let the floodgates open.
In consideration of the reputation that the unnamed hotel has, it might have largely factored into why the lesbian couple had chosen Parkroyal Collection Pickering as their wedding destination in the first place; it had been a public advocate for their community and held a good reputation among them.
However, they never expected that their proposal to hold their wedding at the hotel would be tersely rejected.
The hotel management wrote back to them, "I am sorry to inform you that the hotel does not allow for same sex couples to have wedding ceremony and celebration due to the regulation."
To add insult to injury, the hotel signs off with a flourish of "Inspiringly Yours".
I'm sorry, but what exactly are you inspiring?
And what is this "regulation" that you speak of?
Prout: A "Painful Reminder" of Double Standards
In the next image of the Instagram post, Prout points out the discrimination that Parkroyal practices despite preaching inclusivity, stating, "The hotel clearly has no issue CAPITALISING on our annual pride event held at Hong Lim Park, with Pink Dot goers booking out room or their pink dollar."
Just a short FYI, pink dollar refers to the purchasing power of the LGBTQ+ community.
---
Advertisements
---
Some businesses like nightclubs, shops, hotels, and restaurants might list themselves as entities that support the LGBTQ+ community to draw more business to themselves.
While pink dollar/pound has now become a sort of "financial self-identification" that the queer community are proud to be part of, and own up to, the concept was originally invented because there was common discrimination by traditional businesses worldwide.
What used be a marker as to whether an establishment is gay-friendly, or a place that should be boycotted for its homophobic beliefs, has literally grown into industry in itself, especially in the United States and Europe.
Prout also notes that Parkroyal Collection Pickering is listed as an LGBTQ+ friendly hotel, which further feeds into the notion that the management merely advertised themselves as an "inclusive hotel" purely for financial gain, but don't truly accept the community.
After all, the hotel has no qualms taking the money of the LGBTQ+ community when they come in droves to celebrate and be open about their sexual orientations on a specific day.
But when that day is over, it's somehow against their regulation to allow an event that celebrates the union of two women who are in love with each other.
---
Advertisements
---
It just leaves a bitter taste in one's mouth when you place the two examples side-by-side for comparison.
Join our Telegram channel for more entertaining and informative articles at https://t.me/goodyfeedsg or download the Goody Feed app here: https://goodyfeed.com/app/
The Hotel's Public and Private Apology
After scrolling through Prout's post, it's clear that that the jig is up because some Instagram users wasted no time tagging @parkroyalcollectionpickering, demanding an explanation for the "regulation".
On 21 June, the hotel's public relation team posted a simple grey image with the italicised words, "We are sorry."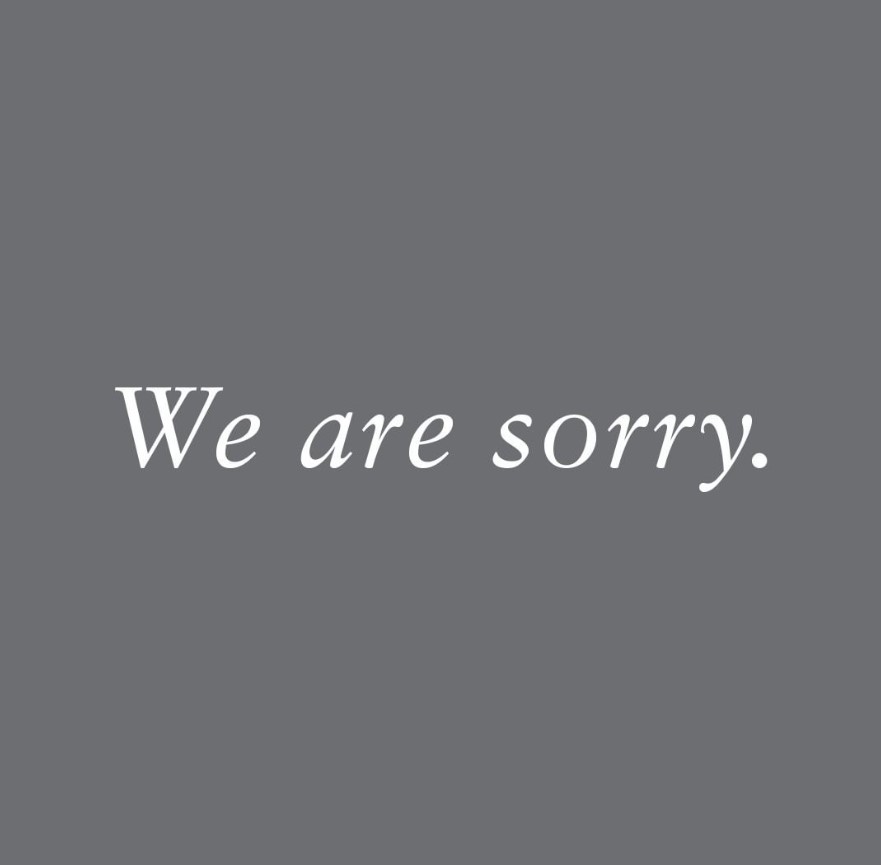 The description reads, "Thank you for your patience as we seek to understand this unfortunate mistake and misinformation from one of our team members at PARKROYAL COLLECTION Pickering. We are an inclusive hotel, and we are truly sorry for the disappointment and inconvenience this may have caused. We have since reached out to the couple and will do our best to assist them with their special occasion at our hotel."
Pushing the blame to a single person instead of saying that it's the fault of their company's values, nice maneuverer.
---
Advertisements
---
You get a cis out of ten.
The comment section, as one might expect from a social media platform filled with more liberal opinions, was doused with salt.
One netizen remarked, "If you're really sorry then why are you avoiding specific terminologies in your post? I don't get it."
It's true; Parkroyal Pickering merely said that there was an "unfortunate mistake" due to bad communication from their team member, but they refuse to address the heart of the problem.
It's even more awkward when another very well-liked and eloquently written comment highlights all the issues that they have to address.
---
Advertisements
---
The comment said, "For the benefit of the members of the public, please share the mistake you have made, and how you intend to rectify your homophobic policies. Since you say you're inclusive and want to earn our gay dollars, please walk the talk."
This netizen has brevity and wit mastered in two sentences.
Sarcastic quips aside, a screw-up is a screw-up, and it's one that the community is unlikely to forget.
It appears that when the Pink Dot Movement hosts another event next year, Parkroyal Collection Pickering might be seeing a drop in sales for a particular month, since there are already netizens who are declaring that they will be boycotting the hotel chain altogether.
The Lesbian Couple's Response
The lesbian couple were much nicer about everything, starting off their post by thanking Prout and the community for standing up for them.
---
Advertisements
---
Through Prout, they confirmed that Parkroyal Collection Pickering had apologised to them privately, and that they had seen the public apology.
With the grace of actual Queens, they said, "We accept the apology and appreciate the change in direction from the hotel to allow for such celebrations moving forward."
However, just because they're forgiving, it doesn't signify that they forget.
Understandably, they won't be holding their wedding at their hotel now, so whatever special assistance or effort Parkroyal wishes to render is useless.
Most of all, they hope that with this incident, which has blemished Parkroyal Collection Pickering's reputation and abundantly showcased the unity that the LGBTQ+ community has, it will make other establishments reconsider their policies and communication methods when it comes to same-sex couple celebrations.
---
Advertisements
---
Then, with some tongue and cheek, they sign off with a "Queerly yours, thelesbiancouplewhojustwanted2gethitched".
Truth to be told, the parting salutation is giggle worthy.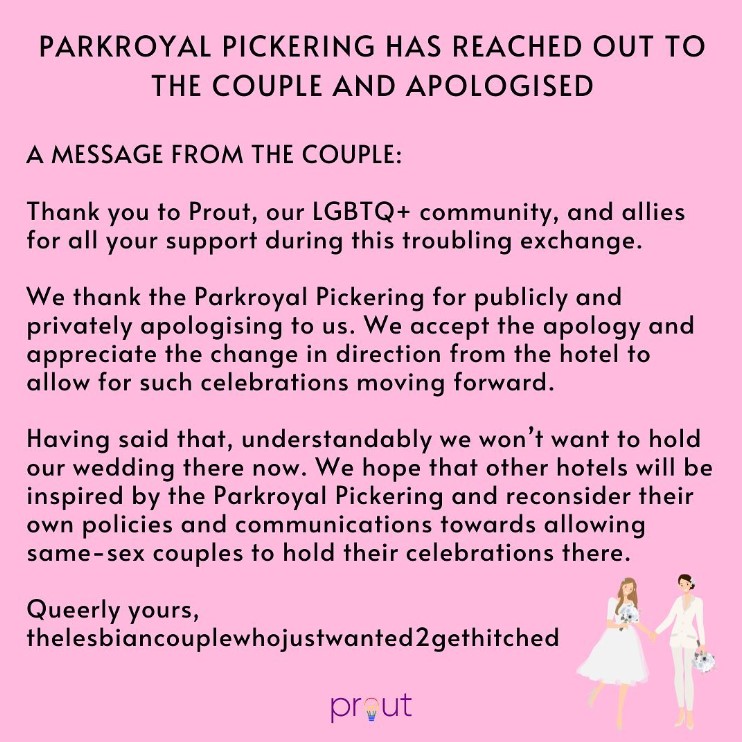 Read Also:
Featured Images: Google Map & Instagram (@proutapp)
---
DPM Lawrence Wong has just spoken about his plan for Singapore in the next ten years and more. Here's a summary of his first speech: