---
Advertisements

---
Last Updated on 2023-02-15 , 10:20 am
One of the more unique things about Singaporeans is how much they love queuing.
Since 8days first published an article on this Lucky Plaza eatery, Singaporeans have begun to flock to the shop.
Here's what you need to know.
Long Snaking Queue
Since 8days first published its article on the eatery and its grumpy owner, Fiie's Cafe has seen an increase in customers.
A Facebook post published on MakanFm depicts the long, snaking queue outside the eatery.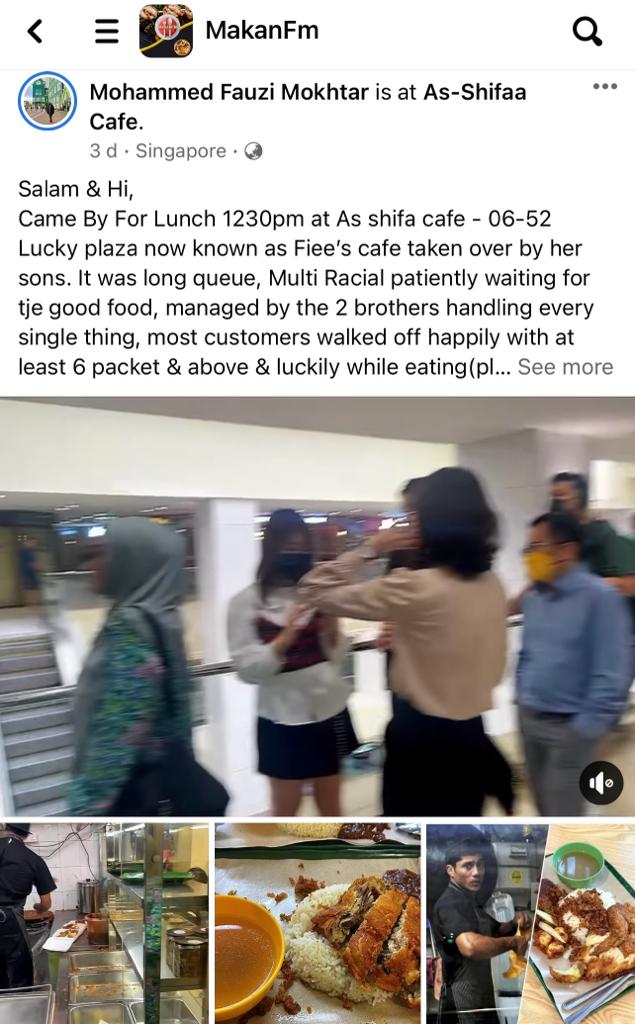 In fact, the queue was so long that it stretched to the other end of the mall.
Apparently, these long queues were spotted during the lunch hour rush.
According to the post, people from all walks of life were queuing for the famed Nasi Ayam Goreng.
The post said, "Most customers walked off happily with at least six packets & above & lucky while eating (placed out orders for takeaway too) we heard someone ordered 45 packets!"
Describing the service as "simple, fast and straightforward", the Facebook user described how the two brothers handled everything, even though the eatery was busy and so many people were ordering takeaway.
Google Reviews
Formerly known as As Shifa Cafe, Fiie's Cafe has a rating of 3.3 stars on Google reviews.
Why is the eatery not getting higher ratings if the food is so good?
As you can tell from the Google review summary of the eatery, most people rated it five stars.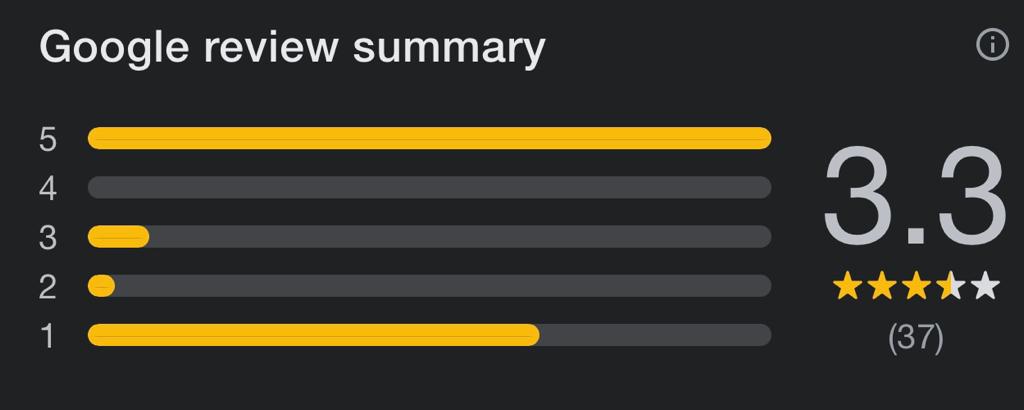 However, the second highest rating is a mere one star.
Most of the people who gave it one star cited the owner's service as the reason for their low rating.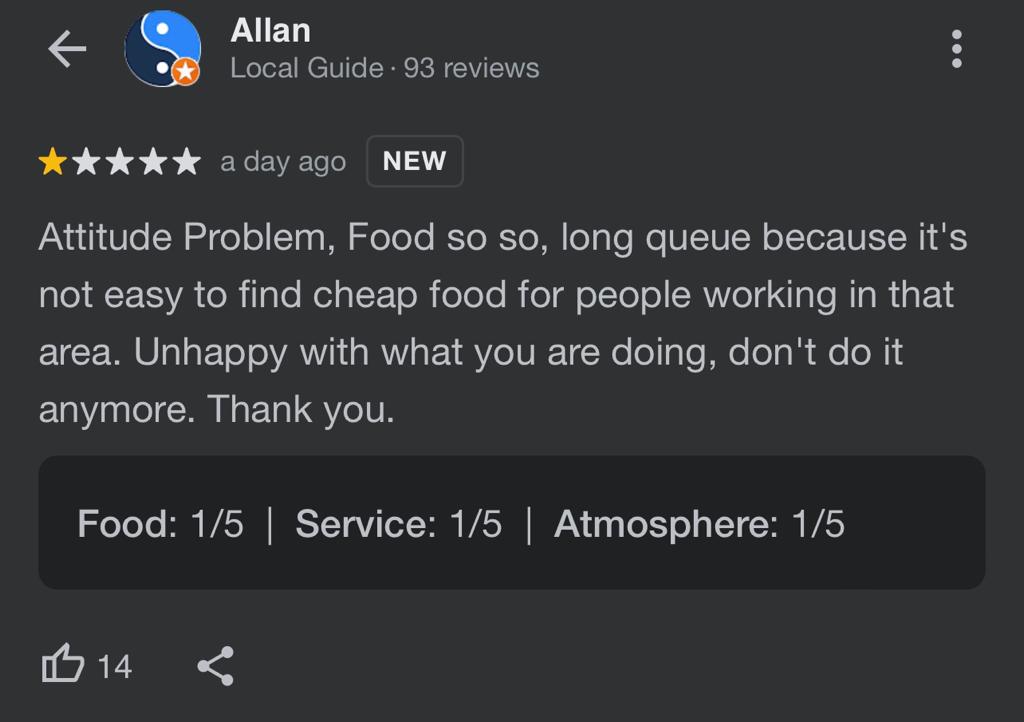 A few reviews even compared Fiie's Cafe to Karen's Diner, a viral Australian eatery known for its rude servers.


However, it seems that those who rated Fiie's Cafe highly rated it for the quality of its food.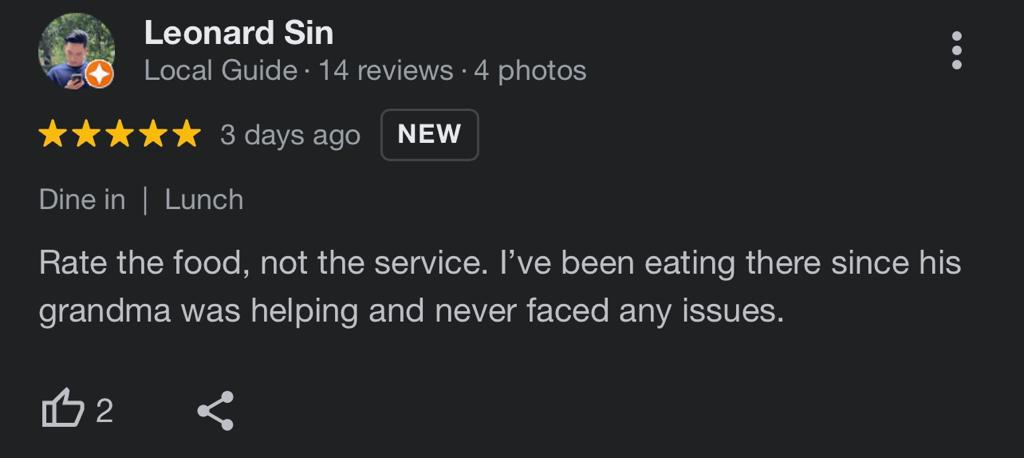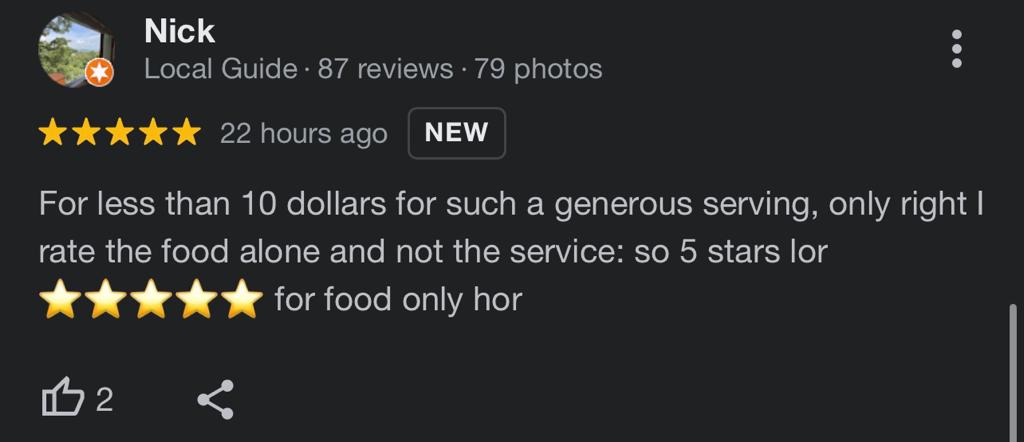 Why so Grumpy?
According to some netizens, the owner is only grumpy during peak hours.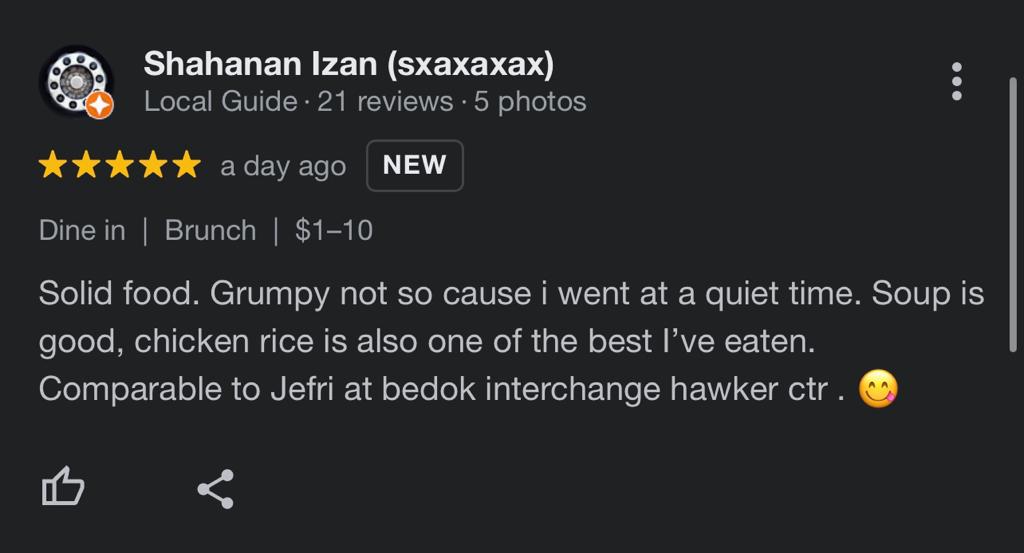 Under 8day's Facebook post on the topic, a netizen explained that the owner was in a bad mood because his wrists were in pain from chopping chicken.
According to the netizen, part of his supposed irritability comes from the fact that some diners breached COVID-19 measures, causing him to get fined.
---
Advertisements

---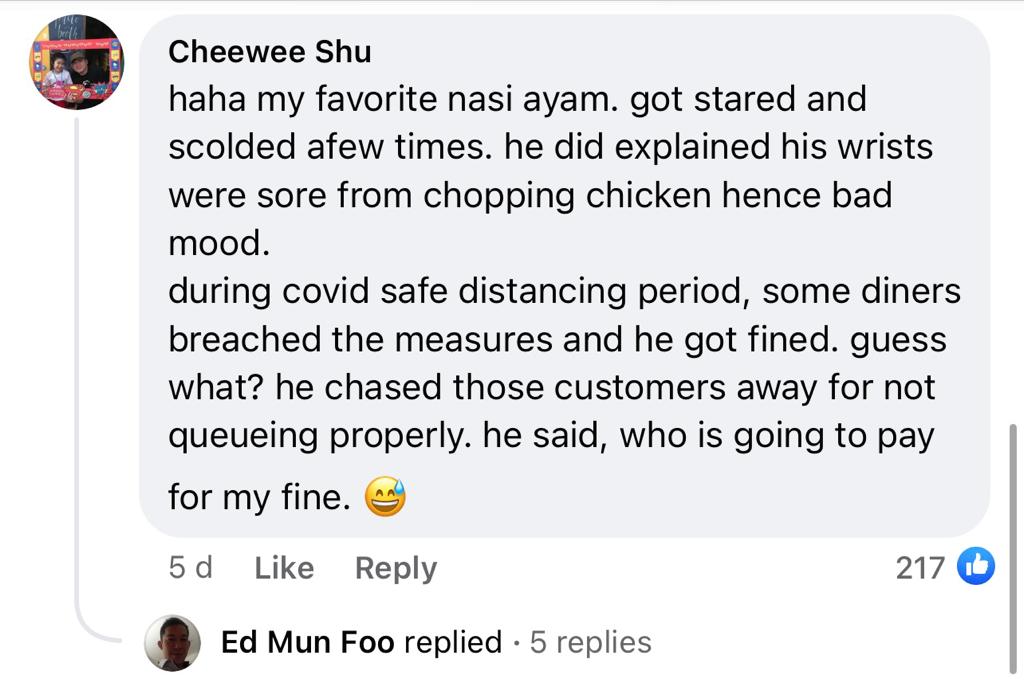 Some netizens feel that the owner isn't rude.
They believe that he is simply radiating the spirit of an old-fashioned food stall owner and giving tough love to his customers.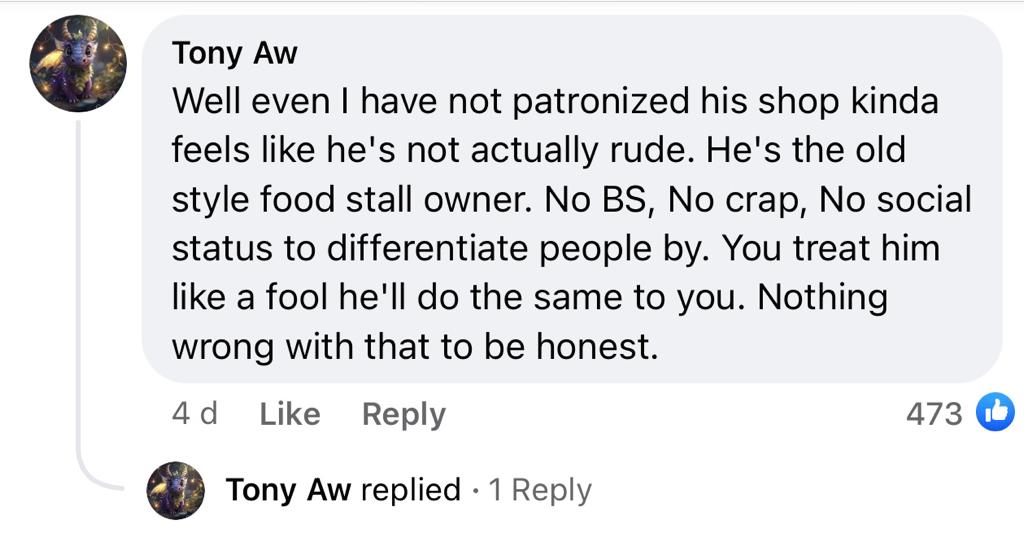 That includes seeing his customers as equals and not differentiating them by social status.
Others were incredulous at the kind of service customers expect from a two-person show.
Some people sympathised with the owner's supposed rudeness. After all, it isn't an easy job.
Join our Telegram channel for more entertaining and informative articles at https://t.me/goodyfeedsg or follow us on Twitter : https://twitter.com/goodyfeed
Rude Owner, Better Food
Fiie's Cafe isn't the only eatery known for its rude owner.
---
Advertisements

---
If you do a quick Google search, you'll be able to find many articles about grumpy eatery owners who sell good food.
Wah Kee Big Prawn Noodles, located at Pek Kio Market and Food Centre, is also known for its good food and rude owner.
According to a 2016 article by TODAY, Tham Lay Mon has been called "grumpy", "curt", and even a "hawker Nazi."
Netizens have even given tips on how to make buying food from her a smooth process.
In 2023, netizens were shocked to see her smiling in a photo with MP Melvin Yong.
---
Advertisements

---
However, like Fiie's Cafe, it seems like she has a good reason to do so.
According to TODAY, her crankiness comes from a place of concern as she's scared that customers may spill soup on each other.
These eateries make up our country's flavourful food culture.
There's probably a reason why some owners come off as rude.
Address 
Even with complaints about the owner's rudeness, people keep coming back.
If you're interested in trying its famed Nasi Ayam Goreng, head down to #06-52 of Lucky Plaza.
Just be warned of its massive crowd.
Read Also:
Featured Image: Facebook (@MakanFm)
---
Advertisements

---

Fresh grads, you don't need any experience to earn up to $4,200 with this "secret":
Read Also: