---
Advertisements

---
A video of Mr Pritam Singh hitting the armrest and leaving during a Member of Parliament's (MP) speech went viral on 29 November 2022.
Many wondered who pissed him off and caused him to leave in such haste.
One of the videos has garnered over 137,000 views and 1,491 likes.

 If you are expecting brewing hot tea, I am sorry, there's no tea for you today.
Pritam Singh Responds to Viral Footage of Him Hitting Armrest & Leaving During MP's Speech
Mr Singh posted a photo on his Facebook account with the hashtag 377A.
In the comments section, many people applauded him for speaking up for the repeal of Section 377a.
However, one of the comments asked about the viral video of him leaving in a huff.
Pritam Singh then went on to explain why he did that.
The reason? Well, nature called for him.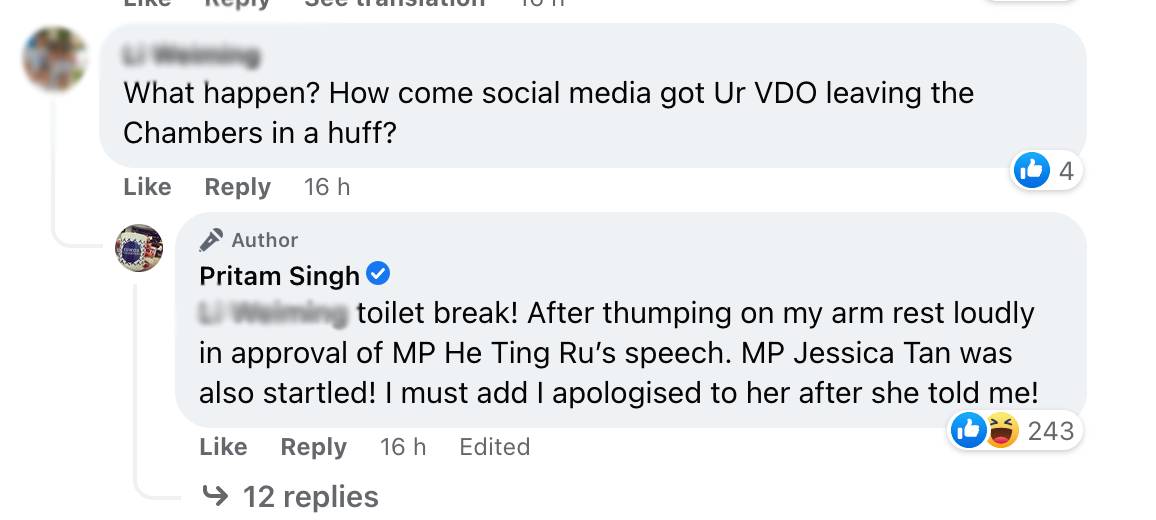 The loud thumping was his way of approval of MP He Ting Ru's speech. He added that MP Jessica Tan was also shocked by his actions. He apologised to her upon finding out.
---
Advertisements

---
In case you did not know, the thumping of the armrest is a tradition in the parliament house.
It signifies approval for something, but the members are not allowed to hiss, chant, or boo whoever is speaking.
The Recent Repeal of Section 377A and how Workers' Party React
Pritam Singh has been the talk of the town lately due to his stand on Section 377A.
Initially, Law and Home Affairs Minister K Shanmugam said that the Workers' Party (WP) did not have an official stand on repealing Section 377A of the Penal Code.
A colonial-era law from 1938, Section 377A criminalises sex between consenting male adults.
However, Mr Singh said that Mr Shanmugam's comments were untrue as six of his party members were for the repeal of the law, while three were against it for reasons of conscience.
Mr Singh, along with his MPs Ms Sylvia Lim, Mr Leon Perera, and Louis Chua, supported the repeal of Section 377A, while MPs Mr Dennis Tan, Mr Gerald Giam, and Mr Faisal Manap opposed it.
"377A is unique in that it is conceived through a religious lens by many in Singapore, in addition to being a matter of conscience for a no less significant number," Mr Singh said.
"My personal belief is that the repeal of S377A does not signal the state's hostility towards the family unit or religious freedom," he added.
Read also:
Featured Image: sinkienewsnetworksg / TikTok & Pritam Singh / Facebook
---
Advertisements

---

Your parents are wrong: MSG (Monosodium Glutamate) is good for you (sort of). Here's the truth:
Read Also: