---
Advertisements

---
Surprise, surprise.
After the two-year-long defamation lawsuit of Rachel Wong vs Olivia Wu, the case was abruptly resolved, albeit "amicably".
You might be wondering, what is this case all about?
Wong Sues Wu For Defamation
Back in December 2020, Olivia Wu, posted Six Instagram Stories entitled "Cheater of 2020", alleging that full-time influencer Rachel Wong had cheated on her now-ex-husband local footballer Anders Aplin.
Among other things, Wong was accused of promiscuity as she allegedly had intimate relationships with two other men while she was still with Aplin and had committed infidelity on the night of her wedding as she slept with the wedding emcee Alan Wan.
Wu also claimed that Wong had no morals, was mentally unwell and needed help, and had ruined more than one person's life.
Since a social media influencer's claim to fame and wealth is largely dependent on their reputation, Wong naturally took issue with Wu's posts and decided to sue her for defamation.
Wong sought a total of $150,000 in damages.
The legal case was, to put it bluntly, kind of a shitshow.
It should also be noted that these allegations could be seen as especially damaging since it surfaced during the time period where Wong and Aplin were in the process of annulling their marriage.
The couple dated for eight years and were only married for four months before they sought a divorce in April 2020.
---
Advertisements

---
Reportedly, the couple studied in Nanyang Business School at Nanyang Technological University, though they only became closer after a trip to Tioman with their scuba diving club.
According to lawnet, their marriage was legally declared null and void in March 2021.
The Amiable Resolution
It is unclear what happened in the courtroom (or in this case, outside the courtroom), but both parties have reconciled their differences without requiring an official verdict from the judge.
On 16 August, Wong shared a lawyer's letter that was drafted by Harry Elias Partnership, which wrote that the case has been "resolved amiably thanks to efforts by both parties to bring this matter to a close".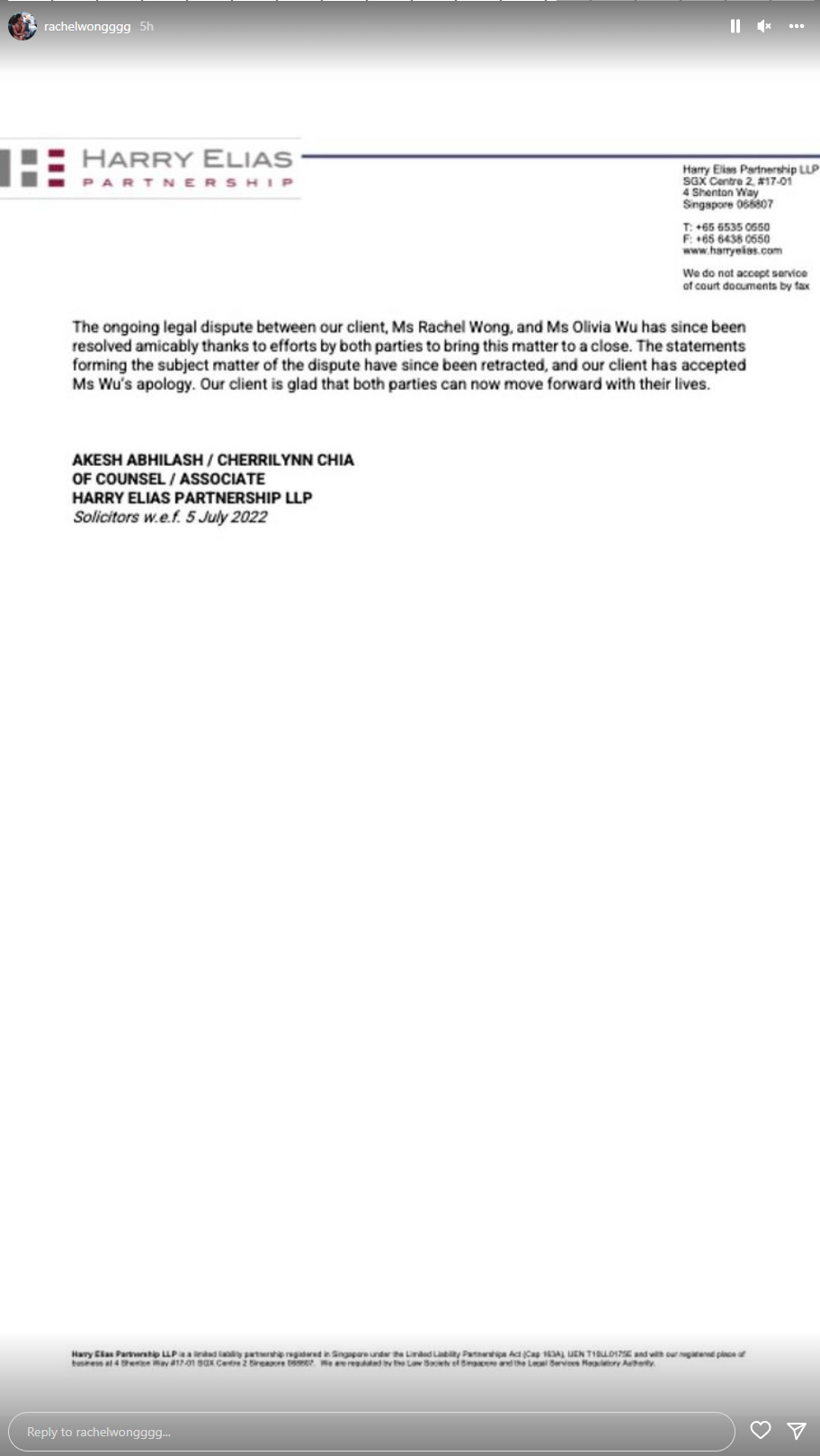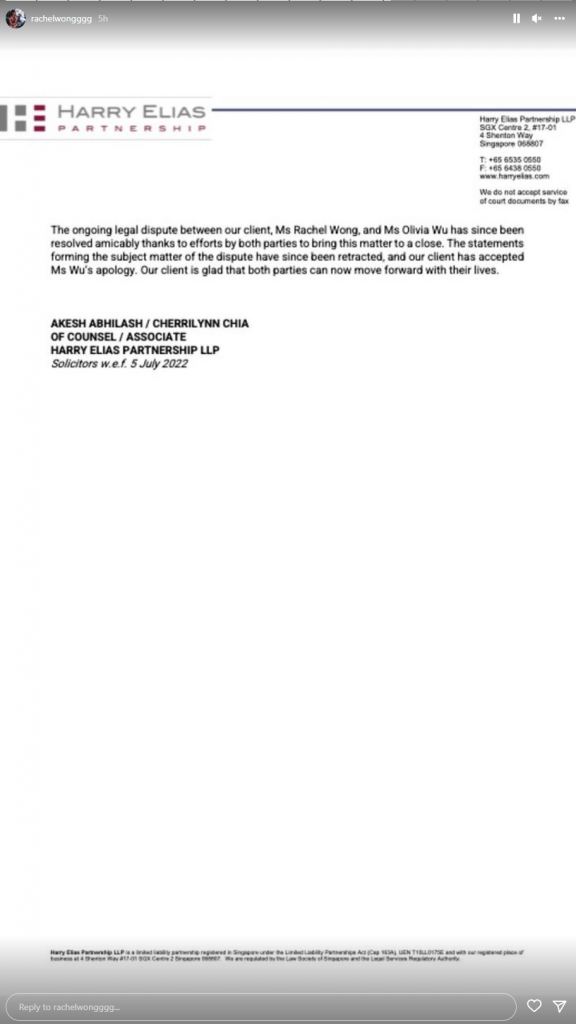 Her lawyer team states that their client has retracted the statements that began the legal dispute—that Wu's remarks against Wong had been defamatory, and Wong's reputation had taken damage for it.
The damages come in the form of Wong's social media reputation, optics, and image to attract deals on partnership, which affects Wong's ability to make a living.
Just a quick crash course, defamation suits in Singapore can only succeed if the plaintiff manages to prove that:
The statement made is genuinely defamatory, which means that it has lowered the victim in the estimation of right-thinking members of society, thereby causing the victim to be avoided, or exposes the victim to hatred, contempt or ridicule.
The statement must refer to the victim; the victim should be identifiable in the words or pictures of the content that accuses them of wrongdoing.
The statement must be published or communicated to a third party.
The latter two conditions are fairly easy to meet. With regards to (3) in particular, even if it is a repost or retweet on social media, it satisfies the condition.
It is criterion (1) where things can get messy, since there are two common counter arguments of justification and fair statement, but that will be covered later.
Therefore, it is Wong's responsibility to ensure all three conditions are met in order to claim monetary damages for the harms suffered.
---
Advertisements

---
But it seems that she has given up on claiming damages as the following line writes, "Our client has accepted Ms Wu's apology."
Wu later reposted Wong's statement, before admitting that the six Instagram Stories that she published on 21 December 2020 did indeed allude to Wong's "private personal life".
She also acknowledges that the lawsuit has "attracted much unnecessary publicity which has hurt the both of [them]", alongside their friends and families.
Wu adds that she was not personally acquainted with Wong and that her remarks had been "unnecessary". For the same reason, she wishes to "wholly withdraw" the allegations she made and apologise for the harm she had caused to Wong.
Her last sentence echoes Wong's lawyer letter, wherein both parties hope to "move forward with [their] lives".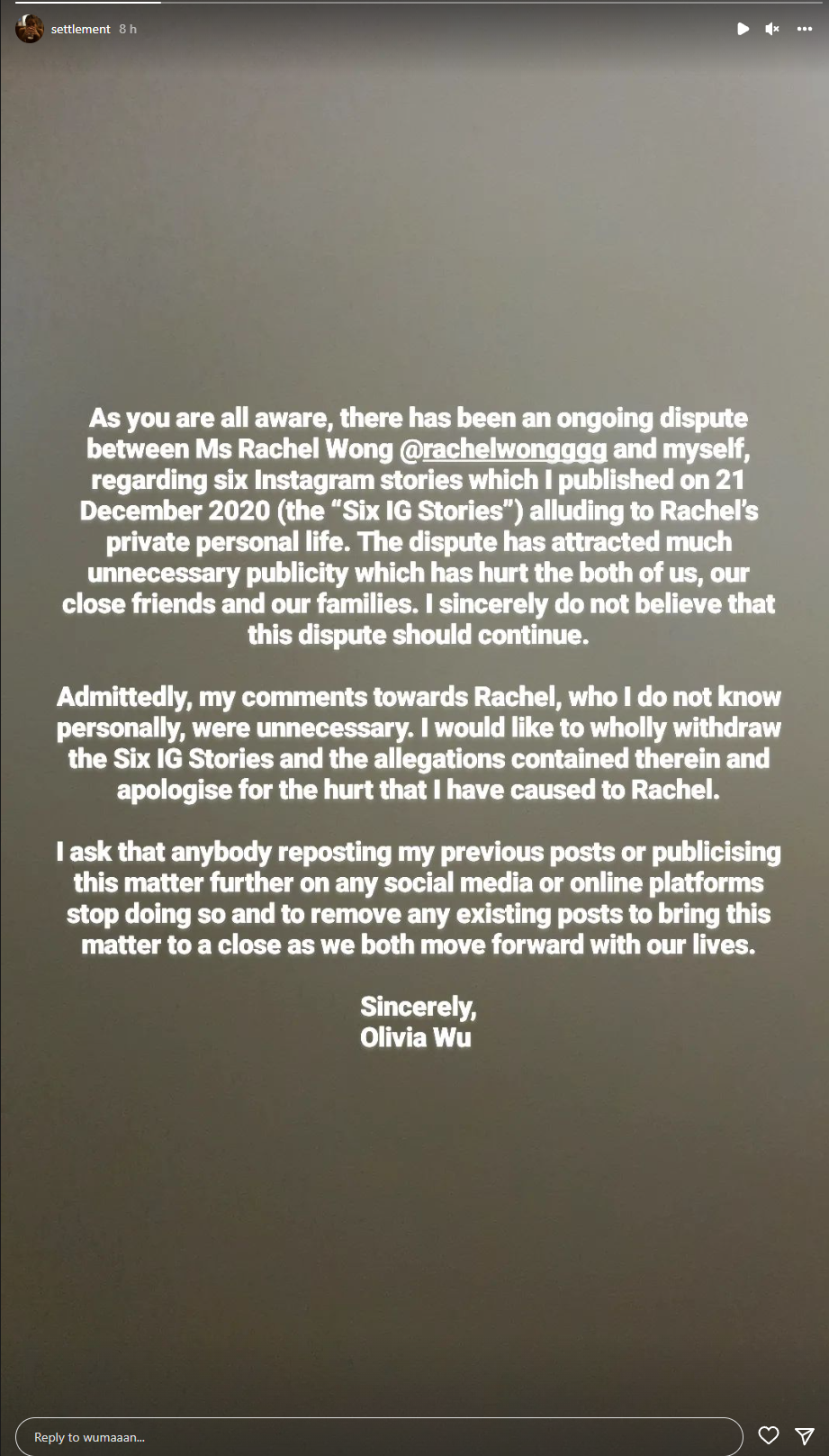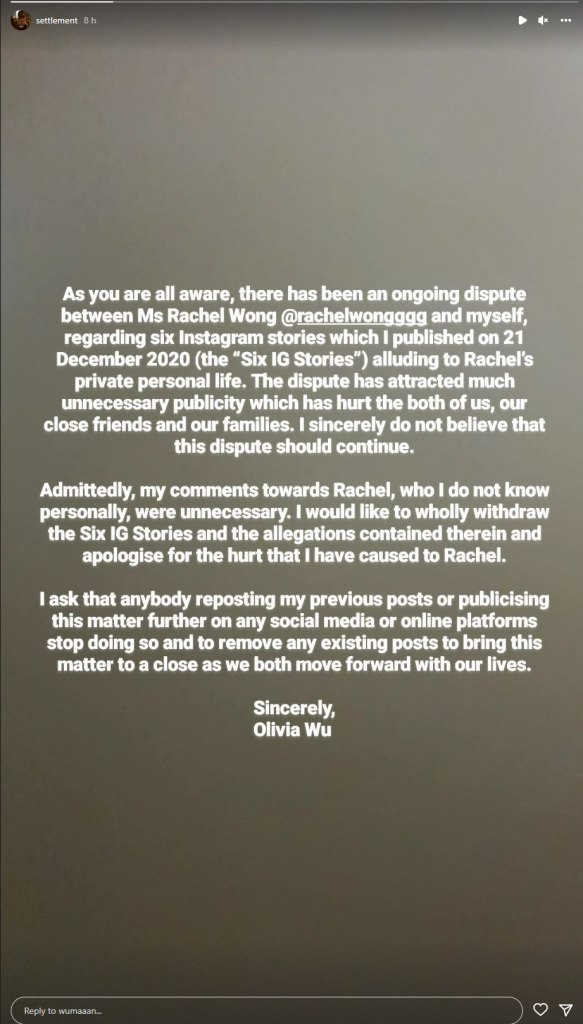 The Trials of Defamation
Truth to be told, it is rather surprising that Wong did not fight until the bitter end like the Johnny Depp vs Amber Heard case, given the incendiary nature of Wu's accusations.
---
Advertisements

---
After all, Wu went as far as saying that Wong was shameless and had no morals, even hinting that Wong had no future in the showbiz industry as she wouldn't be able to pass a character check by Mediacorp.
Add on the imminent divorce to the six Instagram Stories, and all you get is a very damning narrative against Wong.
As previously mentioned, Wong took Wu to court for defamation, seeking monetary compensation for the damages caused to her livelihood and reputation.
Being the person who started the fire, Wu immediately countered that she had made a Fair Statement, justifying that her words were "true in substance" and therefore not defamatory.
To give credence to her accusation, Wu submitted screenshots of intimate and sexual Telegram conversations between Wong and Han, the latter of whom is the other man and gym trainer that Wong purported cheated with, besides the wedding emcee Wan.
---
Advertisements

---
(Someone didn't know how to use the Secret Chat feature like Dee Kosh, whoops.)
There were also diary entries from Wong which detailed her fledgling feelings for Wan, plus an intimate photo of Wong and Wan on the couch.
Wong's lawyers refuted these pieces of evidence, explaining that the photograph of her and Wan was taken when she spent the night with her other friends and Wan, and that she had subsequently fallen asleep on the couch with him.
As for the diary entry, Wong implies that it was misconstrued; apparently, she was only writing about "a friend who was giving her support and advice during a difficult time".
Wong goes on to state on the affidavit (sworn statement) that she didn't have any conversations with Han, nor were there any diary entries about Wan, except for the entry uncovered by the defence.
However, it was admittedly suspicious when Wong said that she had the "habit" of consistently deleting old text messages and photographs to "free up" some memory space.
Images are understandable, but text messages? Really?
There are online back-ups, and the message cache really doesn't take up much space at all.
---
Advertisements

---
Another point that worked against Wong was the fact that she was already in a relationship with Wan before the court case even commenced.
The Order For Related Evidence
Then comes a pivotal moment in the case.
The Discovery Process.
In layman's terms, the discovery process is the bread and butter of every civil case; wherein both sides must share and disclose all relevant documents so both sides have an equal opportunity to comprehend and anticipate what information the other side has or may use in their argument.
This usually is a long process.
It is also important as it ensures that all significant and relevant evidence is available and submitted to the court so it can have an accurate understanding of the facts before deciding on an outcome.
Among the requested documents were Wong's correspondence with the two men she was supposedly intimate with during the course of her relationship with Aplin, as well as Wong's diary entries.
Wong appealed the discovery, but it was rejected by High Court Judge Choo Han Teck.
It also doesn't help matters that Wu had submitted photocopies of text messages that "depicted lurid details" that purportedly came from a man named Chen Xuan Han, plus an entry from Wong's diary where she allegedly professed her love for Wan and it included a photograph where she was lying on his chest.
The existence of these two exhibits sufficiently proved that these related documents should have been made available for both sides as it would have supported either Wu's claim of infidelity or Wong's claim of defamation.
The district court thus deemed the specific discovery as "plainly relevant" to the case and ruled in favour of Wu because she had adequately proved the need for this discovery.
After Judge Choo trashed Wong's statement of claim by calling it "a combination of Instagram-speak and the utter failure of counsel to translate that to English", he ordered Wong to hand over the following:
All correspondence exchanged between Wong and Han from June 2016 and June 2020;
All correspondence exchanged between Wong and Wan from June 2018 and June 2020; and
Wong's diary entries which mention Wan from June 2018 to June 2020.
None too pleased, Wong was quoted saying that was "disappointed with the outcome".
It should be said that it is not rare for the plaintiff or defence to withhold information, especially if said information may prove to be adversely harmful for their case.
However, getting sussed out for the omission can have a detrimental effect on a person's credibility in the case. The lack of trustworthiness—since they have technically lied by omission—can be easily turned against them in the eyes of the court.
After this specific discovery was made, both parties went radio silent for the most part, until they suddenly announced yesterday that they had resolved the dispute among themselves.
There could be a lot of reasons why they decided it wasn't worth it to pursue the lawsuit, but since it was a private civil case, we may never know the full details.
It's a fair bit of money wasted on legal fees though, that's for sure.
Read Also:
Featured Image: Instagram (@rachelwongggg)

Your parents are wrong: MSG (Monosodium Glutamate) is good for you (sort of). Here's the truth:
Read Also: