---
Advertisements

---
Fortunately, it's not going to be during peak hours. Unfortunately, this means you'll feel extra sleepy in your office.
Here's what to expect for December 2022.
Rainiest Month of the Year
December has always been the rainiest month of the year, and 2022 is no exception. 
The current wet weather is expected to continue, with thundery showers on most days in the next two weeks. The monsoon rain band is forecast to lie close to the equator where we are, bringing rain to us in the afternoon on most days. Remember to bring your umbrellas out for lunch.
The rain may extend into the evenings occasionally.
Low-pressure systems are also developing in the region, bringing a temporary shift in the winds to blow from the southwest or west over Singapore. This means we might get some windy and rainy mornings in the next few days.
Additionally, the daily temperature is forecast to range between 24°C and 33°C on most days, with the daily maximum temperature peaking at 34°C.
TLDR: remember to bring your umbrellas, even if it looks sunny. 
Join our Telegram channel for more entertaining and informative articles at https://t.me/goodyfeedsg or download the Goody Feed app here: https://goodyfeed.com/app/ 
Rainy November
We had a pretty rainy November, but some areas were rainier than others.
On 14 November, the highest daily total rainfall for November was recorded at Jurong West, with a total rainfall of 157.2mm. Jurong West also experienced the lowest minimum temperature in November, at 21.8°C on 5 November.
Meanwhile, the highest daily temperature recorded for November was a whopping 35.6°C at Ang Mo Kio on 16 November. Their laundry must have dried extra-fast.
---
Advertisements

---
The general daily maximum temperature for most days averaged below 33°C, thanks to the constant rain.
Rainfall was above average in November for most parts of Singapore, except the southern parts where they had below-average rainfall. Yio Chu Kang experienced the most rain with a rainfall anomaly of 87% above average, while Sentosa remained sunny with a rainfall anomaly of 37% below average.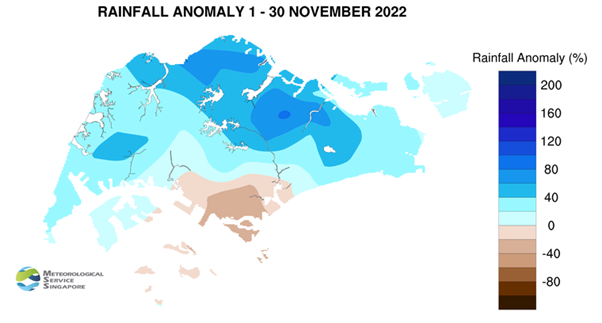 For updates of the daily weather forecast, you can visit Meteorological Services Singapore's website, or the NEA website.
You can also download the myENV app to access the forecast on the go.
Read Also:
Featured Image: Shuttershock / Christian Heinz

Your parents are wrong: MSG (Monosodium Glutamate) is good for you (sort of). Here's the truth:
Read Also: