---
Advertisements

---
Once, a tour guide joked that if you want to try street food in another country, it is always good to make sure there is a hospital nearby.
For one Singaporean traveller who was enjoying her six-day holiday in Phuket, Thailand, things went south for her…quite literally.
Woes For The Stomach
On Sunday (21 Aug), a Tiktok user by the handle of @user818391963 uploaded a video of her mishap.
During her vacation in Phuket, she visited Chillva Night Market and feasted on some dancing shrimps, a local street dish that was made up of fresh live shrimps marinated in spicy sauce and herbs.
She included a selfie of herself eating the raw shrimp, even inserting the caption "live shrimp tasted [not] bad".
Unfortunately, her judgement had never turned out to be more wrong as her stomach protested against the crustacean.
Loudly and horribly.
The woman recounted that she and her travel companion vomited for six hours, and they had diarrhoea non-stop.
To make matters worse, they later discovered that they had both contracted COVID-19.
It was like their digestive and respiratory systems decided to rebel simultaneously. Ouch.
As a result, the poster was admitted into the hospital on Monday (22 Aug).
---
Advertisements

---
With sob emojis at the end, the user resigned herself to the fact that she has a "weak stomach" and that some foods were "meant for Thai people to eat only".
The netizens in the comment section sent her well-wishes for a quick recovery, while reminding her to be careful when dining overseas.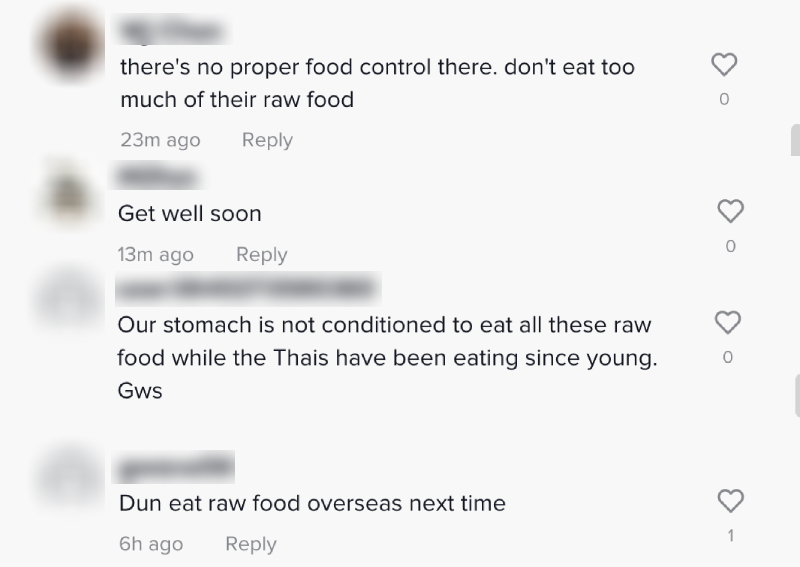 One of the commenters agreed that Singaporean stomachs were "not conditioned" to consume these raw foods and spices. Others told her to stay away from raw food in general.
Join our Telegram channel for more entertaining and informative articles at https://t.me/goodyfeedsg or download the Goody Feed app here: https://goodyfeed.com/app/
Misery Loves Company
It appears that @user818391963 and her travelling companion were not the only Singaporeans who were suffering in Phuket.
In a feat of coincidence, another Tiktok user by the alias of @BlooppbloopO was also having a six-day vacation there.
After consuming some raw oysters, BlooppbloopO wrote in her video description that she "vomited for one and a half days straight".
A doctor came to her hotel room later and injected four types of medication in her.
Her medical fees cost her a total of 9,000 baht (S$348).
Needless to say, the price and taste of the raw oysters was not worth the pain and misery it brought.
In the comment section, people seemed to be having their own revelations as they shared similar experiences.
---
Advertisements

---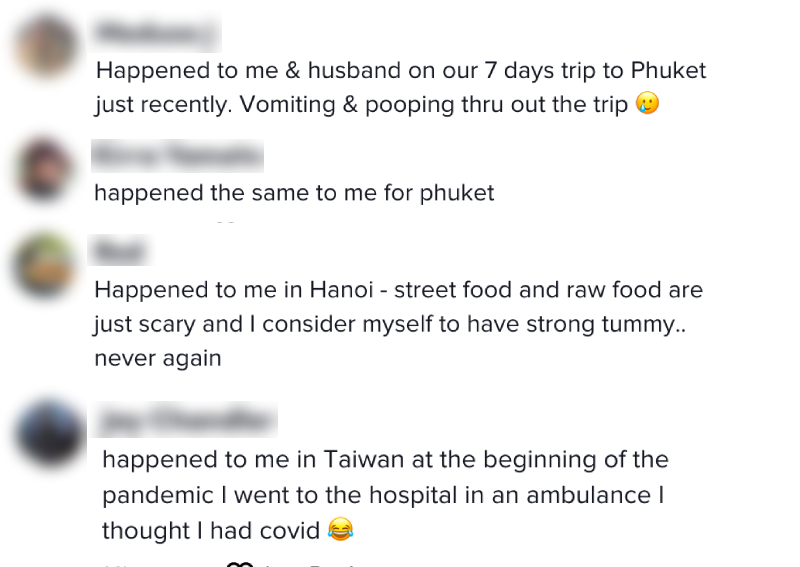 There were people who remarked that they also had food poisoning in Phuket, while others spoke of Hanoi, Vietnam and Taiwan.
Honestly speaking, it is always better to stick to thoroughly cooked food and boiled or bottled water while overseas. At least most of the harmful bacteria will be killed the process.
Unpasteurised products are a no-go too, especially if you are lactose intolerant.
We may think our stomachs are strong, but the truth is that Singapore's food regulations and hygiene standards are even stronger, which prevents most of the food problems before it can even spread.
Read Also:
Featured Image: TikTok

Here's why a 4-day workweek might finally really be possible in Singapore soon:
Read Also: