In case you missed it, the Singapore Police Force takes unlawful societies seriously.
So seriously that men who chanted gang slogans at funerals are investigated thoroughly.
Unfortunately, not everyone got the memo, like these six teenagers.
6 Teens Arrested After They Shouted Gang Slogans at Chalet & Posted Their Antics Online
On 12 Jan 2021, the SPF revealed that they've arrested six teenagers aged between 17 and 19 years old.
The reason? They were chanting gang slogans and showing gang-related hand signs at a chalet along Jalan Loyang Basar.
According to the statement, the SPF was alerted to the incident on Saturday.
Police officers from Bedok Police Division and the Criminal Investigation Department (CID) responded to the report and arrested four youths on the scene.
The youths are charged with being "suspected members of an unlawful society for their alleged involvement in shouting gang slogans and gesturing gang-related hand signs at the chalet and circulating a video of their actions online."
After investigating the incident, two more youths were arrested in relation to the incident.
Police investigations are ongoing and it was added that they will be investigated for potential breaches of Covid-19 rules.
Possible Penalties
For being members of an unlawful society, they could be jailed up to three years, fined up to S$5,000, or both.
For their actions in the interest of an unlawful society, they can be jailed up to two years, fined up to S$5,000, or both.
And for breaching Covid-19 rules, they could be jailed up to six months, fined up to S$10,000, or both.
The police reiterate their stern stance against secret societies in Singapore and ask members of the public to steer clear of such activities.
Those with information should report to the police immediately.
Stern Stance Against Gang-Related Activities
24 men, aged between 20 and 48, were arrested on Christmas Eve last year.
---
Advertisements
---
And less than a week later, on 6 Jan, it was reported that another 52 men, aged between 16 and 65, were arrested between 30 Dec 2020 and 3 Jan 2021, for being suspected members of unlawful societies.
From 21 Dec 2020 to 3 Jan 2021, the police carried out a two-week enforcement operation to suppress gang activities.
Proactive checks were carried out in areas where gangs were though to assemble, such as F&B outlets and shopping malls.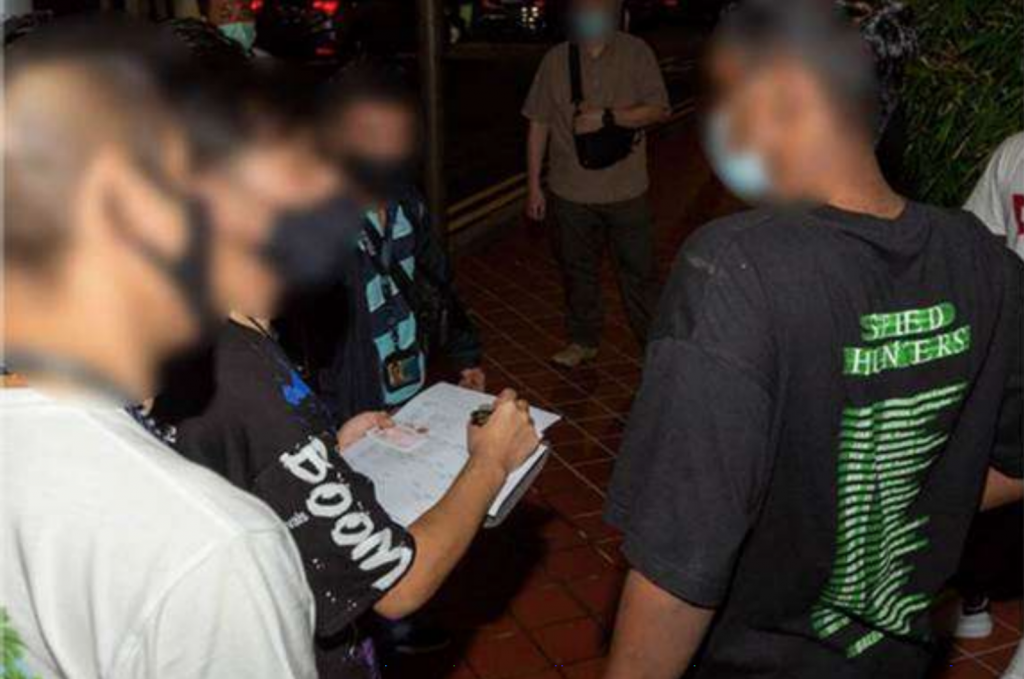 In case you're unaware, suspected gang members can actually be detained without trial, meaning they could be in prison for an unknown period without being prosecuted first.
It's easy to get swayed by your peers when you're younger into joining these gangs, but it'll ultimately lead to your downfall.
If you wish to leave a gang or suspect that someone might be involved in a gang, you can call the Secret Societies Branch at 6435 0000.
Feature Image: Google Map
Like writing? Goody Feed is looking for writers! Click here for more info!