Imagine this: you're working at home and just receive a call from your daughter's teacher. It turns out that she's sick and is advised to rest at home.
You then book a car that's parked in your HDB car park, unlock it with your phone, drive it to your daughter's school and take her to a clinic before driving back home.
And here's the thing: you don't own the car. You merely spend about $10 in total for the journey from your house to your daughter's school, then to the clinic and finally back home.
Think this is too good to be true?
Well, this could've just happened somewhere in Singapore.
Tribecar, the Car-Sharing Service That's in the Heartland
Lest you didn't know, car-sharing isn't a new concept.
Back in the days when Mark Zuckerberg was still learning how to code, the car-sharing model was catered mainly to paying members: people had to pay a monthly subscription on top of the car rental fee and pick up a car from a specific location. It's almost akin to renting a car daily except that one didn't need to commit to a car.
Then, technology made car-sharing much easier: nowadays, you can book a car with a tap of your finger, and unlock the car by tapping a few buttons on your phone.
With the convenience comes a better solution: you can now rent a car for just an hour without having to go through the hassle of picking it up from God-knows-where location.
Needless to say, this has made car-sharing popular in Singapore.
And if you've been on the road, you'd have come across this car-sharing service: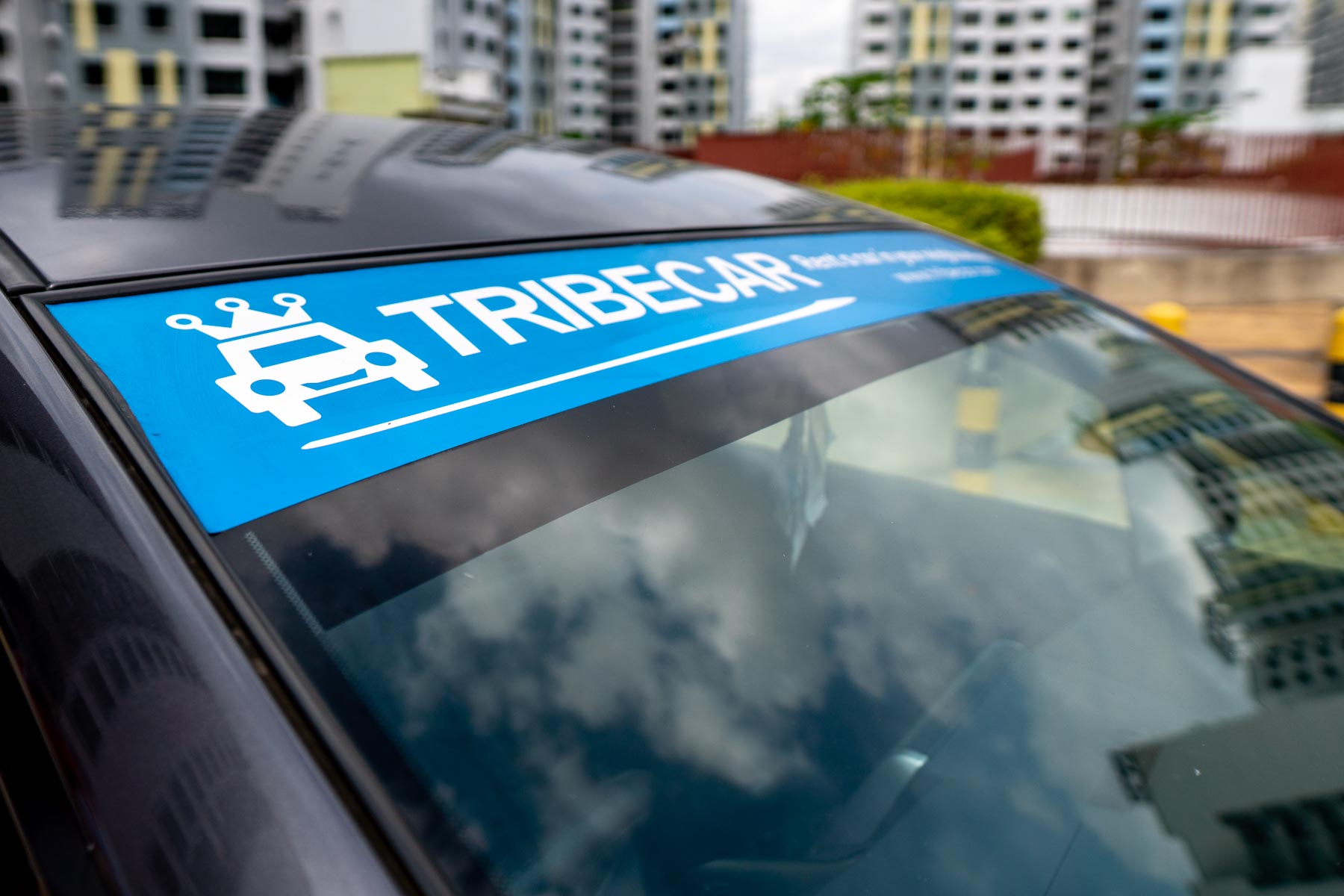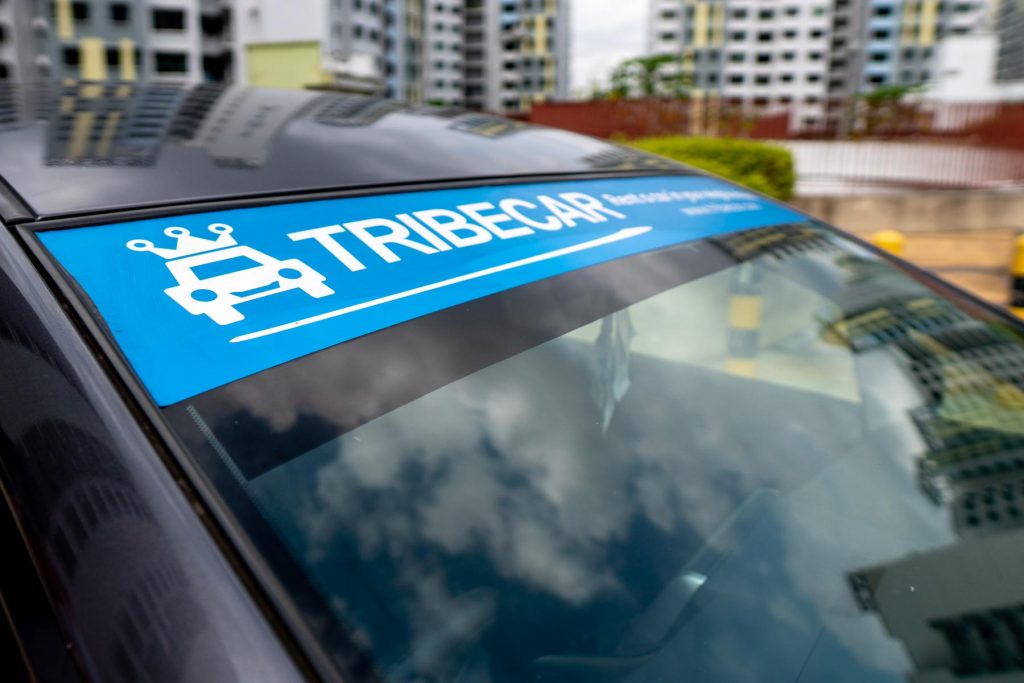 You might remember them as the car-sharing platform that promises "$0.50 per hour" rate, but that begs the question: given its affordable pricing, was the service compromised?
Well, I had the privilege of trying it out myself, and boy, was I surprised.
Making What's Complicated Uncomplicated
Before I started, a flurry of questions flooded my mind: do I need to head down to their office to register? Where can I collect my car? How long would registration take?
And most importantly…how much would it cost?
Like any kiasu Singapore worker, I set aside almost four hours to prepare for the registration process, and also to learn more about their services.
Let's just say I spent the next three hours Netflix-ing in the office because registration was so fast, I could've been driving on the very same day.
All I had to do is to go to tribecar.com and register online. Just make sure you've got your NRIC, driving licence and proof of address ready, as you'd need to submit images of those documents.
Finally, take a selfie of yourself holding your NRIC, and you'd be good to go.
Because I'm not an influencer who takes hours for a perfect selfie, I was able to register within 10 minutes.
Technically speaking, they'll process your registration within three days, but if you're in a hurry, you simply need to contact their live chat. I did so and the CSO had approved my application immediately.
Now, all I needed to do was to check out the cars I wanted to drive.
But before that, here's the question: does the rental include petrol?
Unfortunately, no: given its low price, it won't make sense for them to provide petrol as well. In order to ensure that users top up the petrol to the correct level, all cars would usually be returned at about 1/4 tank—just enough to ensure that the low-petrol light isn't lit up.
However, for certain vehicles, the fuel tank should always be full, namely the Opel Mokka, Opel Crossland, Toyota Prius Gen 4 and motorcycles. That will be indicated in your account if you book one of these vehicles, so you won't need to memorise the list here.
Tribecar has all kinds of vehicles: motorcycles, normal sedans, MPV and even vans.
Booking a Vehicle
Given that my office is in Bukit Batok, I checked out the nearest HDB car park and guess what?
There are cars in all the HDB car parks around my office, so I could choose which car to try.
Having driven almost most Japanese and Korea brands, I decided on an Opel Mokka X—not only had I not driven an Opel before, but it's also a diesel-powered car, too, so it'd have been an interesting drive.
Booking the car is just as easy: all it took was a few clicks and the booking is confirmed. About half an hour before the booking, they'll also remind me about my booking.
Finding the car is a piece of cake, too: the website will give specific instructions on the location of the car (e.g. level 4B, Lot 111 to 150), and given that it's usually at the highest level with only a few cars, you can bet that you'd see it once you're at the correct level.
Moreover, all their cars have the trademark Tribecar stickers, so missing them is more difficult than finding them.
What's going to happen next would be a scene from the future: to unlock the car, I merely need to tap on the button in my Tribecar account, and the car will unlock itself.
If a person had time travelled from 1990 to 2021 and seen what I've done, he'd have thought that my phone can hack cars.
Once unlocked, you'd find the real key (or remote) in the car for you to use as per usual. But before that, you'd need to take some images and upload them into your Tribecar account to protect yourself, lest there's been some damage caused by the previous user.
It's a very simple task: take four images (front, back, left and right) and then check for any damages. Your account would also inform you if anyone has reported any previous damage before.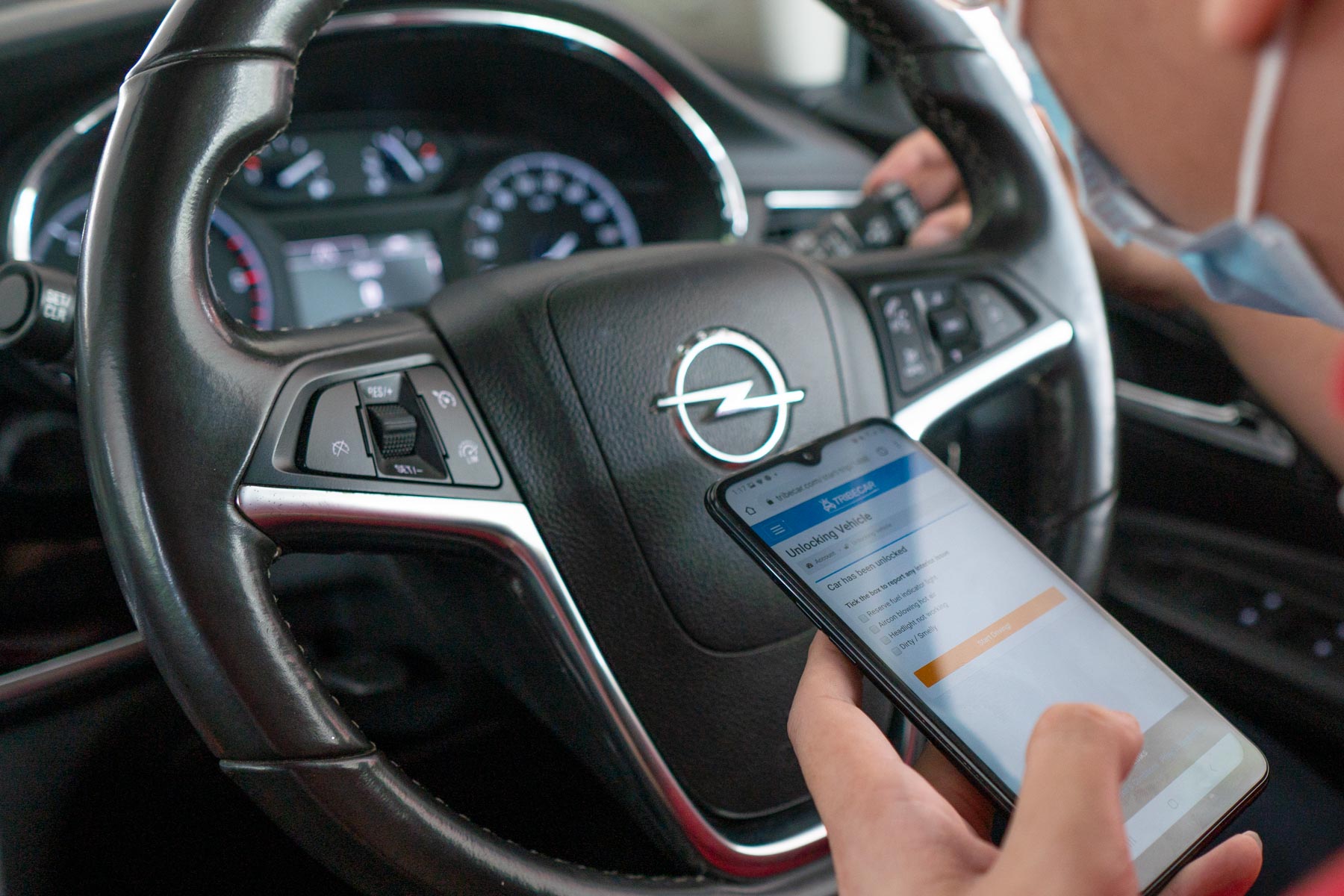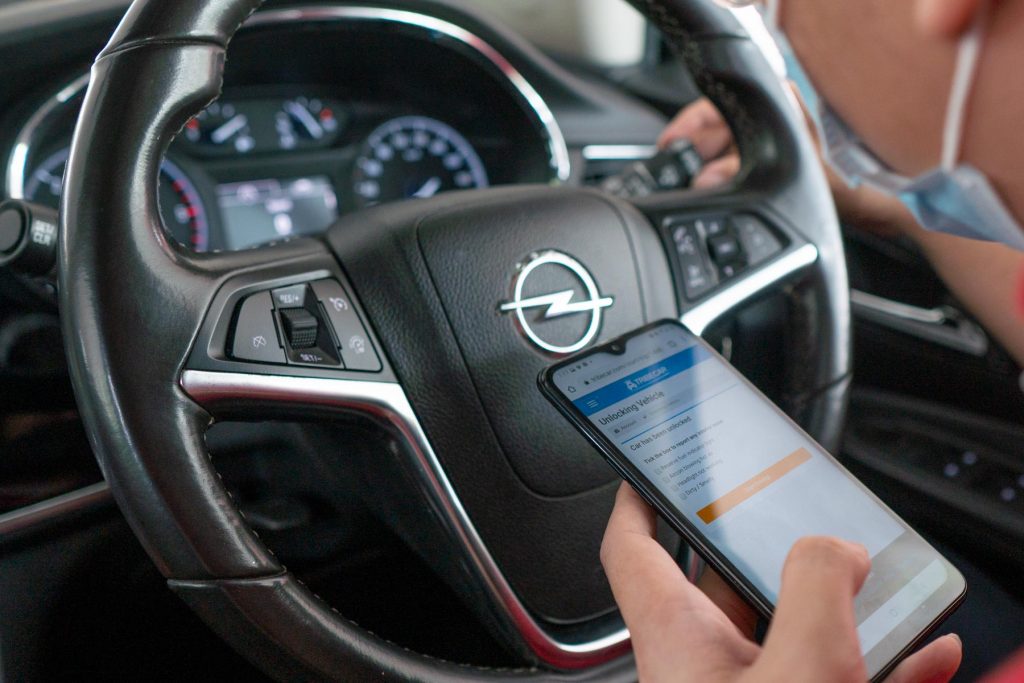 If everything's good, then you can use the car as per usual.
Trying out Three Vehicles
In total, we tried out three vehicles: an Opel Mokka X (SUV), a Nissan Urvan (van) and a Toyota Wish (MPV).
The first vehicle, the Opel Mokka X, was smooth to drive and because it's so new, it felt more like a 2L car instead of a 1.5L car.
I expected a diesel-powered vehicle to be noisy but it turned out to be rather quiet, similar to other petrol cars.
At a total cost of $6.42 per hour, it's still affordable since we're topping up diesel instead.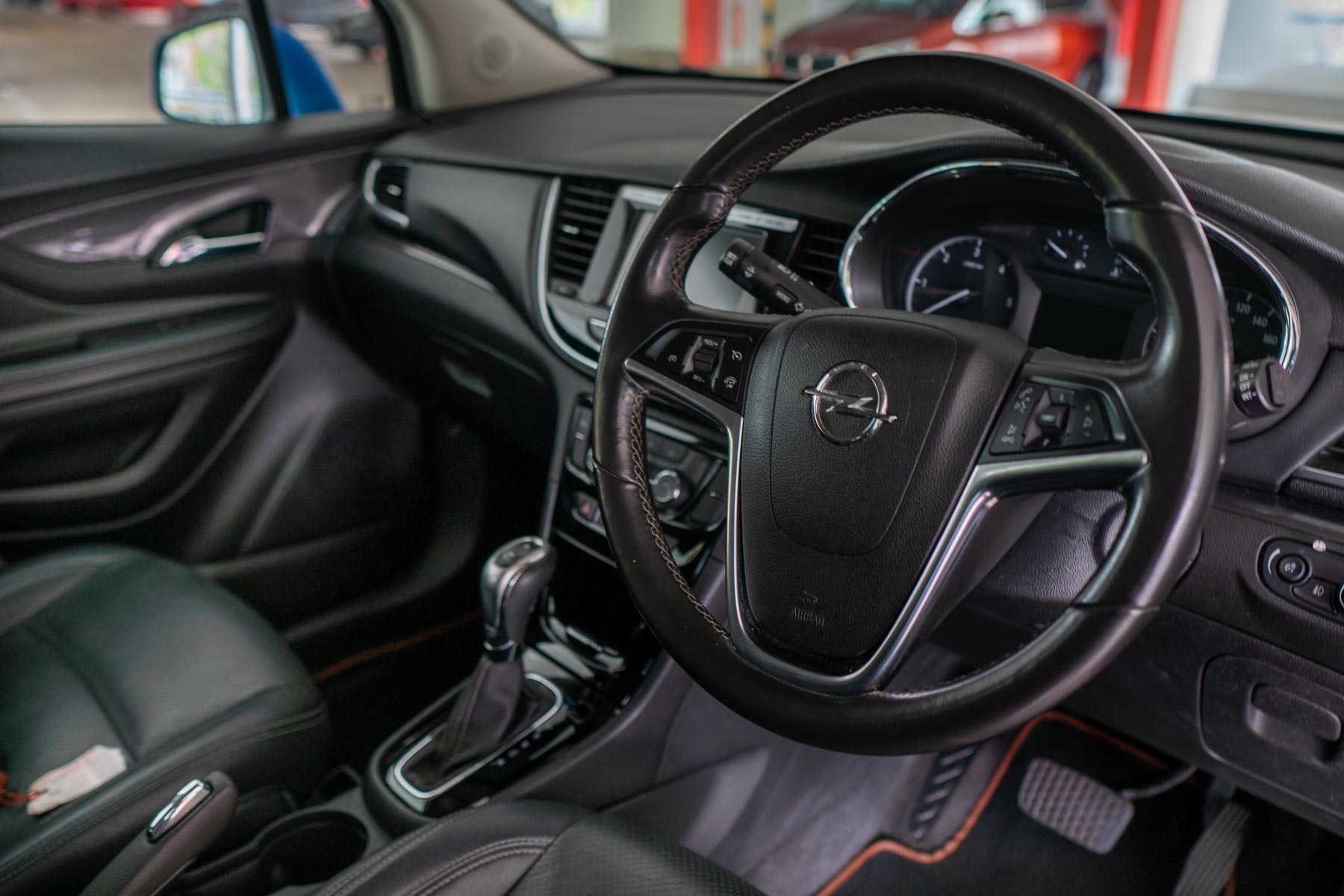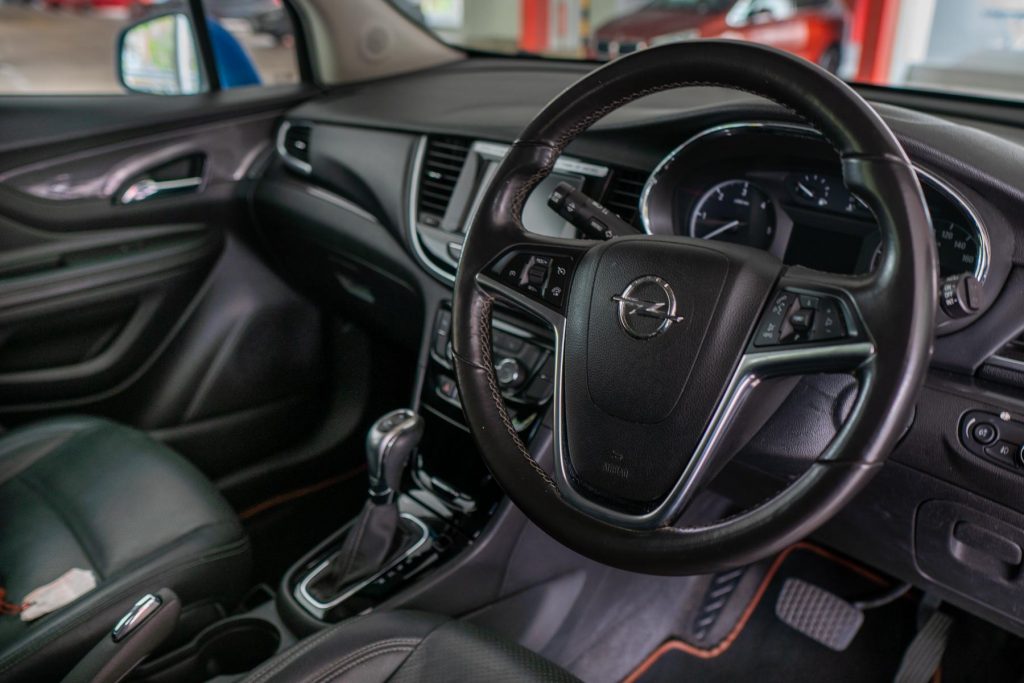 The second vehicle was fun simply because it's a manual transmission vehicle. I rented a Nissan Urvan, and while it's nothing much to look at with loud sounds that reminded me of SAF vehicles, it's a manual car and trust me: it's always more fun to be on the road with a stick shift.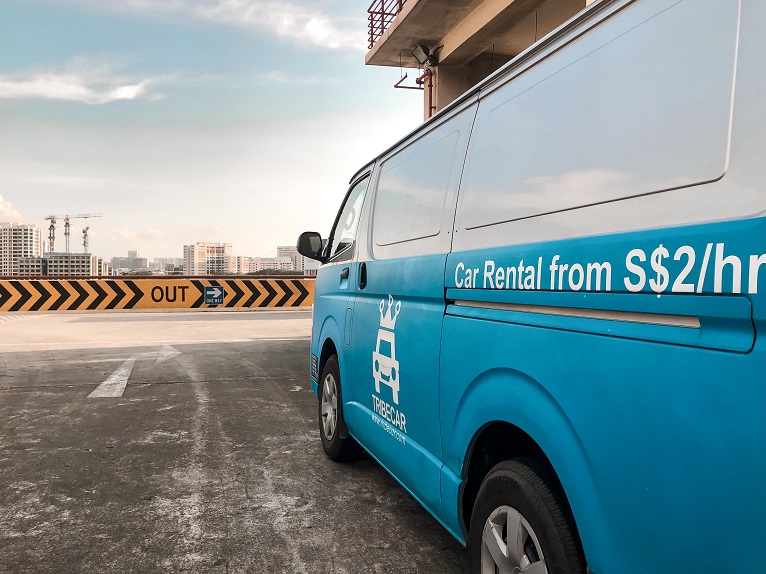 One thing I was impressed with was how neat the back of the van was—I mean, it was so neat, it was completely empty.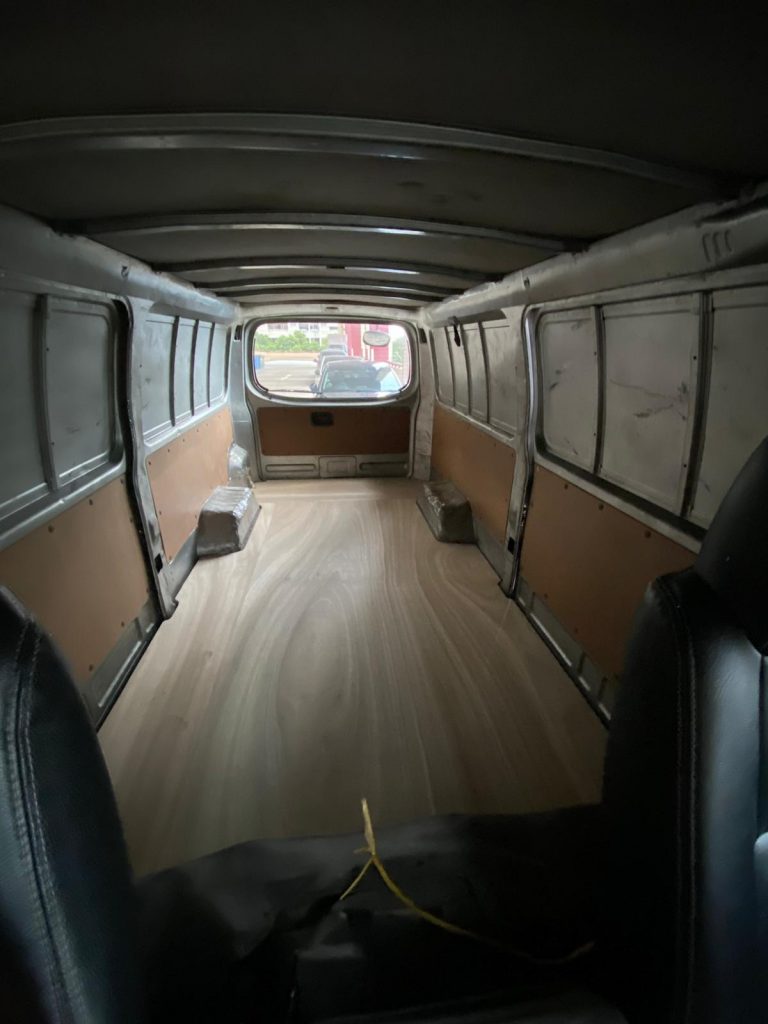 At $5.35 per hour during office hours, it's definitely cheaper than engaging a van and a driver to move your stuff. After all, you'd miss out on the fun of driving a stick.
The last vehicle is an MPV that's perfect if you have a large family.
I've rented the popular Toyota Wish, an MPV that every family man would've known about. At $7.49 per hour, it'd have been more affordable than taking a seven-seater private-hire ride.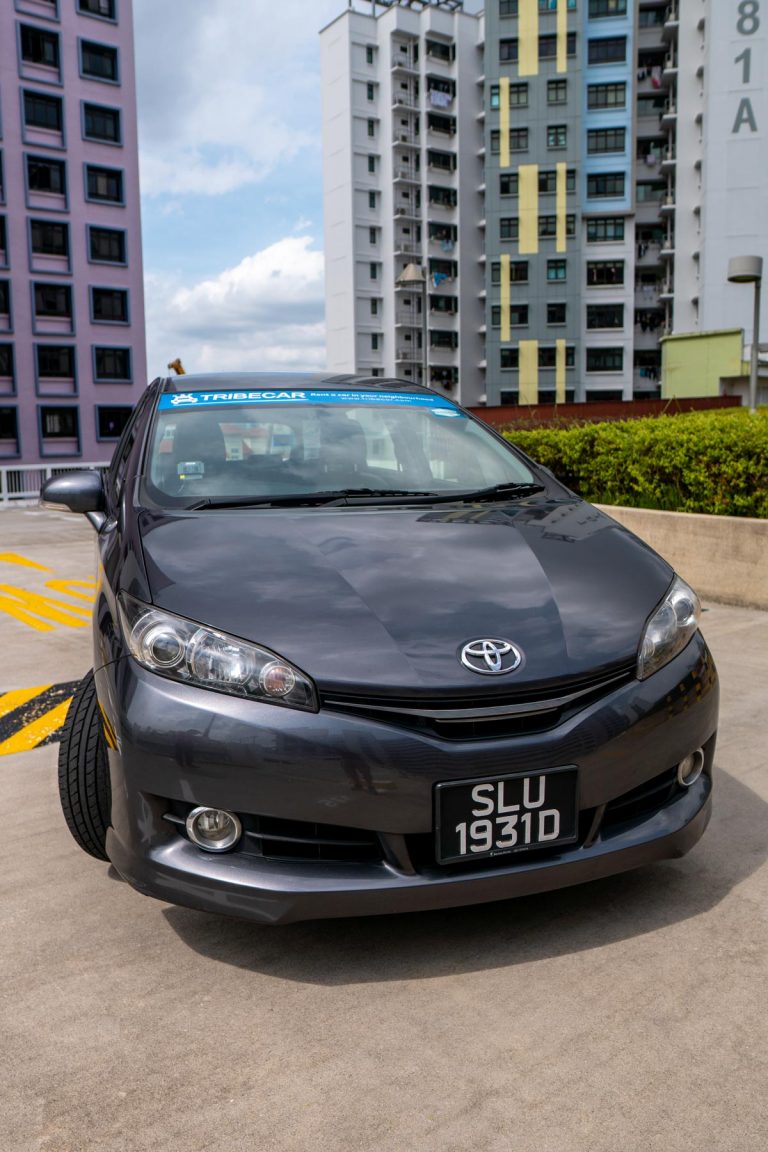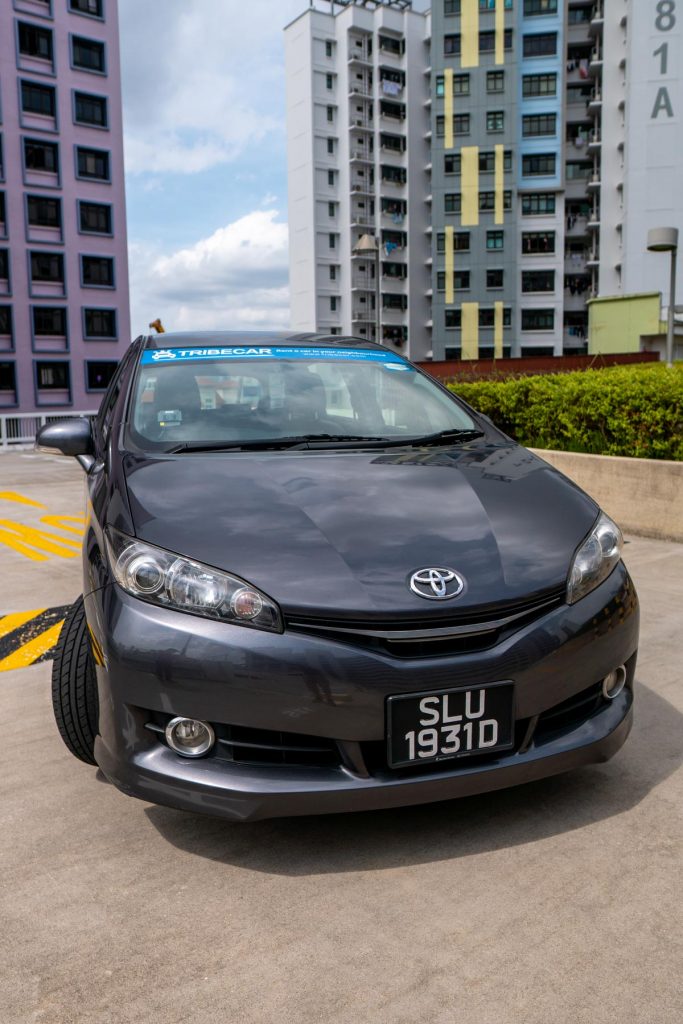 Things to Note
Here's something you might not have heard of before: Tribecar is an A-to-A car-sharing service, so you can't drive from Jurong to Tampines and end the trip at Tampines. If you take the vehicle from Jurong (Point A), you need to return it at the same spot (i.e. Point A).
This means the same car will always be available in your area, which is relatively useful because you'd be more familiar with the car. You can actually download a .pdf manual of the vehicle you rent from your Tribecar account, but just like any relationships, you need to spend time with the vehicle to be one with it.
Reader Bao: That sounds…weird.
Also, please ensure that you've got your cash card ready; many people just thought of the petrol and forgot that parking fee isn't included as well.
Why Tribecar
Let's now address the elephant in the room: there are many car-sharing services in Singapore. Why Tribecar?
For a start, the pricing is transparent and rather affordable; if you're going for supper from 2am to 4am, it'll cost just $0.54 per hour. There's also no annual membership so you pay for what you use.
You can view the pricing here.
But what's most important is its availability: their cars are located at over 450 locations.
Remember how I mentioned that when I needed a car near my office, and I had numerous options? That I even had the option to choose a car that I've not driven before, because #drivinggoals?
That's because Tribecar has more than 600 vehicles in their fleet, making it the largest car-sharing fleet in Singapore.
Wherever you are, there'd be a car nearby, which, to be honest, is much more important than anything else. I mean, the whole idea of car-sharing is convenience, isn't it? And what's more convenient than having a car within walking distance from where you stay?
And if you're a young driver, fret not; Tribecar does allow young drivers. It's one of the companies that allows young drivers to embark on car sharing, and has the largest young driver fleet to choose from in the industry. In fact, they'd allow PHV drivers, too!
If you're interested to start driving now, click here.
This article was first published on Goody Feed and written in collaboration with Tribecar.