---
Advertisements

---
On Monday (7 Nov), Singapore actor Pierre Png announced the death of his father on Instagram.
Attaching a photo of his father in his youth, Pierre writes, "Thank you Daddy for teaching me the power of prayer. I look forward to the day I get to see you again. Rest in Peace Daddy. 04/08/1934 – 7/11/2022"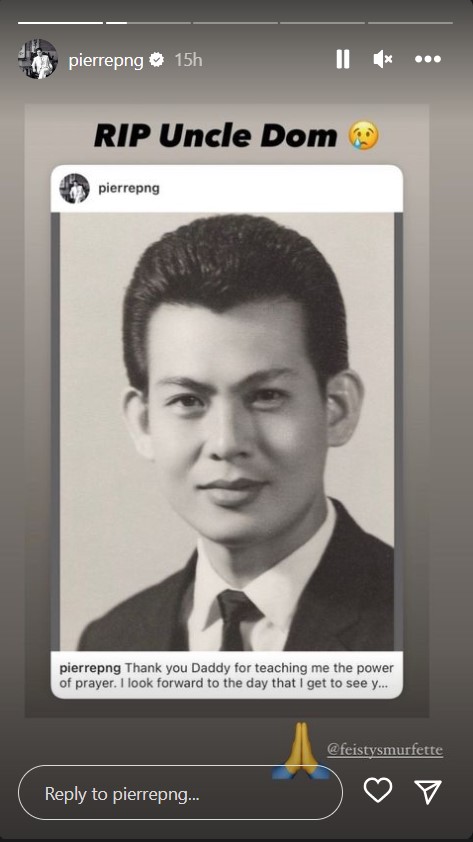 More Than A Father
Besides his dominant genes—from his hair to facial features—that got passed onto his son, Pierre's father was affectionately known as "Uncle Dom" by St Joseph's Convent (SJC) students and graduates.
Based on the obituary that the SJC Alumnae wrote about Uncle Dom's passing, Pierre's father had been working as a drink stall owner at the school for a very long time, to the point where SJCA members who are in their seventies would fondly recall Uncle Dom.
It means he was working there for at least four decades.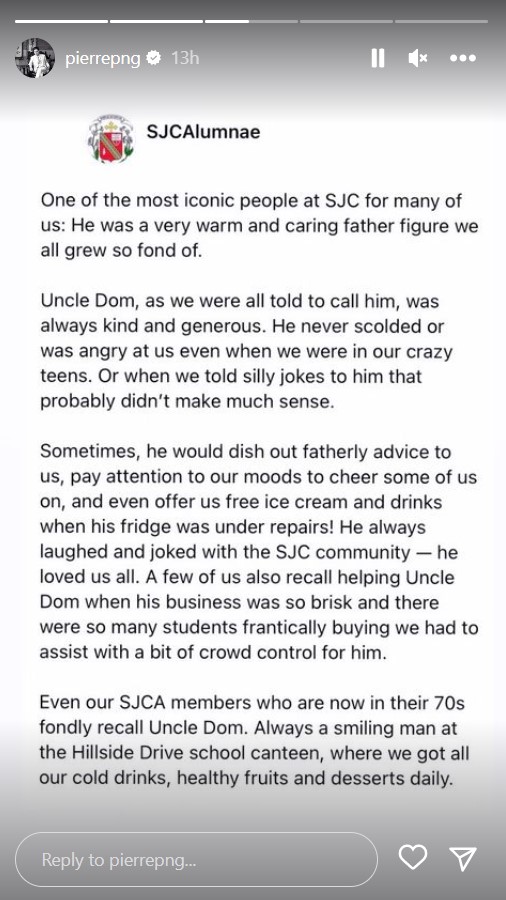 Uncle Dom was described as "a smiling man at the Hillside Drive school canteen, where we got our cold drinks, healthy fruits and desserts daily".
He was also considered an icon in school for his kindness and generosity; he never threw his temper at the students, and he would always offer a listening ear to them, even if it was just silly jokes. He would give fatherly advice, cheer up the students when he noticed that they were down, and even offer free ice cream and drinks.
---
List of Accusations Made Against the 2 Ministers Who Rented Colonial Houses at Ridout Road:
---
Apparently, his business was booming every day of the week too, such that the school needed to do a bit of crowd control in front of his store.
Rosary beads were often seen in his hands during off-peak hours, as there would be little business outside of recess and break time.
Uncle Dom must have been a religious man, that much is obvious from Pierre's parting message.
More than anything though, it is evident that Uncle Dom was loved by the community and school he served.
---
Advertisements

---
"We will miss you Uncle Dom, we pray you will now find eternal peace and rest in Heaven. Thank you for being a stalwart of SJC, and one of SJC's best kept memories."
Read Also:
Featured Image: Instagram (@pierrepng)