---
Advertisements

---
Times are changing with the age of digitalisation.
Once furniture retailer Vhive realised that it was losing its business to online competitors, the management decided that they couldn't simply lounge on their display sofas and hope for the best.
And during pandemic times which brought foot traffic in shopping malls to new lows?
It's definitely time for a change; capitalism dictates that it's the survival of the fittest after all.
Vhive Closing Down All Its Physical Stores
Last month, Vhive made the tough decision to shut down the last of its physical stores, bringing an end to the decades-long run it started in the 1990s.
Were most of the readers even born when Vhive first started its business?
However, that doesn't mean that the company Vhive has taken itself off the grid completely.
Instead, it is going online with a new brand called Levels Rising, starting this May, which will be headed by the co-founder of Vhive, Mr Michael Song, age 62, and his son-in-law, Mr Thomas Ding, 33.
Vhive's legacy lives on through the furniture it will be selling, such as sofas and cabinets, but Levels Rising will take it step further by expanding its product range to other home furnishings like cookware and home décor.
Mr Ding, the managing director of Levels Rising, explained that one of the reasons behind Vhive's closure was the increase of competition from newer entrants who could take advantage of online channels to boost sales.
Furthermore, having physical stores means additional expenditure, wherein they have to face mounting rental costs.
At one point, 40% of Vhive's sales revenue was used to pay rent for its retail outlets and warehouse.
Join our Telegram channel for more entertaining and informative articles at https://t.me/goodyfeedsg or download the Goody Feed app here: https://goodyfeed.com/app/
The Business Aspect of Things
Imagine that the consumer market for furniture is a whole baked pie.
Big companies like IKEA, Courts, and Harvey Norman take a huge chunk, while local competitors each have a slice for themselves.
In the past, there used to be a higher barrier of entry since besides forming connections with suppliers and stocking up, newer entrants had to fight for good storefronts to sell their goods, of which the rent can cost a huge sum of money.
But with the internet, space for advertising is infinite, free and yet tangible still, which significantly reduces the cost of operation.
Smaller competitors would be akin to ants, nibbling away at the pie. One is fine, but when they come in droves, each targeting the same "food" or customers, Vhive's business is bound to suffer.
Then brands like Taobao step in, offering furniture at even cheaper rates.
Meanwhile, Vhive can't do the same without drastically reducing their profit margins, and they have to maintain their furniture at a certain price to ensure that their revenue is higher than the cost of operations, be it production, labour, transportation, or rent.
Hence, with sales revenue dropping while the operating costs remained the same or even increased over the years, the furniture retailer had no choice but to shut down its physical stores, starting with the ones in shopping malls first.
Then on 15 April, it closed its last outlet in IMM, Jurong East.
---
Advertisements

---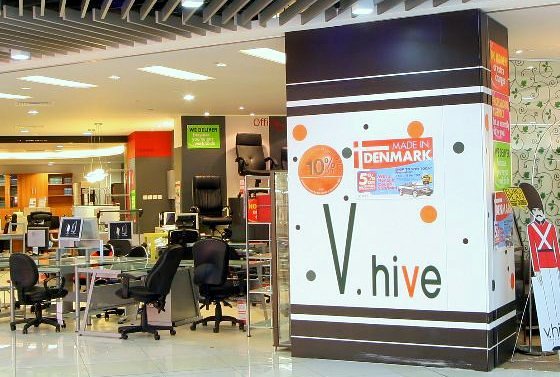 Rebranded: Levels Rising
Vhive was originally started by a pair of brothers, Mr Michael and Felix Song, in the 1990s.
While the older brother retired a few years ago, Mr Song thought about doing the same and spoke to his son-in-law to ask for some advice.
By 2020, Vhive had noticeably declined: owning 6 retail outlets compared to the 15 it had at its peak.
Mr Ding was pursuing his PhD in digital entrepreneurship at the University of Edinburgh then. He told his father-in-law that it would be a waste to simply end Vhive's 32-year legacy.
While Mr Ding wasn't actively involved in running the furniture retail business then, he had helped out on several occasions.
After finishing his PhD earlier this year, he returned to Singapore to start Levels Rising with his father-in-law.
---
Advertisements

---
Most of the Vhive staff members were let go, though four of them remained in the new company.
The unsold furniture from Vhive was taken in by Levels Rising, as the co-founders intend to use the same suppliers.
There's no need to fix what isn't broken, plus long-term business partners and trustworthy suppliers are hard to come by.
A new brand was essential as it marked a separation from Vhive, which primarily dealt with sofas and cabinets.
Levels Rising will differ in many aspects.
---
Advertisements

---
For one, it will mainly operate online, though there are plans to start a physical outlet/showroom this year.
By focusing on maintaining an online presence, they will have a greater reach, especially to younger consumers.
Apart from buying from the main website, products from Level Rising can be bought through platforms like Shopee and Lazada.
Of course, going online has its own unique problems.
For instance, Mr Ding had to bolster the cybersecurity, in order to ensure that there wouldn't be a repeat of the hacking incident that Vhive experienced last year, wherein the customers' personal information was leaked.
Mr Ding chose to launch the company's website on a third-party platform, Shopify, which already has a set of security measures in place to encrypt and handle sensitive credit and debit card information.
Another advantage of keeping their operations in cyberspace means that their expenditure is lowered significantly, especially as the industry faces higher shipping and raw material costs.
Mr Song might be getting on with his years, but he's no slouch and business senses are sharp as ever.
---
Advertisements

---
He described the closure of Vhive as "bittersweet", but he acknowledges that the retail industry is changing rapidly due to digitalisation and rising costs. He agrees with his son-in-law that their business has to learn and adapt to thrive again.
Read Also:
Featured Image: Nestia

Fresh grads, you don't need any experience to earn up to $4,200 with this "secret":
Read Also: