---
Advertisements

---
On Saturday, 6 August, a water leakage resulted in parts of a false ceiling to collapse at ground floor of the Serangoon NEX shopping mall.
When queried by TODAYonline, a spokesperson from NEX said that the cause was a "water backflow incident" at the shop of one of the tenants on the ground floor. A plumbing issue with the shop's floor trap had cause water to spread throughout the store.
Subsequently, the water leaked down to the two basement levels below it, which ultimately caused parts of the ceiling below to cave and break off.
While plumbing issue was first brought to the mall's attention on Saturday, 6pm and contractors had restored by 11pm, residual water nonetheless continued to flow down to to the basement floors.
Debris Fell Onto B2 Atrium; Tenants Asked to Suspend Operations
From a series of images and TikToks documenting the aftermath, debris from the ceiling can be seen covering the atrium below it, which has since been cordoned off.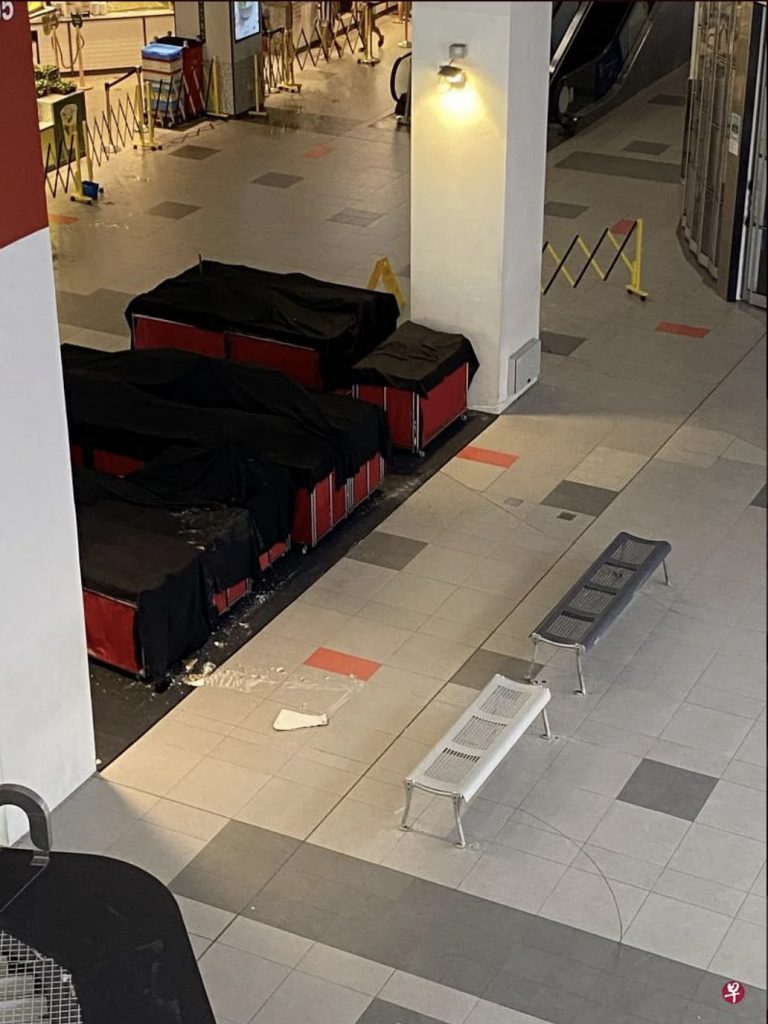 It appears the collapse occured when the atrium operators below had already closed for the day. A video also showed users the size of the gaping hole above, with shoppers walking about outside of the affected zone.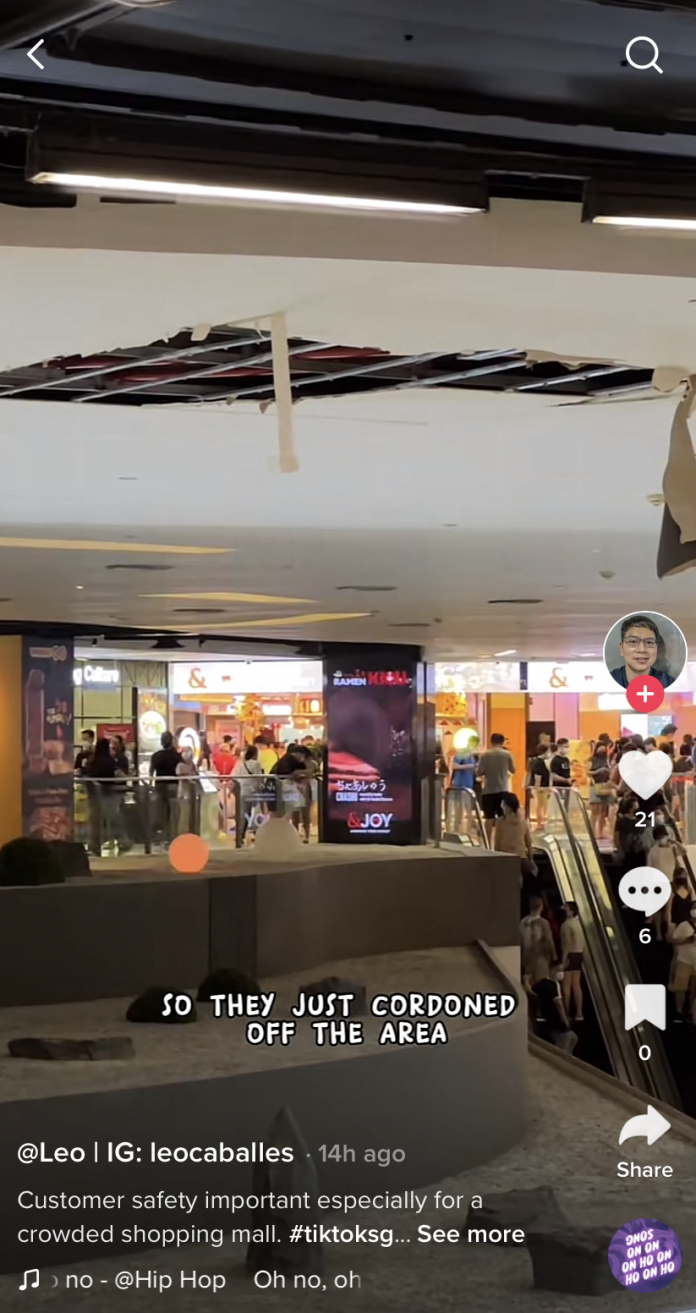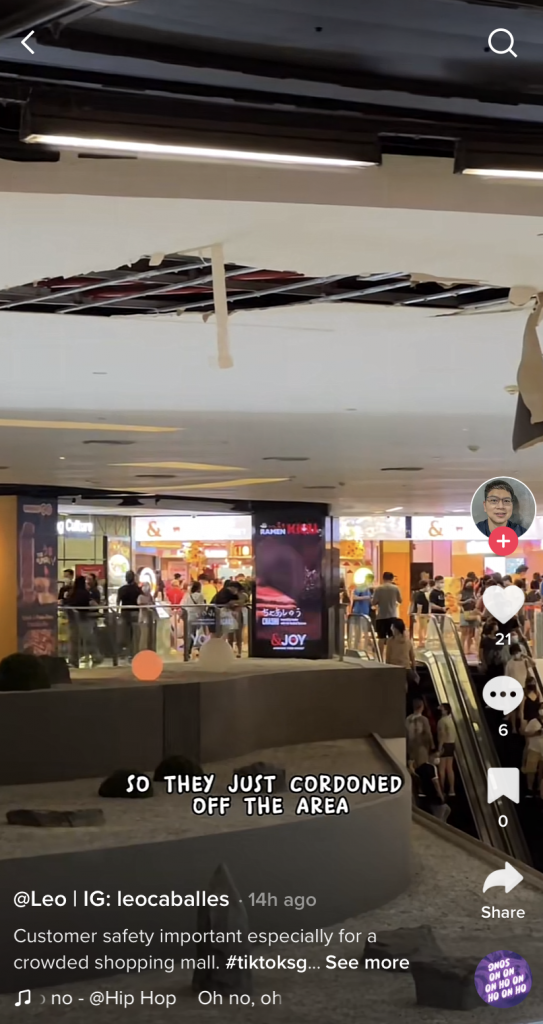 It's a pretty big area, and must've startled shoppers nearby when it happened.
"For the safety of our tenants and shoppers, we have informed affected tenants to suspend operations until the issue has been fully rectified," the spokesperson said.
They also apologised for the inconvenience caused to the affected tenants and shoppers, and stated that NEX would work with contractors to rectify the issue as soon as possible.
When asked by TODAYonline, they did not disclose which tenants had to close temporarily as a result of this incident, although it appears from the video that stores like MaxiCash and 7-Eleven were near the impacted area.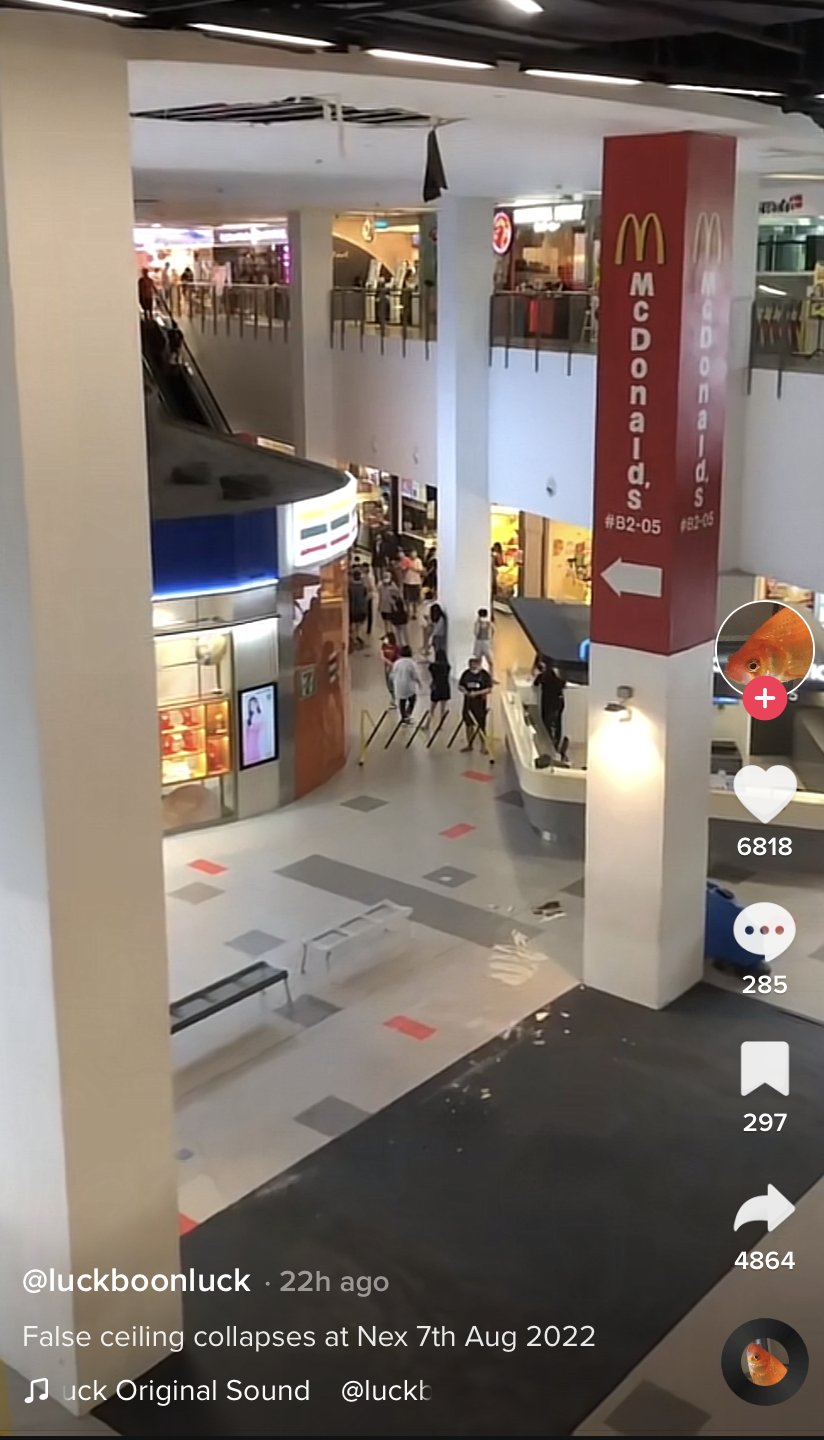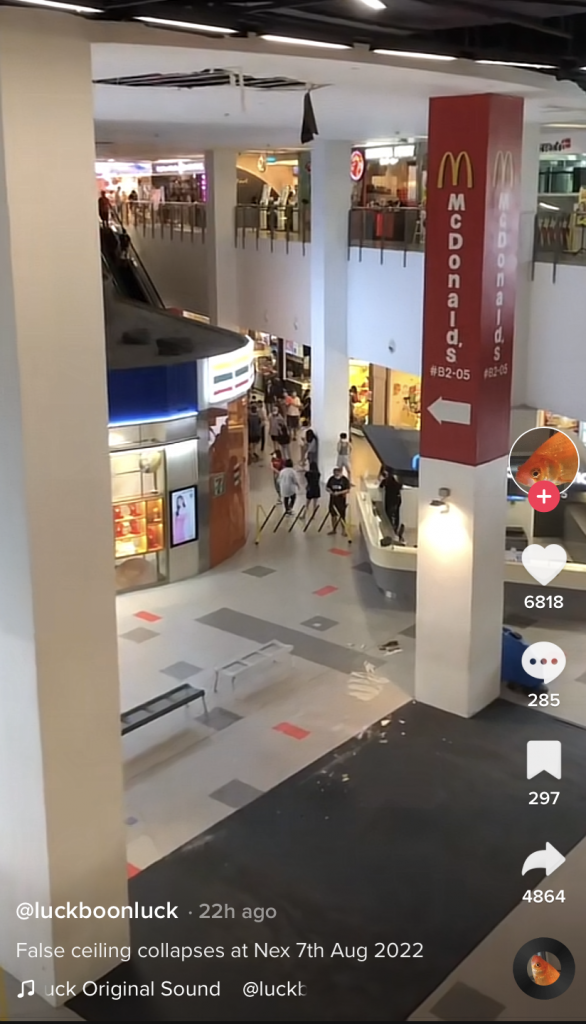 Thankfully, nobody was injured during the incident.
Second NEX ceiling collapse since 2020
Unfortunately, this wasn't the first time the infrastructure in NEX acted up. Back in 2020, a ceiling collapse happened in the mall, with a ventilation pipe falling through the ceiling of the cinema, and pieces of it hitting two moviegoers, leaving them injured.
Similarly, it was also a water-related issue as investigations found that accumulated water had caused the brackets supporting the air conditioning to become overloaded.
Well, I guess we can just be glad that our land isn't prone to earthquake-induced ceiling collapses. Who knows how many TikTok videos of NEX's building we'll get then?
Read More:
Featured Image: TikTok (@luckboonluck, leocaballes)