---
Advertisements

---
Cloudy, with a chance of water leaks and ceiling debris.
While weather forecasts had prepared us for higher rainfall in August, nobody expected wet weather to infiltrate our indoor spaces as well.
Just three days ago, on 6 August, a plumbing issue in one of the tenants spaces of the Serangoon NEX mall resulted in a partial ceiling collapse and water leakage affecting the basement levels.
Yesterday (8 August), another mall, Westgate, had a similar issue causing parts of the false ceiling above to crack and fall onto the basement atrium.
Broken Pipe Caused The Leak
Westgate has since posted an update on the incident on its Facebook page.
It clarified that it the incident took place at around 8.15pm, where a broken pipe in a tenant's unit on level four of the mall caused water to leak onto the mall's level two atrium.
Deja vu, anyone?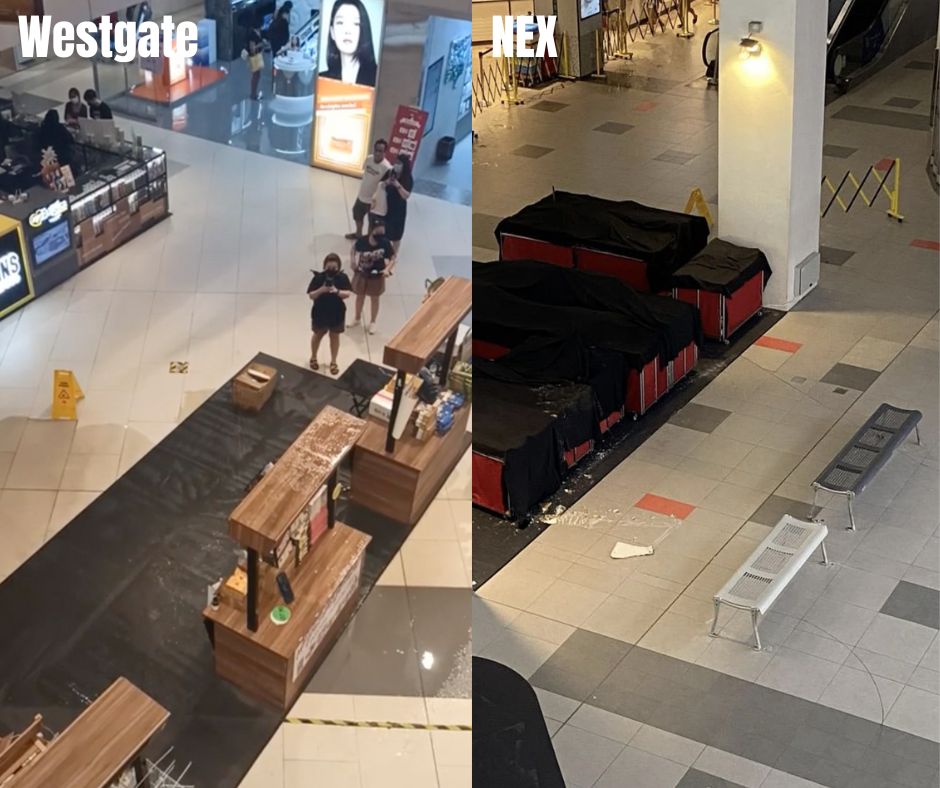 A facebook video filmed by a mall goer at that time also showed the gaping hole in the ceiling caused by the leak, and surrounding shoppers watching from a distance.
The sound of water droplets hitting the ground could be heard as well.
A wet floor sign was also put in place for safety measures, because the giant puddle was probably not enough to deter the social media addicts glued to their phones.
---
Advertisements

---
Another video surfaced on reddit, capturing the leak from a higher angle. The atrium booths located underneath the ceiling crack were shown to be drenched by the water coming from above.
It is certainly unfortunate for the affected tenants, but some netizens were focused on poking fun at the shoppers nearby.
"These pppl wait for ceiling to fall on them?" one Reddit user wrote wrote.
"ROFL, walked passed it thrice and there were people staring at it for over an hour," another commented.
It seems like this new indoor water feature might just give the one at Jewel Changi Airport a run for its money.
Why Does This Happen?
Large malls usually mean that there are giant slabs of concrete in the ceiling that expand or cool unevenly at different points of the day. Overtime, this can cause stress to the pipe joints.
A false ceiling is also usually installed in malls to hide the pipes above, and it's a cheaper, but less stable alternative compared to metal or wood ceiling panels. Hence, it's also more susceptible to water leaks caused by broken pipes.
As a safety precaution, Westgate has stated that they have cordoned off the affected areas and activated their contractors to conduct the necessary repairs.
They also apologised for any inconvenience caused and will continue to post updates on their Facebook page.
The mall is currently open for business as usual.
---
Advertisements

---
So…which mall is next to join the Cracked Ceiling Club?
Read More:
Featured Image: Facebook (Singapore Atrium Sale), Reddit (u/Sy0n)

Here's why a 4-day workweek might finally really be possible in Singapore soon:
Read Also: