---
Advertisements

---
Last Updated on 2023-03-07 , 10:54 am
If there's one thing that uncles and aunties in Singapore believe in wholeheartedly, it's anything that can give them a set of four numbers.
For buying 4D, of course.
And apart from items such as car plates, one other way in which many Singaporeans get the numbers they choose to bet on for 4D is through lion dance performances.
For the unaware, lion dance performances include a segment where the performers arrange a four-digit combination before revealing it to the audience.
And it seems like the faith that a group of individuals put in the four numbers given by a lion dance troupe at Woodlands last Sunday (5 February) paid off. After placing their bets according to the numbers given, many ended up winning the First Prize in 4D that very day.
Here's what happened.
Lion Dance Performance Was Hired by Fashion Store in the Neighbourhood, Revealed "0770" Combination
According to readers of Shin Min Daily News, the lion dance was hired by the owner of a neighbourhood fashion store located along Block 303 Woodlands Street 31.
Yup, you might want to add this to the list of places you want to visit during CNY next year.
Apart from that, the owner also catered food and invited residents and other shop owners in the area to engage in the CNY festivities together.
At the end of lion dance performances, the performers used materials such as mandarin oranges, pineapple peels, spring onions and bananas to form the number "0770".
---
Advertisements

---
Of course, many people who watched the performance scrambled to set their bets on the set of numbers revealed by the performances.
And it seems like the God of Fortune was shining down on them that day, for many of those who placed their bets based on the numbers revealed at the performance ended up winning the First Prize that night.
But there's a twist to how the individuals ended up winning.
The Twist: Number Was of a Different Permutation 
The twist?
The number that ended up as the First Prize that night was 7070, which included the same numbers as the ones revealed in the lion dance but were of a different permutation.
Don't believe me? Here's all the proof you need, straight from Singapore Pools' Website.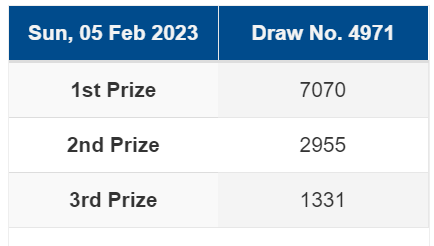 As such, only those who placed bets on "7070", a permutation of "0770", ended up winning money from their bets.
And here's what these winners have to say.
Winners' Reactions
When speaking to Shin Min yesterday (7 February), the manager of a hair salon surnamed Lin (Hanyu pinyin) shared that she did not watch the performance at the fashion store as she was busy with work that day.
However, her friends who watched the lion dance performance informed her of the numbers revealed and "jio-ed" her to buy 4D together.
---
Advertisements

---
OK, so where do I get these kind of friends?
She and her friends placed their bets under the "System Entry" option, which allows one to bet on all the possible permutations of a four-digit combination.
Ms Lin then revealed ecstatically that she ended up winning $8,000 and said that she treated her colleagues to a meal as a form of celebration as well.
On the other hand, another winner named Mr Cai (Hanyu pinyin) said that he passed by the area and happened to see the set of numbers presented by the lion dance performance.
He chose to place his bets based on the combination and ended up winning $2,000.
He also shared the four-digit combination with his friends and family, and some of them ended up winning money as well.
---
Advertisements

---
Again, where can I get this kind of friends or relatives?
Another winner surnamed Liao (Hanyu pinyin) mentioned that she spent around $5 and placed her bets on a few of the permutations of "0770".
She ended up winning a little over $1,000 and said that she was incredibly thrilled to have won a prize.
Yup, you could have won over 200 cups' worth of bubble tea with the money you'd spend on a cup of bubble tea if you had seen the number and bet on the correct permutation.
Ms Liao added that some storeowners in the area apparently placed even bigger bets on Sunday (5 February) and ended up winning around $10,000 to $20,000.
---
Advertisements

---
Join our Telegram channel for more entertaining and informative articles at https://t.me/goodyfeedsg or download the Goody Feed app here: https://goodyfeed.com/app/
Storeowner Holds CNY Celebrations Every Year
Apart from that, she also said that the owner of the fashion store has a habit of holding a "banquet" every year to celebrate the 15th day of Chinese New Year (also known as "Yuan Xiao" or the Lantern Festival).
This is the first time the event has been held since the COVID-19 pandemic began, and it has already given good luck to those who attended.
Well, I guess that's a good enough reason to put the store on your to-visit list for CNY next year.
Read Also:
Featured Image: Shin Min Daily News

Here's a rather unexpected timeline of the $2.8 billion money laundering case in Singapore as revealed by Minister Josephine Teo during a parliament sitting on 3 October 2023:
Read Also: